Residents confined to a care home in Nice in the south of France, April 21st 2020. © Arié Botbol / Hans Lucas via AFP
An investigation by Mediapart has shown how a lack of doctors has been a contributory factor in the major problems faced in many of France's care homes during the coronavirus epidemic, with medical staff themselves falling ill to the virus. In some cases replacement doctors were turned away from care homes because of the apparent risk of spreading the disease, and death certificates have been signed remotely by doctors who have not physically examined the deceased. In the Paris region in particular the problems were compounded because the health authority took too long to realise the scale of the problem in nursing homes and how many people were dying in them. It was then slow to react to the situation, to the frustration and anger of both healthcare professionals and the relatives of those who died. Mathilde Goanec and Pascale Pascariello report.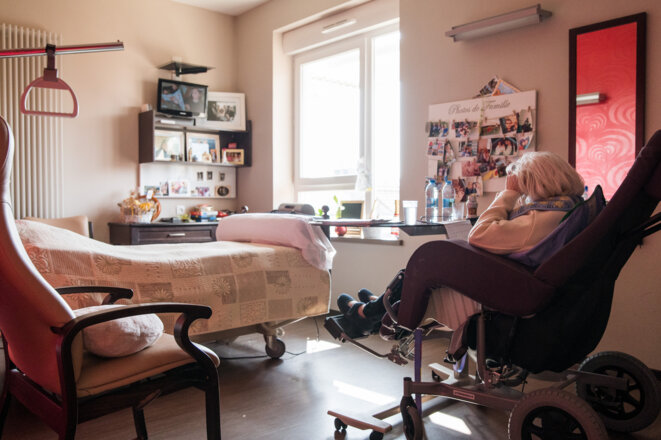 A resident reads in her room at a care home in Marchiennes, northern France, March 27th 2020; the residents are confined in their rooms to stop the virus spreading. © Julie Sebadelha /AFP
The type of healthcare to be administered and the rules surrounding the physical and chemical restraint of some residents in France's care homes have been been urgently reviewed since the start of the coronavirus pandemic, prompting anger from some carers. They fear many residents who do not get the virus could suffer as a result, and that some who do could die "painful deaths" because of administrative delays, or be affected by a growing shortage of medicines. There is dismay, too, that these establishment are once again being treated as the poor relation in France's social and healthcare system. According to the government's incomplete figures some 2,189 deaths "linked to Covid" have occurred in the country's nursing homes since March 1st. Mathilde Goanec reports.