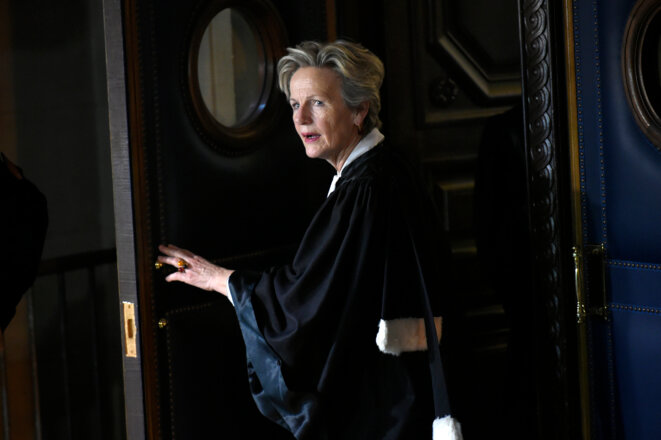 Éliane Houlette, head of the financial crimes prosecution unit the Parquet national financier (PNF) from its creation in 2013 to 2019. © LIONEL BONAVENTURE / AFP
Mediapart can reveal the contents of phone taps and two reports by gendarmes that led to serious questions over the conduct of Éliane Houlette, then head of France's anti-corruption prosecution unit the Parquet National Financier (PNF). Those reports led to the Paris prosecutor calling for a preliminary investigation into allegations of "influence peddling", "collusion" and "breach of confidentiality" concerning Éliane Houlette, who stood down as head of the PNF in June 2019 having been its boss since its creation in 2013. However, though prosecutors eventually opened a preliminary probe in September 2019 for "breach of confidentiality" in an ongoing investigation, progress in this potentially explosive case seems to have ground to a halt. Fabrice Arfi, Yann Philippin and Antton Rouget report.
Concerns have been raised privately within the French justice system about the involvement of the government and in particular the Élysée in picking the successor to Éliane Houlette as head of the country's national financial crimes prosecution unit, the Parquet National Financier (PNF). This is because the PNF is currently handling two investigations which are particularly sensitive for the presidency. One is into the Russian security contracts involving former Élysée security aide Alexandre Benalla. The other probe is into President Emmanuel Macron's chief of staff Alexis Kohler over an alleged conflict of interest. Fabrice Arfi, Michel Deléan and Antton Rouget report.
A French magistrate has launched a probe into suspected insider trading at BNP Paribas targeting current and former bosses.