Related keywords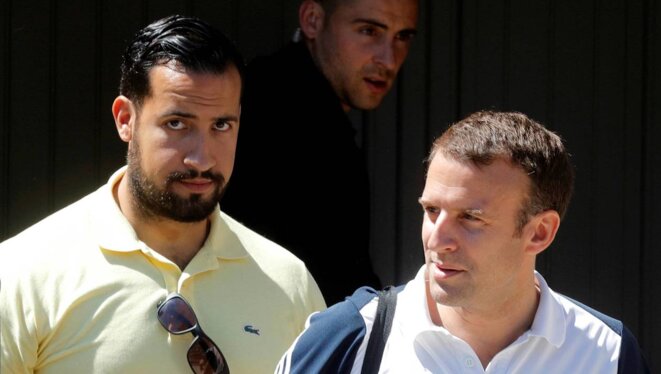 Alexandre Benalla and President Emmanuel Macron. © Reuters
Without Emmanuel Macron there would have been no Alexandre Benalla at the Élysée; for the man who dressed with police insignia and assaulted demonstrators owes everything to the president. But, equally, there would be no Benalla scandal without the support given by the president of the Republic to his trusted aide. Mediapart publishing editor Edwy Plenel says that it is this protection, even lying, that makes this scandal an affair of state.
Talks at Elysée set to cover Syria and EU-Turkey relations, but host Macron is also likely to voice concern over Erdogan's post-coup purges.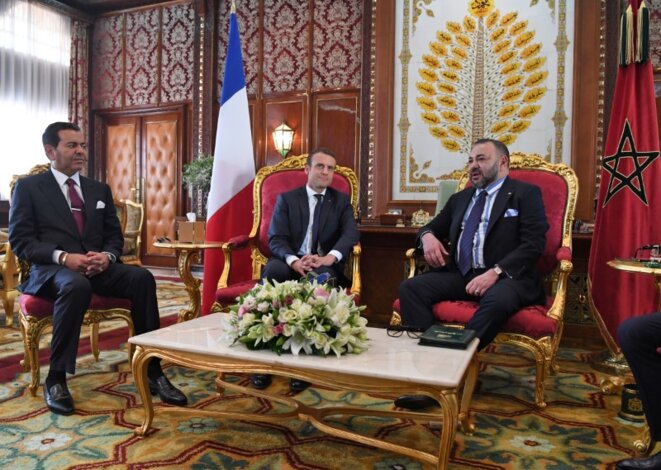 Emmanuel Macron with the King of Morocco Mohammed VI, right, during the French presdent's visit to Rabat on June 14th, 2017. © Reuters
Emmanuel Macron's first visit beyond Europe as French head of state was to Morocco, where anti-corruption protests have caused unprecedented unrest over the past seven months. The visit brought succour to the embattled kingdom but was also a little unsettling for Rabat, which has yet to fully understand the new Macron administration. But it was essentially a trip to signal continuity in Franco-Moroccan relations. Lénaïg Bredoux reports.
Former banker had never run in an election campaign before but after topping Sunday's vote he is now favourite to win the run-off on May 7th.
Minutes after quitting government, former Hollande protégé Emmanuel Macron sets his sights on 2017 presidential election.
Sarkozy's former chief of staff and interior minister Claude Guéant placed under investigation for complicity in Elysée opinion poll probe.
Patrick Buisson faces claims that his firm pocketed more than 10 million euros for conducting opinion polls serving no public interest.
Monday meeting at the Elysée, announced shortly after polls closed in Greece, comes after apparent Franco-German differences on the issue.
Just hours after arriving in Paris, his first trip abroad as monarch, Felipe VI said he was ending his three-day state visit because of jet tragedy.
Special investigation team set up after the unmanned aircraft flew over the US Embassy, the Eiffel Tower and other landmarks in French capital.
Meeting follows Sunday's massive marches but also comes amid questions over how militants known to authorities were able to launch deadly raids.
In traditional TV address to the nation, French president told viewers they had 'every reason' to feel confident about the future after a tough 2014.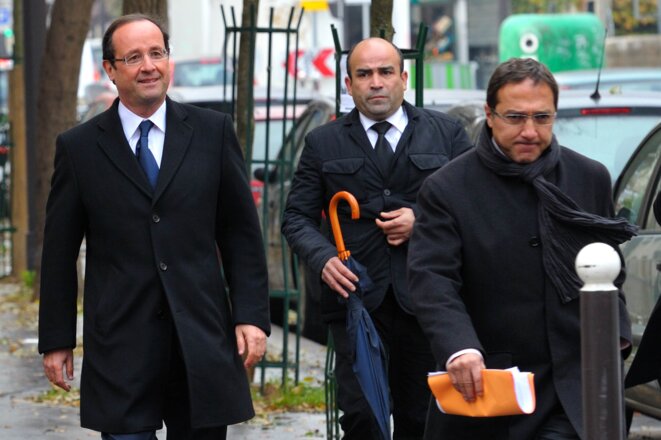 François Hollande et Faouzi Lamdaoui, au premier plan © Reuters
Faouzi Lamdaoui, an advisor at the Elysée and a close ally of President François Hollande, has been summoned to appear before a criminal court on charges of  "misuse of company assets", the "laundering of the proceeds of the misuse of company assets" and "forgery and the use of falsified documents". The allegations relate to a complex network of companies with which Lamdaoui has been involved, as a manager, director or partner, as revealed by Mediapart earlier this year. His resignation, which follows the departures of other key Hollande allies, junior minister Kader Arif two weeks ago and special advisor Aquiluno Morelle in April, was announced in an Elysée press statement. Lénaïg Bredoux and Emmanuel Morisse report.
François Fillon denies renewed claims he tried to get Hollande's chief of staff to speed up a legal case against his rival Nicolas Sarkozy.