American vice president visits Paris where feelings are still raw over the recent submarine deal row.
Sarkozy, who benefits from presidential immunity in the case, had said he would not appear as a witness in the case after being tried and convicted twice this year in separate affairs.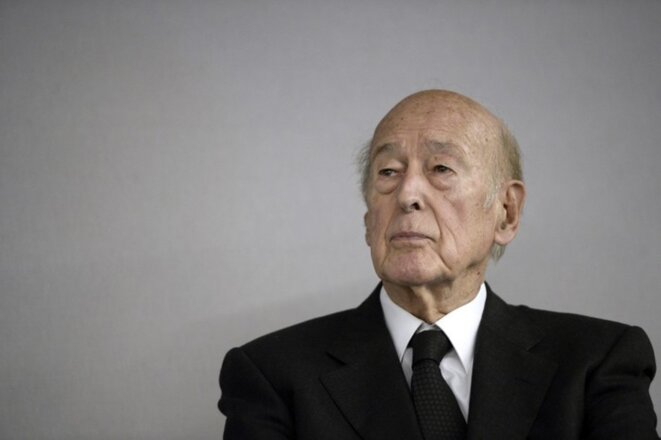 Valéry Giscard d'Estaing at Le Bourget,near Paris, October 14th 2014. © Stéphane de Sakutin/AFP
The death was announced late on Wednesday December 2nd 2020 of Valéry Giscard d'Estaing, aged 94, who was president of France from 1974 to 1981. Here Mediapart's François Bonnet compares Giscard's term of office with the current presidency of Emmanuel Macron. He argues that in a provisional assessment of their achievements the record of the present incumbent of the Élysée does not compare well with his predecessor, especially on social issues. However, there are many similarities between the two men and their presidencies, including the way they came to power and, most ominously, their subsequent slide towards more repressive policies.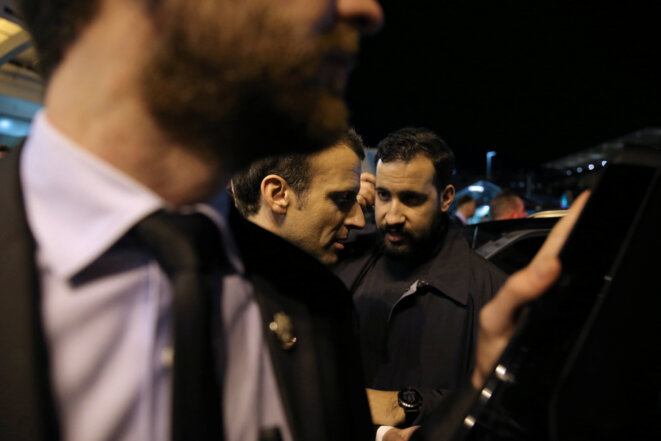 Emmanuel Macron and Alexandre Benalla. © Reuters
A year and a half after the gun safe owned by Alexandre Benalla went missing, prosecutors in Paris have finally opened a judge-led investigation into the "removal of documents or objects … with the aim of hindering the truth from coming out". With the support of the investigating judge, the probe could also now look into the disappearance of the contents of a second safe. This was the one that President Emmanuel Macron's former security aide used when he worked at the Élysée, before he was eventually sacked after being caught on video beating up a MayDay protestor in 2018. Fabrice Arfi, Antton Rouget and Marine Turchi report on the latest twist in the Benalla affair.
Concerns have been raised privately within the French justice system about the involvement of the government and in particular the Élysée in picking the successor to Éliane Houlette as head of the country's national financial crimes prosecution unit, the Parquet National Financier (PNF). This is because the PNF is currently handling two investigations which are particularly sensitive for the presidency. One is into the Russian security contracts involving former Élysée security aide Alexandre Benalla. The other probe is into President Emmanuel Macron's chief of staff Alexis Kohler over an alleged conflict of interest. Fabrice Arfi, Michel Deléan and Antton Rouget report.
Prosecutors drop probe involving three current and former officials in the president's office in connection with the so-called Benalla affair'.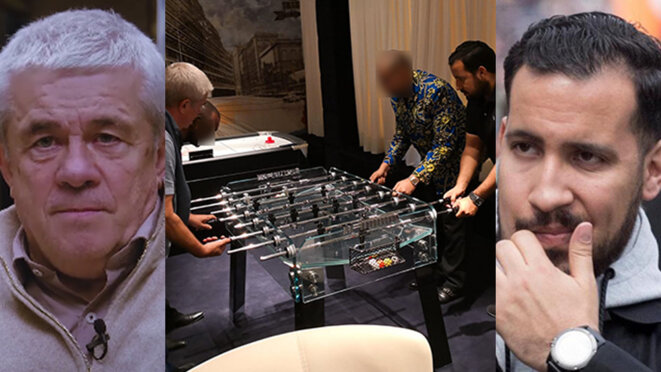 Jean-Louis Haguenauer, left, and Alexandre Benalla at a château in the Dordogne in August 2018. © Document Mediapart
In the unfolding saga of the Benalla affair, which involves President Emmanuel Macron's sacked security aide Alexandre Benalla, one man played a key role in the shadows. He is French middleman Jean-Louis Haguenauer, the man behind the Russia security contract negotiated by Benalla while the latter was still working as a key aide at the Élysée. Mediapart can reveal how over a period of 30 years Haguenauer cultivated a network of contacts in Russia, including close links with the Russian secret services. Fabrice Arfi, Antton Rouget and Marine Turchi report.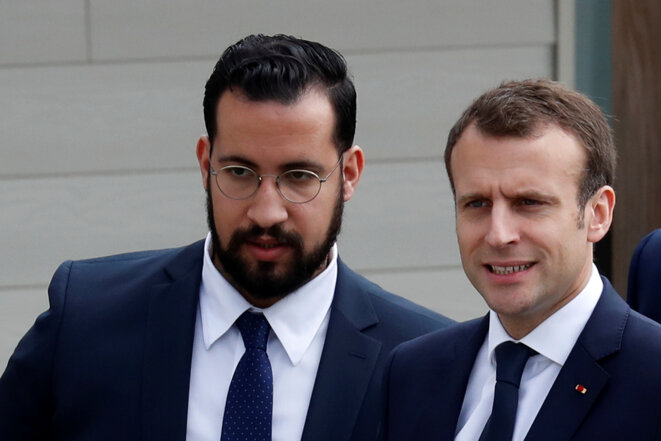 Alexandre Benalla and President Emmanuel Macron during a visit to Normandy April 12th 2018. © Reuters
An investigation by Mediapart sheds dramatic new light on the affair involving Alexandre Benalla, who was a security aide to President Emmanuel Macron until he was sacked when video footage emerged showing that he had used violence against protestors at a demonstration. In particular recordings of Benalla talking to the former head of security for the ruling LREM party, Vincent Crase, who also lost his job over the scandal, reveal details about a secret meeting that breached a judicial control order, about a security contract with a Russian oligarch close to Vladimir Putin, and Benalla's ongoing communications with President Macron. Fabrice Arfi, Antton Rouget and Marine Turchi report.
Villers-Cotterets, north-east of Paris, in March 2017, Emmanuel Macron, accompanied by Alexandre Benalla, visits the town where writer Alexandre Dumas was born. © Reuters
Paris prosecutors have refused to broaden the scope of the investigation of the Alexandre Benalla affair into claims that evidence in the case was concealed. This is despite the fact that, according to documents seen by Mediapart, President Emmanuel Macron's former security aide himself claimed that he had arranged for evidence to be hidden. The affair concerns claims – backed by video footage – that Benalla and another official unlawfully took part in the arrest of a May Day demonstrator in a Paris park earlier this year. Pascale Pascariello, Fabrice Arfi and Karl Laske report.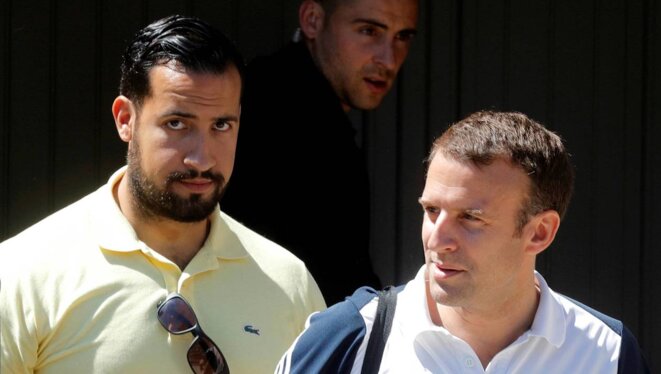 Alexandre Benalla and President Emmanuel Macron. © Reuters
Without Emmanuel Macron there would have been no Alexandre Benalla at the Élysée; for the man who dressed with police insignia and assaulted demonstrators owes everything to the president. But, equally, there would be no Benalla scandal without the support given by the president of the Republic to his trusted aide. Mediapart publishing editor Edwy Plenel says that it is this protection, even lying, that makes this scandal an affair of state.
Talks at Elysée set to cover Syria and EU-Turkey relations, but host Macron is also likely to voice concern over Erdogan's post-coup purges.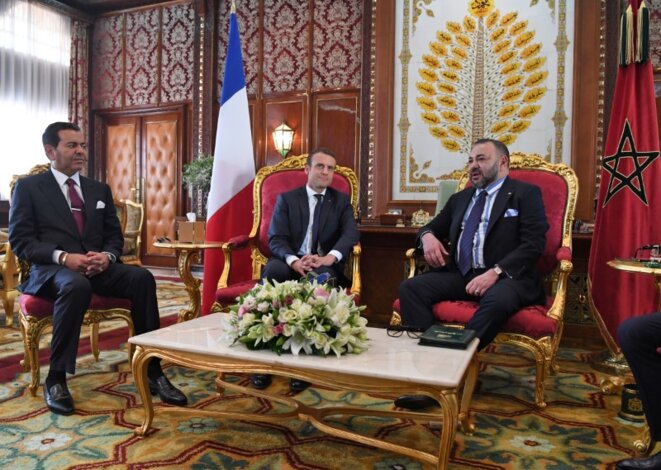 Emmanuel Macron with the King of Morocco Mohammed VI, right, during the French presdent's visit to Rabat on June 14th, 2017. © Reuters
Emmanuel Macron's first visit beyond Europe as French head of state was to Morocco, where anti-corruption protests have caused unprecedented unrest over the past seven months. The visit brought succour to the embattled kingdom but was also a little unsettling for Rabat, which has yet to fully understand the new Macron administration. But it was essentially a trip to signal continuity in Franco-Moroccan relations. Lénaïg Bredoux reports.
Former banker had never run in an election campaign before but after topping Sunday's vote he is now favourite to win the run-off on May 7th.
Minutes after quitting government, former Hollande protégé Emmanuel Macron sets his sights on 2017 presidential election.