Related keywords
During an open-day to the public to visit the grounds of the French presidential office, the Élysée Palace, Emmanuel Macron met with visitors who included a jobless man complaining about his difficulties in obtaining work as a gardener, to which the president replied he should simply choose an undermanned sector like the construction or catering industries.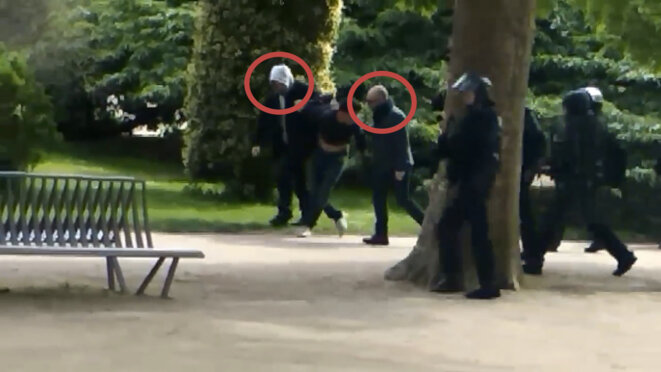 Alexandre Benalla (circled, with white hood) and Vincent Crase (circled right) during the arrest of a man in the Jardin des plantes on May 1st.
French President Emmanuel Macron's security aide Alexandre Benalla, together with an employee of Macron's ruling LREM party, Vincent Crase, were involved on May 1st in other incidents before they assaulted a man among May Day crowds at a square in the Latin Quarter of Paris. In a new video obtained by Mediapart, the two men, officially present alongside police as civilian "observers" of crowd-control operations that day, can be seen heavy-handedly joining in the arrest of a man at a public park. The new evidence of their violent and illegal behaviour that day further deepens the scandal of a suspected cover-up of their actions by the presidential office and senior police hierarchy.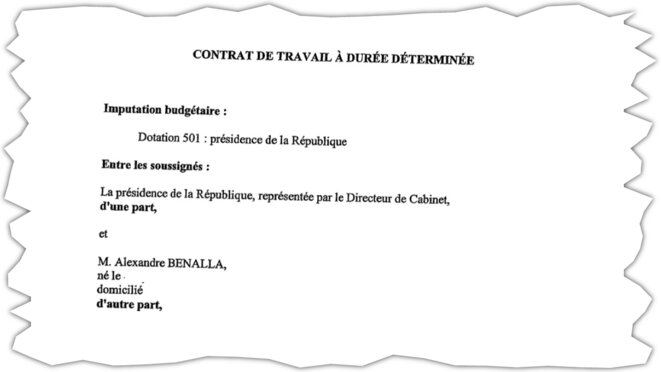 Extract from Alexandre Benalla's empoyment contract with the Elysée Palace (full details in the article). © Document Mediapart
The political scandal surrounding Emmanuel Macron's disgraced personal security advisor Alexandre Benalla is centred less on his thuggish behaviour in beating up May Day demonstrators while illegally wearing police insignia but rather on the secrecy of his role and his relationship with the president who afforded the 26-year-old extraordinary powers. Benalla was engaged as a 'mission leader' with the presidency, a vague title afforded to a number of other Élysée Palace staff whose activities are largely unaccountable to the public. Mediapart has obtained the employment contracts of Benalla and five other so-called 'mission leaders' at the Élysée which reveal how they are exempt from probity law requirements that apply to official advisors. Mathilde Mathieu reports.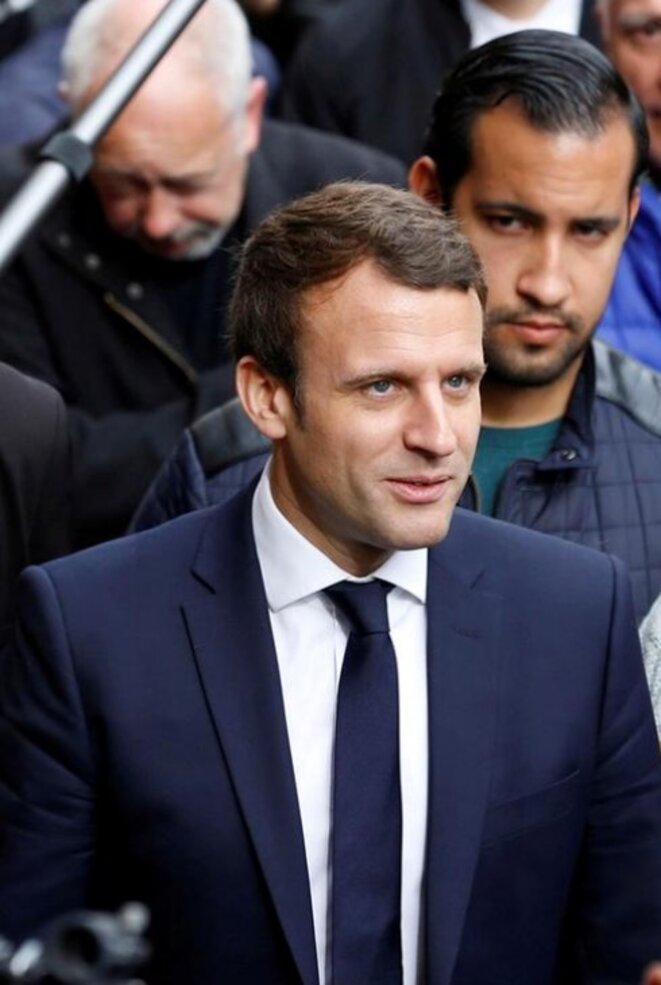 Alexandre Benalla (right) with Emmanuel Macron in May 2017. © Reuters
The French presidency on Thursday was engulfed in a developing scandal after it was revealed that an official advisor on President Emmanuel Macron's personal security assaulted demonstrators in a Paris square on May 1st, while dressed as a police officer. Video footage clearly shows Alexandre Benalla manhandling a distressed woman before launching a vicious attack on a young man who was left on his knees in agony. It now emerges that the presidency was at the time made aware of the incidents, but Benalla was given only a two-week suspension from his post. Ellen Salvi reports.
At a time of national belt-tightening due to his far-reaching programme of economic reforms, French President Emmanuel Macron and his wife Brigitte have caused controversy over their decision to order new crockery for the Elysée Palace that one media report estimated has cost 500,000 euros.
The French public prosecution services have opened an investigation into corruption allegations against President Emmanuel Macron's chief of staff, Alexis Kohler, which centre on suspected conflict of interest and influence peddling over his close connections with a major shipping company while serving as a senior civil servant.  
Designers such as Jean-Paul Gaultier went to Elysée for dinner as French president seeks to boost one of France's most profitable sectors.
The thief got away with 1 million euros worth of jewels and watches despite increased security around Elysée Palace after November attacks.
Elysée Palace refuses Iranian President Hassan Rouhani's demand that no alcohol be present during dinner, and suggests breakfast instead.
French president tells three Americans and a Briton who disarmed attacker: 'You put your lives at risk in order to defend freedom.'
The driver and a passenger tried to run off after the collision outside the Presidential palace but were swiftly arrested.
Several Elysée Palace staff have been moved elsewhere after publication of photos of the French president and actress in the palace grounds.
Jean-Pierre Jouyet, boss of state-owned bank Caisse des Depots, is a well-connected political operator and close friend of the French president.
Judicial investigation into 2009 appointment of Francois Perol, who was President Sarkozy's economics adviser, as chairman of merged bank.