French President Emmanuel Macron during a televised address on April 13th 2020. © Hans Lucas via AFP
In face of the Covid-19 virus crisis, French President Emmanuel Macron has failed in his mission, presiding over disorder, a sore lack of means to fight the epidemic and a 'communications' campaign of lies, argues Mediapart publishing editor and co-founder Edwy Plenel. In this op-ed article, he urges the dismissal of an antiquated presidential system and the establishment of a truly democratic republic in France.
A photo showing UK Prime Minister Boris Johnson putting his foot up on a stool in front of President Emmanuel Macron at their meeting inside the Elysée Palace appeared garrulous and insulting, as widely commented on social media, but the photographer who captured the image has revealed that it was a comic gesture after the French president joked that he could use it to put his legs up.
The French government regards a departure of the UK from the European Union without a mutual deal as the most likely outcome on the deadline date of October 31st according to an official from President Emmanuel Macron's office, speaking on the same day that German Chancellor Angela Merkel suggested a solution to the key issue of the Irish border 'backstop', which is blocking agreement, may be found.
British singer and songwriter Elton John, 72, was on Friday awarded the Légion d'honneur, France's highest award of civil merit, at the hands of French President Emmanuel Macron, after a concert in Paris during what is billed as his farewell tour.
Left to right: Alexandre Benalla, Iskander Makhmudov, and Farkhad Akhmedov. © DR
Emmanuel Macron's disgraced former personal security aide Alexandre Benalla, who also served as deputy to the president's inner cabinet chief, organised from the Élysée Palace a private deal to provide protection services to a Russian oligarch close to the Kremlin and who is suspected of ties to Russian organised crime. Benalla, who was initially dismissed from his post after assaulting people on the sidelines of a May Day march, last December also sold protection services to another Russian billionaire. The total of the two deals is worth 2.2 million euros, part of which was paid to Benalla in Morocco, Mediapart can reveal in this latest investigation into the growing scandal which, it is speculated, may be linked to the resignation announced this week of Macron's most senior advisor, Ismaël Emelien.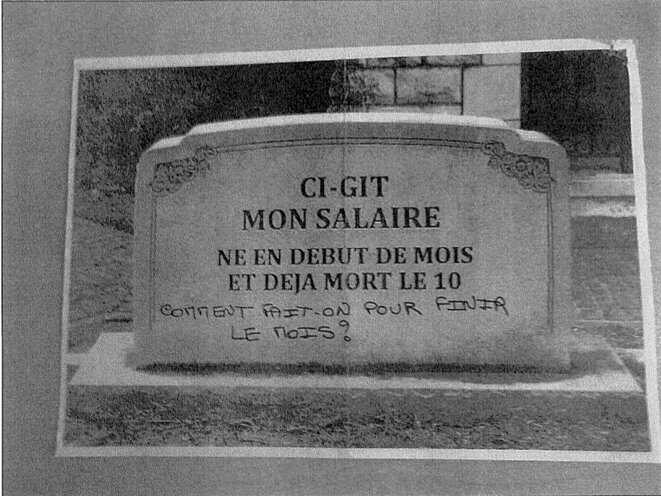 A photomontage sent to François Hollande: "Here lies my salary, born at the beginning of the month and already dead on the 10th." © DR
During his 2012-2017 term in office, France's socialist president François Hollande received a total of about one million letters and emails from members of the public, several thousands of which have been studied by political sciences lecturers Michel Offerlé and Julien Fretel. In this interview, Michel Offerlé explains that while the correspondence contained a large number of individual demands for help, complaints over financial difficulties and taxes, and insults about the head of state's disconnection with the people, they in part collectively represent the social group that has erupted into the 'yellow vest' protest movement over falling standards of living which is shaking the current presidency of Emmanuel Macron.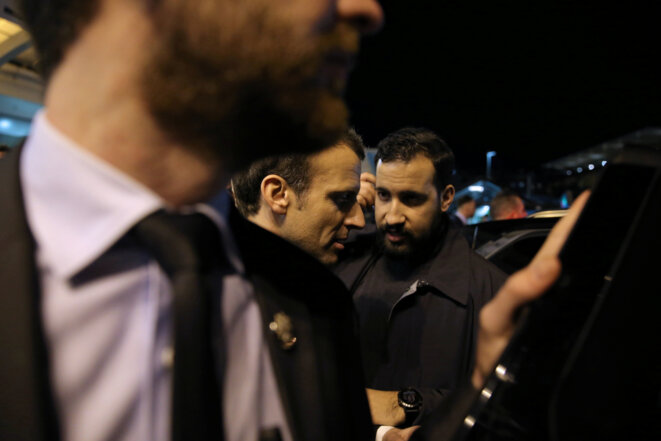 Emmanuel Macron with bodyguard Alexandre Benalla. © Reuters
The scandal surrounding President Emmanuel Macron's disgraced former personal security aide Alexandre Benalla, who was fired over media revelations that he violently assaulted participants in May Day marches in Paris this year while illegally wearing police apparel, escalated this month after Mediapart's revelations that he has continued to use a diplomatic passport while conducting business trips abroad, notably in Israel and several African countries. Now, in an exclusive interview with Mediapart, he claims to continue to regularly discuss ongoing political issues with Macron, despite the Élysée's insistence that he has "no further contact" with the French president. Benalla, 27, says his mobile phone records provide the truth of his claims, while he also accuses Macron's entourage as behaving like a "mafia" against him. Fabrice Arfi reports on the deepening mystery of Benalla's relationship with the French president.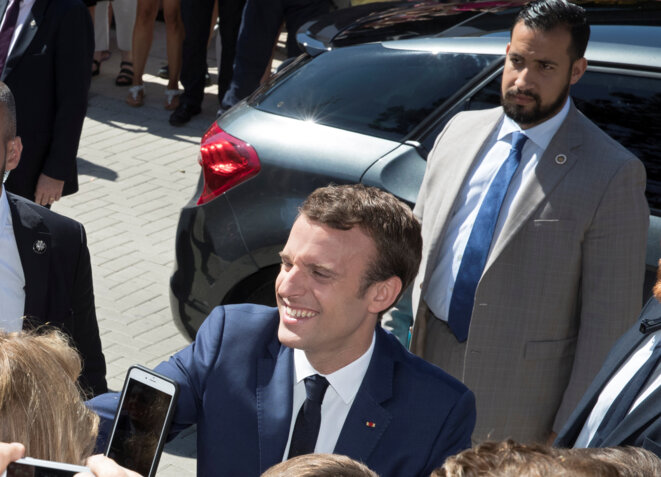 Alexandre Benalla standing behind Emmanuel Macron when he served as the president's bodyguard. © Photo d'archives/REUTERS/Philippe Wojazer
Alexandre Benalla, the disgraced former personal security advisor and deputy cabinet chief to President Emmanuel Macron, who was dismissed from his post this summer after it was revealed he assaulted May Day marchers in Paris while wearing police insignia, has continued to travel in possession of a French diplomatic passport and notably during recent business trips to Israel and several African countries, Mediapart has learnt. The passport, valid for four years, was delivered to him on May 24th, three weeks after the May Day events for which he is now placed by magistrates under formal investigation. Fabrice Arfi and Antton Rouget report.
The French presidency has contacted Emmanuel Macron's disgraced former security aide and deputy cabinet director, Alexandre Benalla, who was fired over revelations he assaulted individuals during May Day marches, to account for his eventual business dealings when employed by the Élysée Palace and warned him over his conduct on recent high-level business trips to Africa.    
Since its launch last Friday, an official Élysée Palace online shop has turned over 350,000 euros in sales of goods made in France ranging from mugs and postcards bearing the portrait of President Emmanuel Macron to T-shirts and watches promoting French culture, in a controversial initiative which is partly to raise money for the restoration of the ageing presidential office building.
During an open-day to the public to visit the grounds of the French presidential office, the Élysée Palace, Emmanuel Macron met with visitors who included a jobless man complaining about his difficulties in obtaining work as a gardener, to which the president replied he should simply choose an undermanned sector like the construction or catering industries.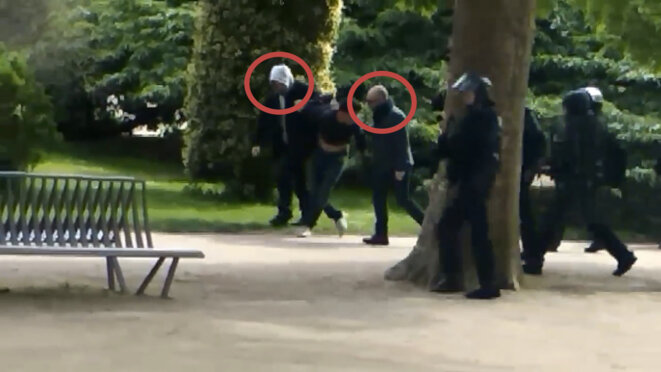 Alexandre Benalla (circled, with white hood) and Vincent Crase (circled right) during the arrest of a man in the Jardin des plantes on May 1st.
French President Emmanuel Macron's security aide Alexandre Benalla, together with an employee of Macron's ruling LREM party, Vincent Crase, were involved on May 1st in other incidents before they assaulted a man among May Day crowds at a square in the Latin Quarter of Paris. In a new video obtained by Mediapart, the two men, officially present alongside police as civilian "observers" of crowd-control operations that day, can be seen heavy-handedly joining in the arrest of a man at a public park. The new evidence of their violent and illegal behaviour that day further deepens the scandal of a suspected cover-up of their actions by the presidential office and senior police hierarchy.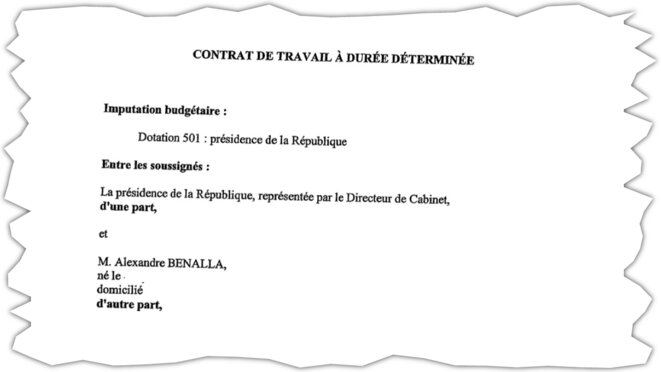 Extract from Alexandre Benalla's empoyment contract with the Elysée Palace (full details in the article). © Document Mediapart
The political scandal surrounding Emmanuel Macron's disgraced personal security advisor Alexandre Benalla is centred less on his thuggish behaviour in beating up May Day demonstrators while illegally wearing police insignia but rather on the secrecy of his role and his relationship with the president who afforded the 26-year-old extraordinary powers. Benalla was engaged as a 'mission leader' with the presidency, a vague title afforded to a number of other Élysée Palace staff whose activities are largely unaccountable to the public. Mediapart has obtained the employment contracts of Benalla and five other so-called 'mission leaders' at the Élysée which reveal how they are exempt from probity law requirements that apply to official advisors. Mathilde Mathieu reports.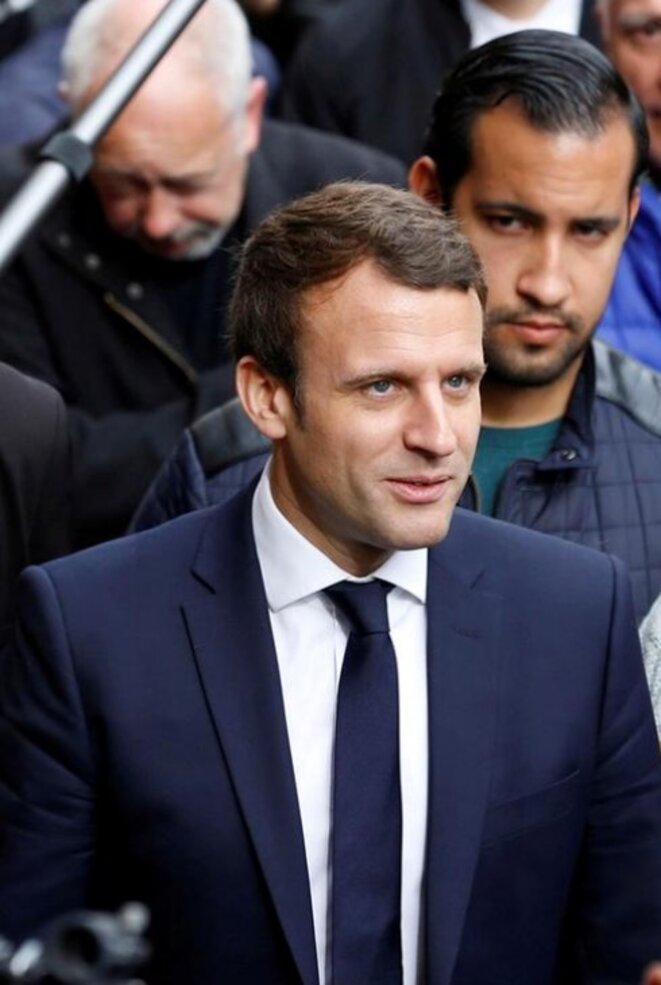 Alexandre Benalla (right) with Emmanuel Macron in May 2017. © Reuters
The French presidency on Thursday was engulfed in a developing scandal after it was revealed that an official advisor on President Emmanuel Macron's personal security assaulted demonstrators in a Paris square on May 1st, while dressed as a police officer. Video footage clearly shows Alexandre Benalla manhandling a distressed woman before launching a vicious attack on a young man who was left on his knees in agony. It now emerges that the presidency was at the time made aware of the incidents, but Benalla was given only a two-week suspension from his post. Ellen Salvi reports.