Just hours after arriving in Paris, his first trip abroad as monarch, Felipe VI said he was ending his three-day state visit because of jet tragedy.
Special investigation team set up after the unmanned aircraft flew over the US Embassy, the Eiffel Tower and other landmarks in French capital.
Meeting follows Sunday's massive marches but also comes amid questions over how militants known to authorities were able to launch deadly raids.
In traditional TV address to the nation, French president told viewers they had 'every reason' to feel confident about the future after a tough 2014.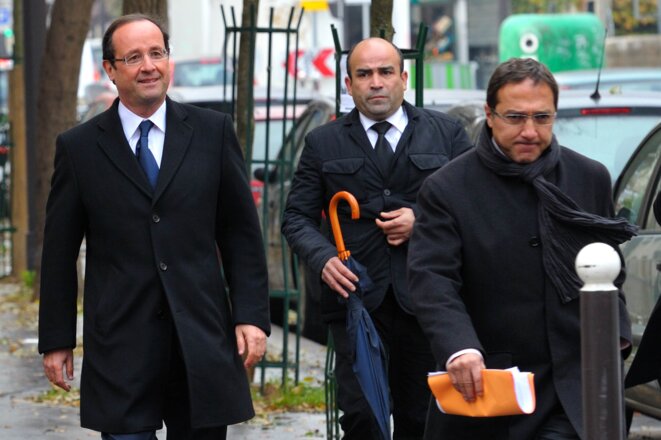 François Hollande et Faouzi Lamdaoui, au premier plan © Reuters
Faouzi Lamdaoui, an advisor at the Elysée and a close ally of President François Hollande, has been summoned to appear before a criminal court on charges of  "misuse of company assets", the "laundering of the proceeds of the misuse of company assets" and "forgery and the use of falsified documents". The allegations relate to a complex network of companies with which Lamdaoui has been involved, as a manager, director or partner, as revealed by Mediapart earlier this year. His resignation, which follows the departures of other key Hollande allies, junior minister Kader Arif two weeks ago and special advisor Aquiluno Morelle in April, was announced in an Elysée press statement. Lénaïg Bredoux and Emmanuel Morisse report.
François Fillon denies renewed claims he tried to get Hollande's chief of staff to speed up a legal case against his rival Nicolas Sarkozy.
The 17-year-old sons of former president and ex-partner of current president insult each other in what has been dubbed 'le tweetclash'.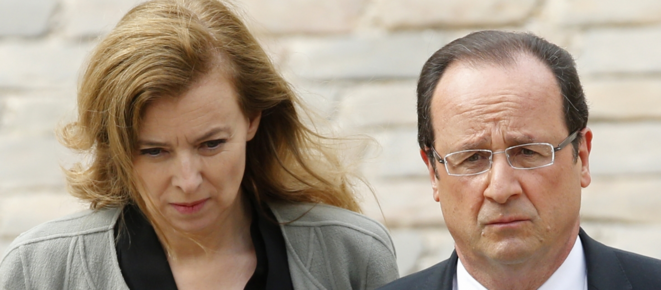 François Hollande et Valérie Trierweiler. © Reuters
The publication of former 'First Lady' Valérie Trierweiler's book about her relationship with President François Hollande and their bitter break-up has provoked a media storm in France. Ordinarily, says Mediapart's editor François Bonnet, one would not be interested in the "bourgeois vaudeville" on show in 'Merci pour ce moment'. Except for the fact that its description of the president's failings – his insincerity, political calculations and even lies – chime exactly with the recent statements of a string of politicians and former ministers who have worked closely with Hollande in government. In this respect, argues François Bonnet, the book provides the missing link in the story of François Hollande's "descent into hell", leads to some important political questions and helps highlight how France has now become, in effect, a neoliberal monarchy.
Valérie Trierweiler's claim that in private François Hollande jokingly refers to poor as 'the toothless' set to damage socialist leader.
Publication of Valérie Trierweiler's 'truthful' account of her break-up with François Hollande is unlikely to improve president's image.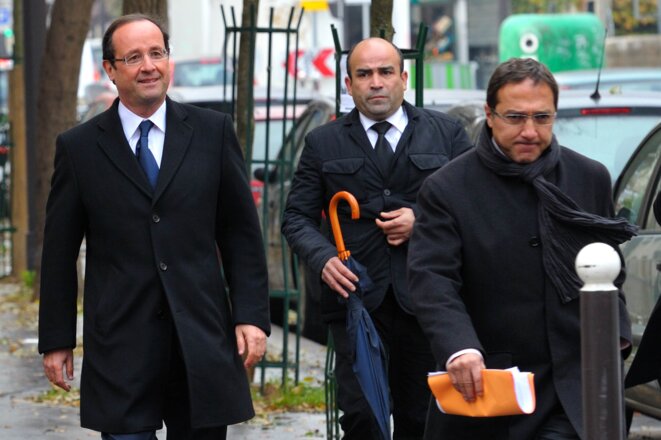 François Hollande et Faouzi Lamdaoui, au premier plan © Reuters
Faouzi Lamdaoui, one of François Hollande's advisors at the Elysée and a close ally of the president for many years, has been questioned by detectives investigating allegations of "misuse of company assets" and "tax fraud". Lamdaoui, who advises the French head of state on diversity and equality issues, has denied any wrongdoing. Nonetheless, an investigation by Mediapart has shown that the advisor has been the shareholder, manager or director in a range of similar companies, two of which have been the target of legal proceedings. Lénaïg Bredoux and Emmanuel Morisse report.
Three weeks after François Hollande's powerful advisor Aquilino Morelle was forced to quit the Elysée following Mediapart's allegations of a conflict of interest, the president is once more caught up in the affair. The leading trade union at the elite public watchdog where Morelle worked while also consulting for the pharmaceutical industry is frustrated at the lack of action from the state and has called on President Hollande to intervene and order a full official investigation. Some of the watchdog's officials feel they need an inquiry to show they are above suspicion and "transparent" as an organisation. "Our credibility is at stake," one inspector told Mediapart. Mathilde Mathieu and Michaël Hajdenberg report.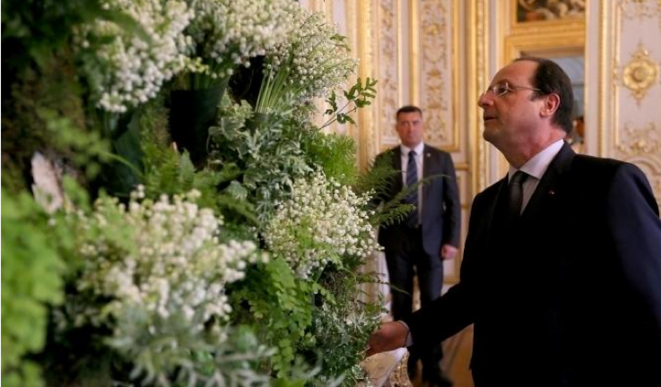 A l'Elysée, le 1er mai, lors de la traditionnelle cérémonie de remise du muguet. © (Elysée)
May 6th, 2014 marks the second anniversary of François Hollande's election as president of the French Republic. Any celebrations, however, are likely to be muted. Six weeks after disastrous local election results that led to a government reshuffle, and just three weeks before European elections where his Socialist Party looks set to come third, the president is at a record low in opinion polls. Hated by the Right and mistrusted by sections of the Left, Hollande now has three years in which to recover from a near-total rejection by the French public. As Hubert Huertas argues, that will be no easy task.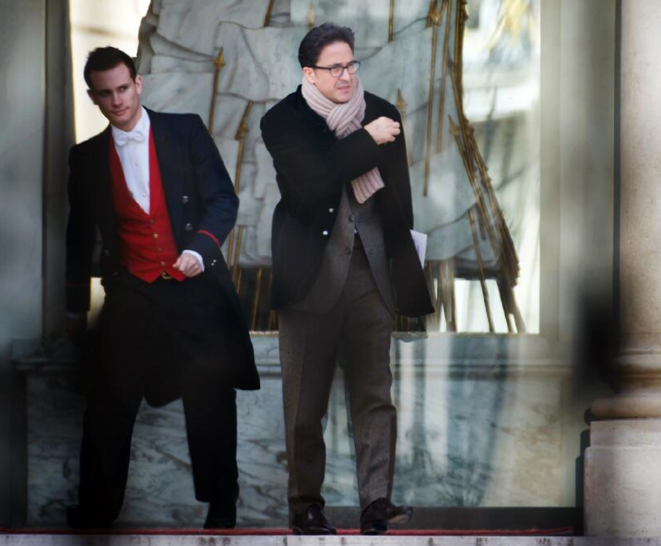 Aquilino Morelle quittant l'Elysée. © (dr)
President François Hollande's special advisor Aquilino Morelle dramatically quit his job on Friday after Mediapart published revelations about his conflict of interest while working as a government inspector. Morelle, a friend of current French Prime Minister Manuel Valls, carried out private consultancy work for a pharmaceutical company while working for France's public service inspectorate, the Inspection générale des affaires sociales (IGAS). Though Morelle insisted the work had been correctly declared at the time, both his former boss and IGAS itself say he was never given authorisation. The departure of a key figure from the presidential Elysée Palace over claims of an undeclared conflict of interest will be a major embarrassment for President Hollande who, during his 2012 election campaign, promised an "exemplary Republic" under his leadership. Michaël Hajdenberg reports.
President Francois Hollande is accused of selling off France's heritage with an auction of hundreds of bottles of fine wine from the Elysee Palace.