Related keywords
French President Emmanuel Macron, on his first official trip to French Polynesia, said that Paris owes 'a debt' to the local population over nuclear tests carried out there between 1966 and 1996, including 63 atmospheric blasts which exposed inhabitants of the South Pacific territory to radiation.
French president reportedly spoke to Israeli premier Naftali Bennett to ensure 'proper investigation' after Pegasus project.
French president started his trip Saturday night in Tahiti with a visit to a hospital and an appeal to get vaccinated against the virus.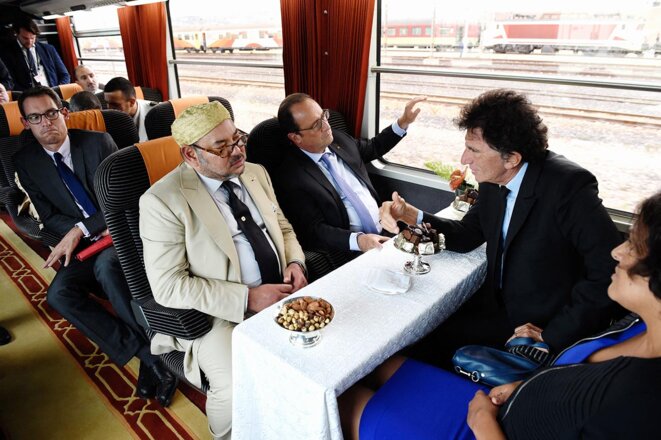 Moroccan king Mohammed VI with French president François Hollande, Jack Lang, president of the Institut du Monde Arabe in Paris and labour minister Myriam El Khomri on a train to Tangiers, September 20th 2015. © Photo Alain Jocard / AFP
The Pegasus spyware revelations show how Morocco has targeted at least 10,000 mobile phones in recent years. These include the phones of several dozen French citizens, including journalists, the president of the Republic Emmanuel Macron and government ministers and senior opposition figures. Yet for the last thirty years the political, media and cultural elites here in France have closed their eyes to the repressive behaviour of the North African monarchy. Lénaïg Bredoux and Iyes Ramdani report.
French head of state and and 15 members of the French government may have been among potential targets in 2019 of surveillance by spyware made by the Israel-based NSO Group, according to a newspaper report.
A planned 45,000 euro fine for businesses which do not check that clients have a health pass will be much lower, starting at up to 1,500 euros and increasing progressively for repeat offenders.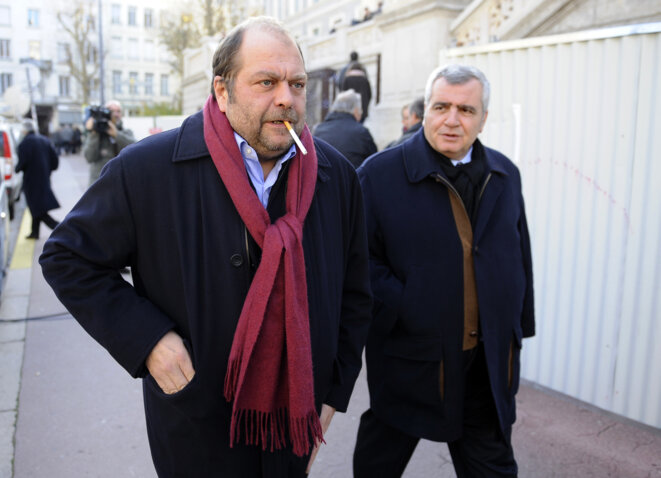 Éric Dupond-Moretti, left, and his friend and fellow lawyer Thierry Herzog at Saint-Étienne in south-west France in December 2011. © PHILIPPE DESMAZES / AFP
For the first time in the history of the French republic, a serving minister of justice has been placed under formal investigation by examining magistrates. On Friday July 16th Éric Dupond-Moretti was told he faces a judicial probe by the Cour de Justice de la République (CJR) – which handles allegations relating to a minister's official functions - over claims of an unlawful conflict of interest between his position as justice minister under President Emmanuel Macron and his previous role as a high-profile lawyer. In particular Dupond-Moretti is suspected of using his ministerial post to settle scores with prosecutors and a judge with whom he clashed when working as a lawyer. Lawyers acting for Dupond-Moretti, who denies any wrongdoing, say he intends to stay in his position despite the judicial investigation. Fabrice Arfi reports.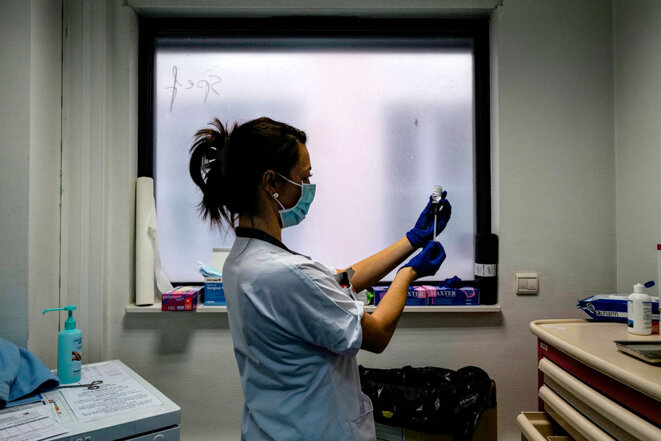 A nurse prepares a dose of the AstraZeneca vaccine at the Édouard-Herriot hospital in Lyon, in east France, February 6th 2021. © Photo by Olivier Chassignole / AFP
On Monday July 12th President Emmanuel Macron announced that all healthcare workers in France will have to be vaccinated against Covid-19 by September 15th. He also hinted that if the Delta variant of the disease takes hold and not enough of the public get a jab then this obligation could be extended to the whole population. The announcement has had a mixed reaction among some healthcare staff. The president's words have also sparked a wider debate about the ethics of mandatory vaccination and highlighted some glaring weaknesses in French public health policy since the start of the Covid epidemic. Rémi Yang, Mathilde Goanec, Jérôme Hourdeaux and Donatien Huet report.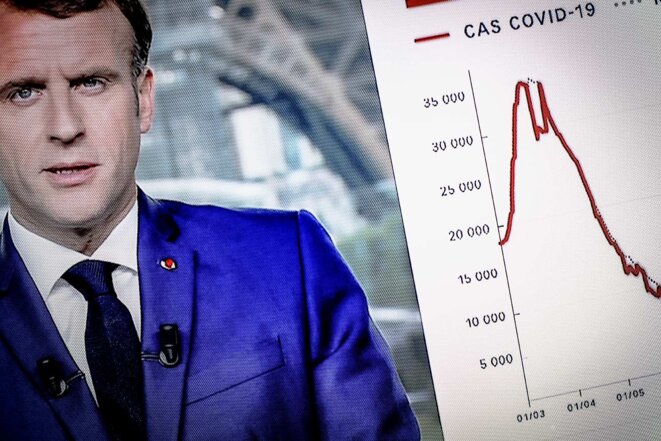 President Emmanuel Macron's televised address on July 12th 2021. © Sébastien Calvet/Mediapart
The French president addressed the nation on the evening of Monday July 12th to announce that all health workers will have to get a Covid vaccination between now and September 15th. In addition, Emmanuel Macron said that citizens will soon require a Covid pass or 'passport' for many social activities; for cinemas from July 21st and for bars and restaurants from the start of August, as well as for train journeys and longer coach trips. At the same time the president took the opportunity to praise his own track record as head of state before and during the Covid crisis and to set out some potentially controversial reforms just months ahead of next April's presidential election. Ellen Salvi reports on the president's latest televised address.
In a televised address to the nation on Monday, French President Emmanuel Macron announced that all staff workers in medical facilities must be vaccinated by September or face losing pay, while 'health passes' proving double-jab vaccination will be needed from early August to enter shopping centres and other venues.
French President Emmanuel Macron is make a TV address to the nation on Monday, when it is expected he will announce measures to attempt to contain a surge in infections from the coronavirus Delta variant.
Originally a hybrid of centre-left and soft conservative, French President Emmanuel Macron has tacked rightward over the past year, cracking down on Islamism and talking tough on identity politics and law and order, observes The Times.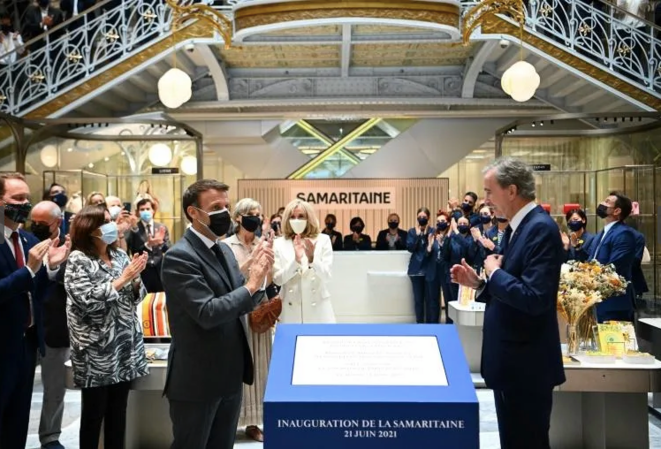 Emmanuel Macron and Bernard Arnault at the refurbished La Samaritaine in Paris on June 21st 2021. © AFP
Monday June 21st marked the annual celebration of music in France known as the Fête de la Musique. But, says Mediapart co-founder François Bonnet in this op-ed article, the event was not celebrated in quite the same way by everyone. There was champagne and state honours for the rich and powerful at the Élysée on the one hand; and baton charges and tear gas for young people listening to music in the streets on the other. In what proved a bizarre juxtaposition, he argues, the French presidency managed to organise two entirely separate worlds, that only co-existed side by side thanks to social and police violence.
Abstention rate estimated at 68%, and exit polls suggest Marine Le Pen's National Rally failed to get expected support.