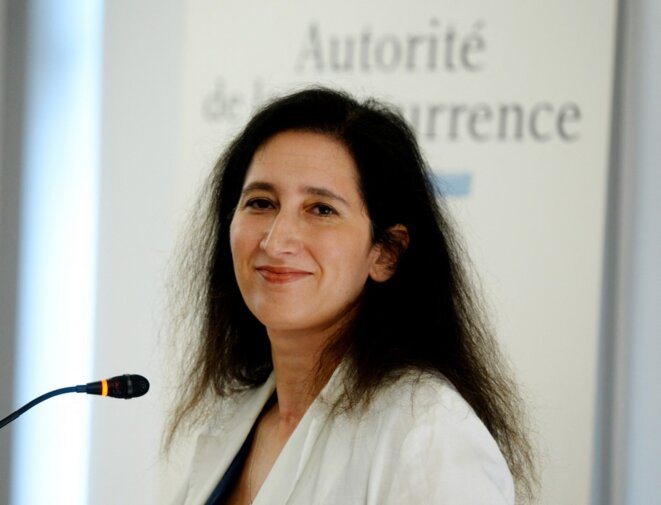 The former president of the antitrust body the Autorité de la concurrence, Isabelle de Silva, who was removed by Emmanuel Macron. © ERIC PIERMONT / AFP
Abruptly and without any warning, the Élysée decided that it was not renewing Isabelle de Silva's contract as the president of France's competition authority the Autorité de la Concurrence from October 13th. The decision, which has reportedly surprised and dismayed government ministers as well as many observers, was taken so late that a successor has not yet been lined up. The main theory to explain Emmanuel Macron's shock move is that the highly-respected De Silva was seen as an obstacle to the proposed merger between two private French TV companies, TF1 and the smaller M6, a tie-up that the Élysée favours. More generally, the independent Autorité de la Concurrence is also seen as a block to Emmanuel Macron's aim of creating large-scale national business champions. Martine Orange reports.
The current state of emergency law in France - allowing the government to impose coronavirus-related restrictions - is set to expire on November 15.
French president hopes his 'France 2030' plan for hi-tech investment will reverse years of industrial decline 
Emmanuel Macron is expected to announce the use of 'mini-reactors' as political and public opinion shifts in France. 
The call follows a row over visas and critical comments from Paris about the North African country; last weekend, Algeria recalled its ambassador from Paris and banned French military planes from its airspace.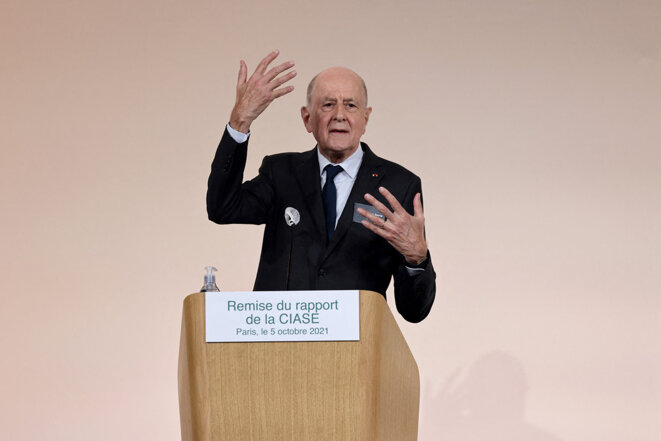 Jean-Marc Sauvé, president of the independent CIASE commission into sexual abuse in the Catholic Church, presenting his report in Paris on October 5th 2021. © Photo Thomas Coex / AFP
On Tuesday October 5th a report revealed the shocking scale of child sex abuse inside the French Catholic Church over many decades. The report's authors estimate that 330,000 minors have been the victims of sexual abuse within the church since 1950, a majority of them at the hands of ordained clergy. Since the report's publication the overall reaction from the political classes, both Left and Right, has seemed timid. Some politicians, however, are calling for the courts to intervene and for the church to undergo deep reform. Mathieu Dejean, Mathilde Goanec, Pauline Graulle and Ilyes Ramdani report.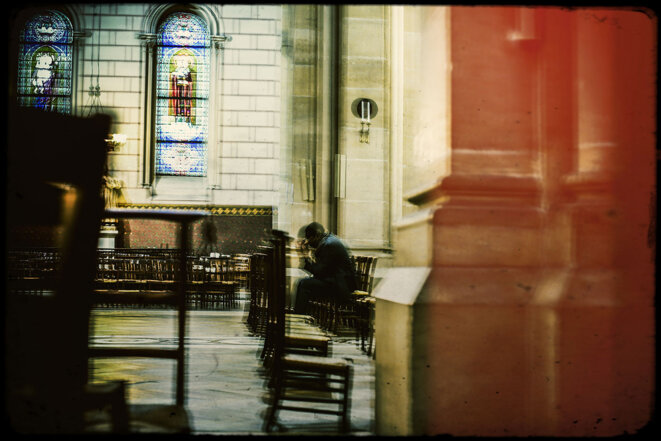 © Photo Sébastien Calvet / Mediapart
For months the French government has continually raised concerns about what it sees as the dangers of "Islamic separatism" in the country and has brought in legislation to tackle it. Yet when in the wake of a major report on child sex abuse in the French Catholic Church a senior bishop suggested that the secrets of the confessional were stronger than the "Republic's laws" there was at first a deafening silence from government ministers. This reluctance to comment came on top of the government's clear embarrassment at the publication of the sex abuse report itself, a document which produced shocking figures on the extent of the scandal in the church. Ellen Salvi reports.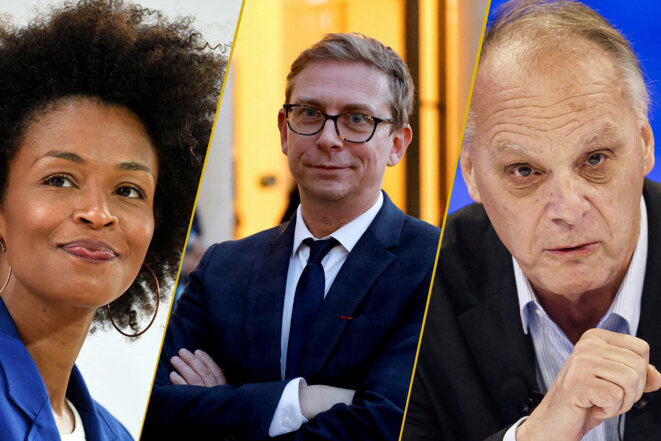 © Photomontage Mediapart avec AFP
On September 29th 2021 the Élysée officially unveiled a new commission to help fight against conspiracy theories and disinformation. Officially called the 'Enlightenment in the digital age' commission, President Emmanuel Macron wants it to champion science, reason and truth and come up with new policy options in an era where social media in particular is awash with a bewildering array of views and theories. Critics, however, accuse the head of state of wanting to impose his own narrative ahead of next April's presidential election. Already the membership of the commission has been bitterly criticised, in particular its chair, social scientist Gérald Bronner. And after also coming under fire another member, Professor Guy Vallancien, a high-profile urologist, has just resigned from the body. Joseph Confavreux and Ellen Salvi report.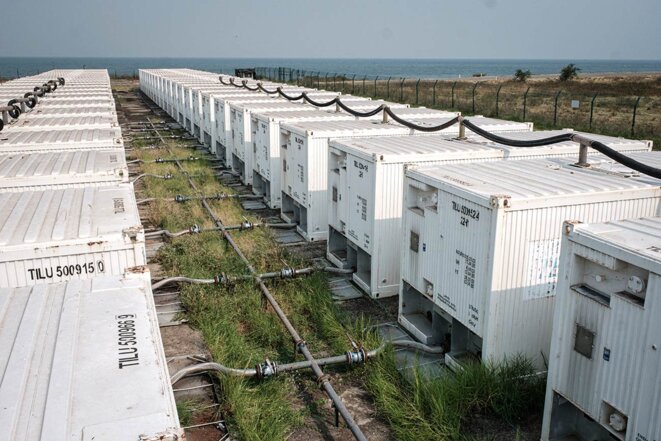 Crude oil containers on the shores of Lake Albert in the west of Uganda, January 24th 2020. © Photo Yasuyoshi Chiba / AFP
He has not spoken about it publicly. But behind the scenes the French head of state Emmanuel Macron has written to the president of Uganda supporting the role of French oil firm Total in developing an oilfield and a  lengthy new oil pipeline in the East African country. In the capital Kampala, meanwhile, the French embassy has  been wholeheartedly lobbying for the French multinational. Yet the projects are opposed by environmental and human rights groups who say they are not just bad for the climate but will also displace thousands of local people from their land. Mediapart's environment correspondent Jade Lindgaard reports.
The deepening diplomatic spat comes as France repositions thousands of its troops who are involved in the international fight against Islamist extremism in the southern Sahara. 
US President Joe Biden and his French counterpart Emmanuel Macron reportedly spoke by phone for half an hour on Wednesday about the tensions prompted by Australia's decision join a military pact with the US and UK leading to the cancellation of its intended purchase of 12 French submarines, after which Paris announced the return to Washington of its recalled ambassador.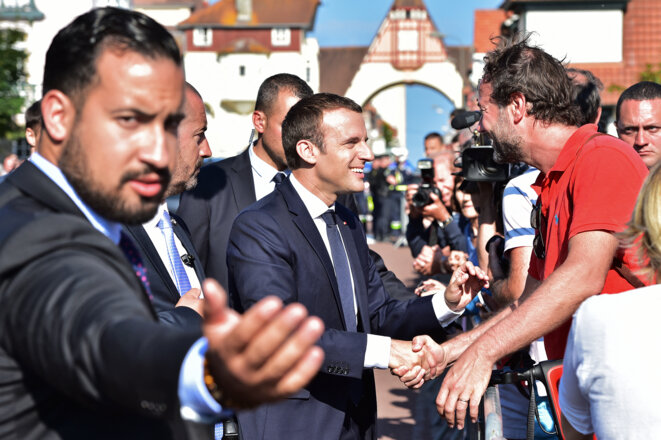 Alexandre Benalla and Emmanuel Macron at Le Touquet in northern France, June 2017. © CHRISTOPHE ARCHAMBAULT / AFP
On Monday September 13th 2021 President Emmanuel Macron's former bodyguard and security adviser Alexandre Benalla stood trial following an incident in 2018 when he was filmed assaulting protestors at a demonstration. In addition to assault, Benalla is also accused of interfering in the operation of the police without lawful excuse, of forgery and using a false instrument in relation to a diplomatic passport and unlawfully carrying a firearm. In this op-ed article Mediapart's Fabrice Arfi argues that the importance of the Benalla case goes beyond the conduct of the president's trusted bodyguard and adviser. He says that the high-profile affair, and in particular a speech that the president gave just one week after it was revealed in the press, showed the world there is something quite illiberal about Emmanuel Macron.
French president was forced to fire Alexandre Benalla, now 30, after a video emerged showing him striking a young man and grabbing a young woman by the neck at a May Day protest in 2018.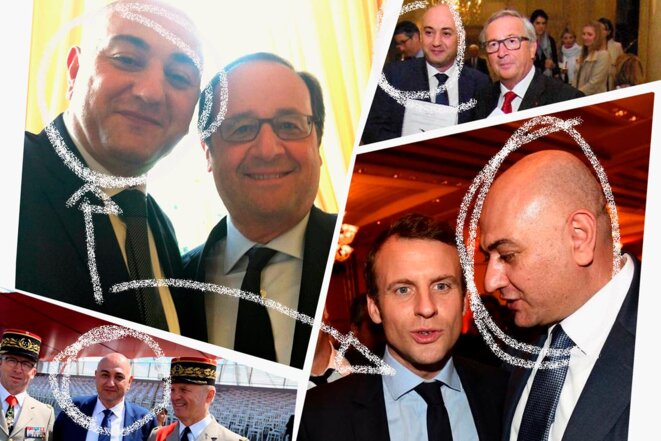 Mohamad Izzat Khatab with François Hollande, Emmanuel Macron, former European Commission boss Jean-Claude Juncker, and former chief of the defence staff in France General Jean-Louis Georgelin. © Photomontage Mediapart
He has been variously described as a "billionaire, a "peacemaker" and a key figure in "inter-faith dialogue". For ten years French political and religious leaders have rolled out the red carpet for Mohamad Izzat Khatab, a Syrian businessman whose past is shrouded in mystery. According to an investigation by Mediapart, this fan of selfies taken with the rich and powerful has just been placed under investigation in relation to a vast fraud case. Antton Rouget reports.