Related keywords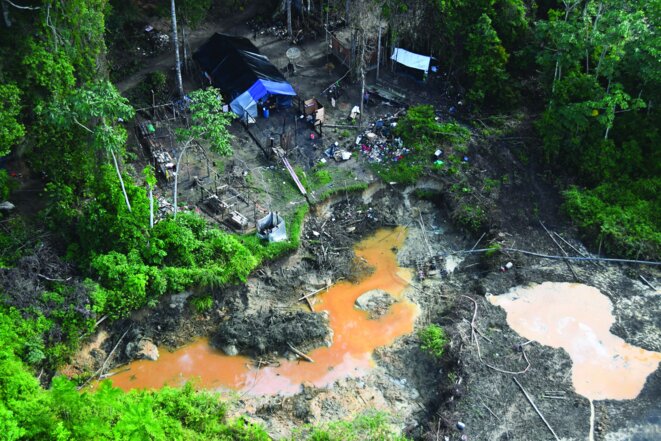 An unauthorised gold-prospecting site in operation in 2017 in French Guiana. © Parc Amazonien de Guyane
For many years, French leaders have liked to pose on the international scene as potential saviours of the Amazon, as we have just witnessed at the recent G7 summit in Biarritz with the diplomatic spat between President Emmanuel Macron and Brazilian president Jair Bolsonaro over forest fires. President François Mitterrand started the trend back at the Earth Summit in Rio de Janeiro in 1992. But alongside the diplomatic posturing there is also the reality of what is happening in French Guiana, an overseas region of France that lies just to the north-east of the Amazon rainforest. As Marion Briswalter reports from Cayenne in Guiana, what is happening on the ground in this French corner of South America reflects less well on Paris's stewardship of the environment.
Presidents Donald Trump and Emmanuel Macron at the G7 summit in Biarritz, August 26th 2019. © Reuters
In 2018 President Emmanuel Macron experienced a catastrophic period in domestic politics after the summer break. In 2019 the French head of state has tried to hit the ground running by placing himself firmly at the centre of the international stage. His hosting of the G7 summit in Biarritz in south-west France was greeted with unanimous approval by the French press which hailed it a success. Yet as Mediapart's Ellen Salvi reports, nothing in the substance of the issues tackled at the international gathering has changed.
French president attempted to engineer progress at leaders' gathering in Biarritz despite deep divisions over issues.
Comment came after he was asked about recent, insulting comments that Bolsanaro and a colleague made about French president and his wife.
German Chancellor Angela Merkel said that talks between Iran and France were "parallel" but not officially part of the G7 Summit. 
Surprise lunch came just a day after Trump reiterated his threat of tariffs against French wine in retaliation for new tax on major US tech firms.
The crisis of wildfires raging in the Amazon is to be the subject of emergency talks at this weekend's G7 summit in south-west France, while President Emmanuel Macron has announced he is withdrawing support for the Mercosur free-trade deal between the EU and South American nations, accusing his Brazilian counterpart Jair Bolsonaro of 'lying' about his commitments on combating the climate emergency.
A photo showing UK Prime Minister Boris Johnson putting his foot up on a stool in front of President Emmanuel Macron at their meeting inside the Elysée Palace appeared garrulous and insulting, as widely commented on social media, but the photographer who captured the image has revealed that it was a comic gesture after the French president joked that he could use it to put his legs up.
A deal for the supply by France to India of a further 36 Rafale fighter jets is to be discussed at a meeting between President Emmanuel Macron and Indian Prime Minister Narendra Modi ahead of this weekend's G7 summit in Biarritz, according to Indian media reports quoting unnamed sources. 
French President Emmanuel Macron, meeting with British Prime Minister Boris Johnson in Paris on Thursday, said the so-called 'backstop' arrangement for the border on the island of Ireland was 'indispensable' to the UK leaving the EU with an agreed deal, but also added that a solution to the disputed issue was possible 'if there is a good will on both sides'.
At a press conference ahead of more than two hours of talks between French President Emmanuel Macron and his Russian counterpart Vladimir Putin in southern France on Monday evening, Putin said he supported a plan for international talks to seek a resolution to the conflict in eastern Ukraine, while Macron said their discussions would centre on the crises in Syria and Libya because "Russia has an essential role in these situations".
At a press conference ahead of their talks at the French President's official retreat on the Mediterranean coast on Monday, Emmanuel Macron tackled Russian President Vladimir Putin on the crackdown on recent opposition protests in Moscow, to which the Russian leader spoke of a toll of deaths and injuries in France's 'yellow vest' protests, adding that, 'We wouldn't want such events to take place in the Russian capital'. 
French President Emmanuel Macron will host his Russian counterpart Vladimir Putin for talks at the Fort de Bregançon, his official summer retreat in southern France, on Monday, ahead of the G7 leaders' meeting in Biarritz next weekend, from which Russia is excluded.
François de Rugy leaving the environment ministry on July 17th 2019 following his resignation. © Reuters
Mediapart's revelations earlier this month of the use of public funds by French environment minister François de Rugy for his dinner parties and decorations of his grace and favour apartment led to his resignation last week. Amid accusations from some complacent quarters of a media 'witch-hunt', Mediapart's publishing editor Edwy Plenel sets the record straight here: the means, the residences, the funds and the personnel of France's institutions, he writes, do not belong to those elected representatives and members of government who are momentarily at the service of the state. By revealing the persistent lack of probity, Mediapart's investigations are firmly in the public interest.