Related keywords
In a speech ahead of the traditional Bastille Day military parade on Sunday, French President Emmanuel Macron announced that France, whose satellite-launching pad in French Guiana is a key hub for the European Space Agency, will establish a new military agency in September designed to "better protect our satellites, including in an active way".
French president praised 'capacities and competences' of French ex-minister Christine Lagarde who is set to be new European Central Bank boss.
French president said it was a 'very bad image for both the Council and for Europe' after states failed to agree over who should get EU's top jobs.
Prosecutors drop probe involving three current and former officials in the president's office in connection with the so-called Benalla affair'.
British singer and songwriter Elton John, 72, was on Friday awarded the Légion d'honneur, France's highest award of civil merit, at the hands of French President Emmanuel Macron, after a concert in Paris during what is billed as his farewell tour.
About 2,000 youngsters, including 50 disabled teenagers, were chosen out of 4,000 volunteers for the first trial of a new national civic service, imbued with a military ethos, which was first proposed by President Emmanuel Macron during his election campaign.
In what might be perceived by some as a reflection of increasing tensions between US President Donald Trump and his French counterpart Emmanuel Macron, a young oak tree presented as a gift by the French president during an official visit to the US last year, and which was symbolically planted in the White House gardens by the two leaders before being placed in obligatory quarantine, has died.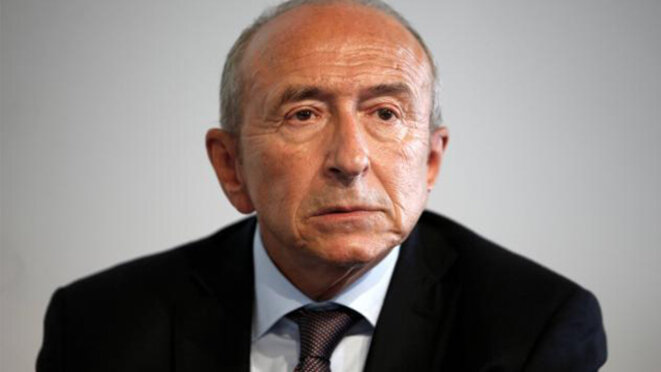 Lyon mayor and former minister of the interior Gérard Collomb. © Reuters
The mayor of France's third largest city Lyon, former interior minister and key ally of President Emmanuel Macron, Gérard Collomb, faces a preliminary investigation for possible "misappropriation of public money" linked to city council jobs held by his former partner. One constant factor in the career of this powerful politician is that Gerard Collomb's partners have always worked close at hand. Nicolas Barriquand and Mathieu Périss from online journal and Mediapart partner Mediacités report.
French president praised the multilateralism of NATO and the EU while offering gratitude to the United States.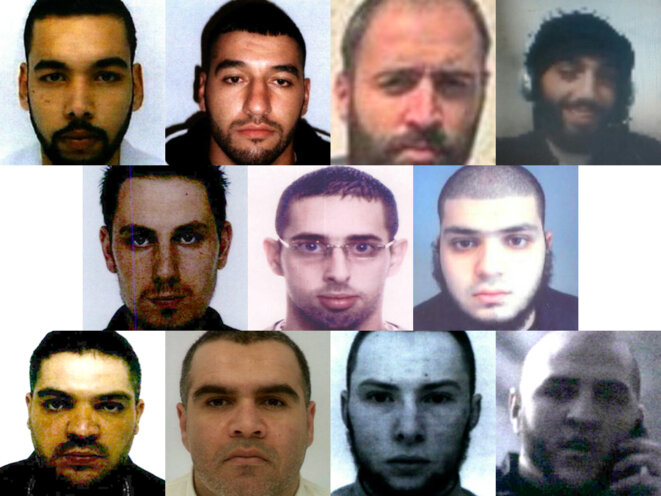 From left to right and from the top, 11 of the 12 condemned to death: Yassine Sakkam, Fodil Tahar Aouidate, Karam El Harchaoui, Bilel Kabaoui, then Kevin Gonot, Léonard Lopez, Mohamed Berriri, and finally Mustapha Merzoughi, Salim Machou and Brahim Nejara. © DR
Twelve former residents in France – eleven of them French citizens, one a Tunisian – have now been sentenced to death in Iraq for having been a member of Islamic State. But whatever charges they face, the way in which Iraqi justice is being carried out in relation to the jihadists has raised major concerns, including among many French lawyers. As Mediapart has revealed, the ides of trying these French citizens and residents in Iraq was conceived in Paris where officials want the process to be carried out "without visible involvement by France". Matthieu Suc reports.
Macron and French officials hoping for smoother run than last time French head of state hosted US president, which became a diplomatic fiasco.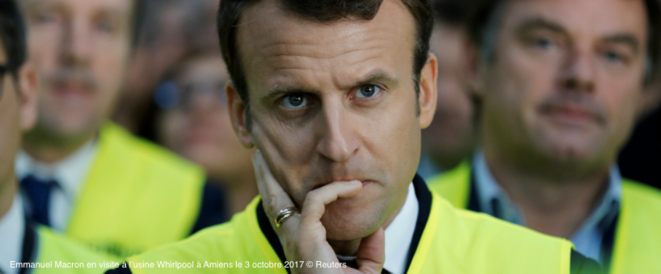 In the immediate aftermath of the European elections, in which the ruling centrists lost to Marine Le Pen's far-right party, the French government has had to deal with impending job losses at three major industrial sites. It is, argues Martine Orange, the outcome of a deliberate policy by President Emmanuel Macron: the massive and organised destruction of French industry. Mediapart's finance and business writer says that as a result France runs the risk of being trapped permanently in austerity and unable to forge an industrial future for itself.
Angela Merkel wants centre-right candidate Manfred Weber as next EU Commission president but Emmanuel Macron favours other candidates.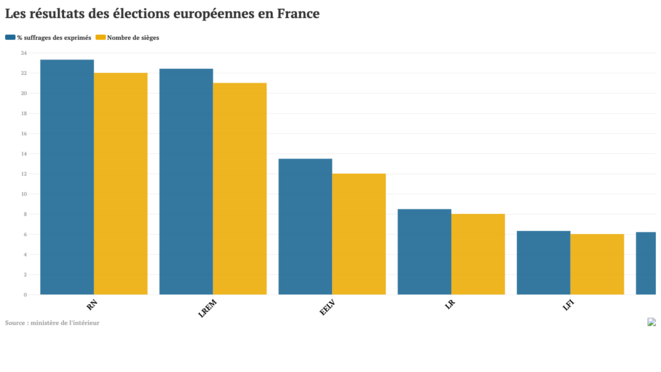 Results of the European Elections in France, in vote share and seats won. © Mediapart
The European Election results in France have confirmed that Marine Le Pen's Rassemblement National – the former Front National – is once again the main opposition in the country to President Emmanuel Macron and his ruling La République en Marche. But outside of that polarised duel the rest of the French political landscape has been shattered,with an abstention rate of 49%. On the Left the environmentalists came top with 13% while on the Right the conservative Les Républicains – the party of former president Nicolas Sarkozy – has collapsed, picking up just 8% of the vote. Stéphane Alliès and Lénaïg Bredoux analyse the results in France.