Related keywords
Reacting late on Tuesday to the British parliament's rejection of Prime Minster Theresa May's Brexit deal with the EU, French President Emmanuel Macron said it was most likely that the UK would seek a better deal and that 'maybe we'll make improvements on one or two things', but warned that the British would be the 'first losers' in a no-deal brexit, and that 'we won't, just to solve Britain's domestic political issues, stop defending European interests'.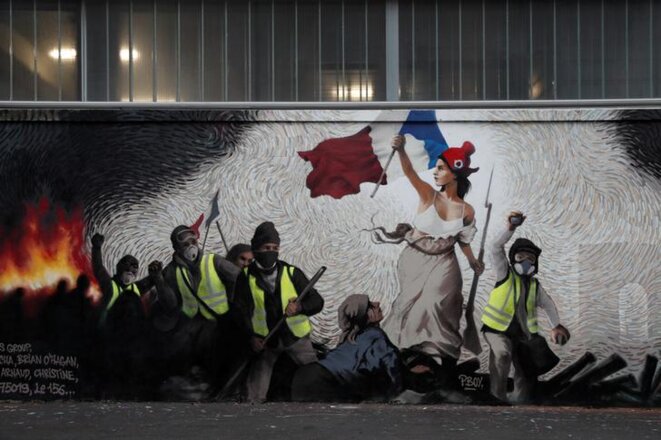 A work by artist Pascal Boyart, alias PBOY, in homage to the 'yellow vests', on the walls of Paris, January 7th 2019. © Reuters
On Monday January 7th the French prime minster Édouard Philippe announced plans to boost the array of security powers at the state's disposal with, in particular, a new law against rioters and undeclared demonstrations, plus preventative targeting of protestors presumed to be violent. Mediapart publishing editor Edwy Plenel points out that the prime minister did not utter a word about police violence, demonstrating that in making this repressive decision the government has turned its back on the sometimes vague democratic demands made by the 'yellow vest' protestors.
What began as a rebellion over cost of living has morphed into something more perilous - an assault on his presidency and France's institutions.
Government spokesman Benjamin Griveaux escaped from office through back door after protesters broke into compound and smashed vehicles.
French president used his traditional New Year's Eve speech to promise to press on with his reform agenda in 2019 despite protests.
Move against tax avoidance by well-paid business leaders is part of effort to placate Yellow Vest protesters in France who complain of inequality.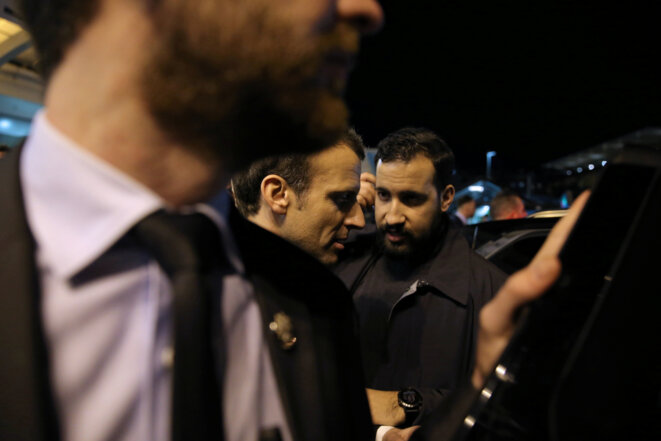 Emmanuel Macron with bodyguard Alexandre Benalla. © Reuters
The scandal surrounding President Emmanuel Macron's disgraced former personal security aide Alexandre Benalla, who was fired over media revelations that he violently assaulted participants in May Day marches in Paris this year while illegally wearing police apparel, escalated this month after Mediapart's revelations that he has continued to use a diplomatic passport while conducting business trips abroad, notably in Israel and several African countries. Now, in an exclusive interview with Mediapart, he claims to continue to regularly discuss ongoing political issues with Macron, despite the Élysée's insistence that he has "no further contact" with the French president. Benalla, 27, says his mobile phone records provide the truth of his claims, while he also accuses Macron's entourage as behaving like a "mafia" against him. Fabrice Arfi reports on the deepening mystery of Benalla's relationship with the French president.
The weekend magazine supplement of French daily Le Monde has caused controversy after its cover published on Saturday showed a mock-up of a photo of President Emmanuel Macron and the Champs-Elysée avenue in a design perceived by some as Nazi iconography.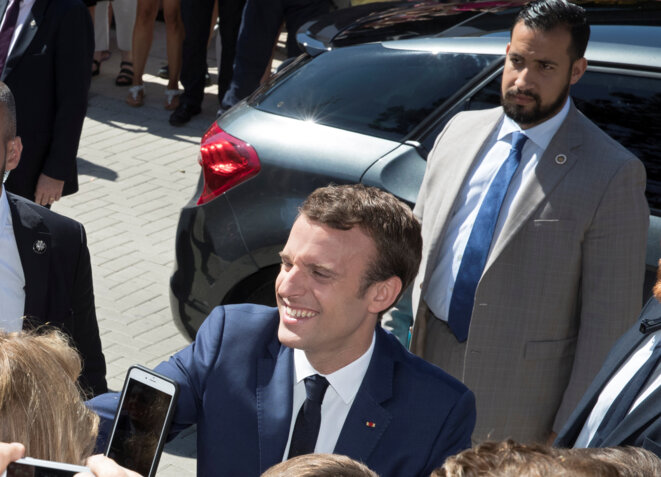 Alexandre Benalla standing behind Emmanuel Macron when he served as the president's bodyguard. © Photo d'archives/REUTERS/Philippe Wojazer
Alexandre Benalla, the disgraced former personal security advisor and deputy cabinet chief to President Emmanuel Macron, who was dismissed from his post this summer after it was revealed he assaulted May Day marchers in Paris while wearing police insignia, has continued to travel in possession of a French diplomatic passport and notably during recent business trips to Israel and several African countries, Mediapart has learnt. The passport, valid for four years, was delivered to him on May 24th, three weeks after the May Day events for which he is now placed by magistrates under formal investigation. Fabrice Arfi and Antton Rouget report.
FDrench President Emmanuel Macron, speaking during a visit to Chad, said he "very deeply' regrets the decision by his US counterpart Donald Trump to withdraw American troops from Syria, commenting that 'An ally should be dependable'.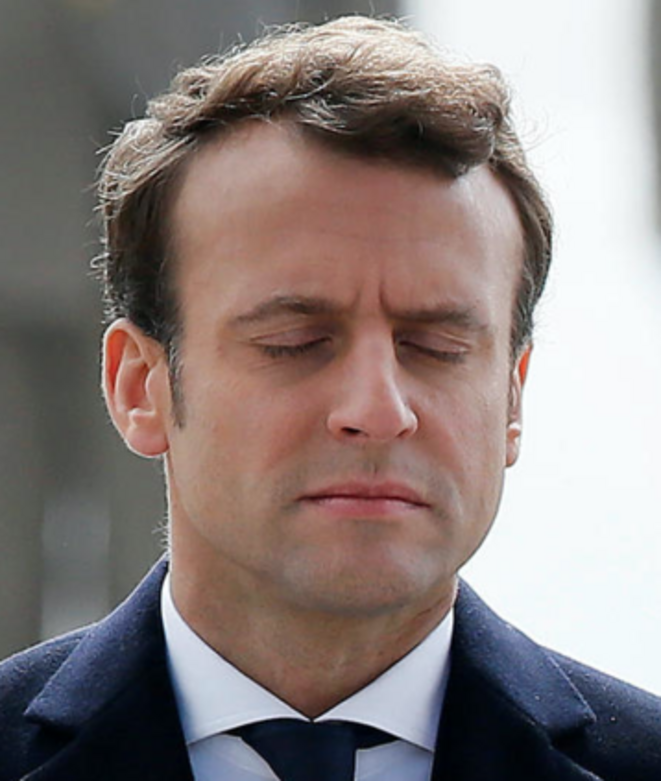 French President Emmanuel Macron. © Reuters
No French president or prime minister over the past 50 years has survived a political crisis like that in which Emmanuel Macron has become engulfed with the 'gilets jaunes' – Yellow Vest – movement, which is calling for improved living conditions for low- and middle-income earners, and increased participation of citizens in political decision making. In this analysis of the crisis, François Bonnet argues why Macron, in order to save his five-year term in office, appears to have little other choice than to return to the urns.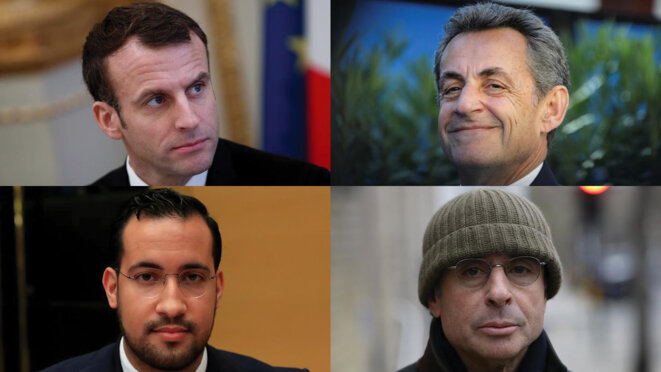 Clockwise from top left: Emmanuel Macron, Nicolas Sarkozy, Alexandre Djouhri and Alexandre Benalla. © Reuters
In recent weeks the current French president Emmanuel Macron has deepened his ties with former rightwing president Nicolas Sarkozy. The latter recently represented France at a ceremony in Georgia and the pair have lunched together. But by a curious coincidence two of their former allies, each of them facing judicial investigations in France, have also been meeting. They are Alexandre Benalla, President Macron's former security advisor who caused a scandal over the summer after he was filmed using violence against protestors in Paris on May 1st, and Alexandre Djouhri, a businessman and middleman who was close to Nicolas Sarkozy and who is awaiting extradition to France as part of the investigation into Libyan funding of Sarkozy's 2007 election campaign. Fabrice Arfi reports.
Macron has lunched with Sarkozy and sent him to represent France at swearing-in of Georgia's new president, a move that caused a political stir.
In an attempt to defuse growing social unrest, French President Emmanuel Macron announced in a televised address on monday a 100-euro rise of the minimum monthly wage, the removal of a tax on pensions below 2,000 euros per month, the ending of taxation on overtime payments and encouraged employers to offer a tax-free end-of-year bonus to employees.