Related keywords
Speaking at a yearly gathering in tribute to victims of terrorism in France and French victims in other countries, President Emmanuel Macron announced the future creation of a memorial in their honour, together with a dedicated public body of support for all those affected by attacks, and promised increased financial support for relatives of victims of terrorism abroad.  
During an open-day to the public to visit the grounds of the French presidential office, the Élysée Palace, Emmanuel Macron met with visitors who included a jobless man complaining about his difficulties in obtaining work as a gardener, to which the president replied he should simply choose an undermanned sector like the construction or catering industries.
In a highly symbolic ceremony, French President Emmanuel Macron on Thursday met the 87-year-old widow of Maurice Audin, a communist mathematician who disappeared in 1957 after being arrested by the French military during the seven-year Algerian war of independence, when he apologised to Josette Audin on behalf of the French state and, in the first official admission of its kind, acknowledged the army's systematic use of torture during the conflict.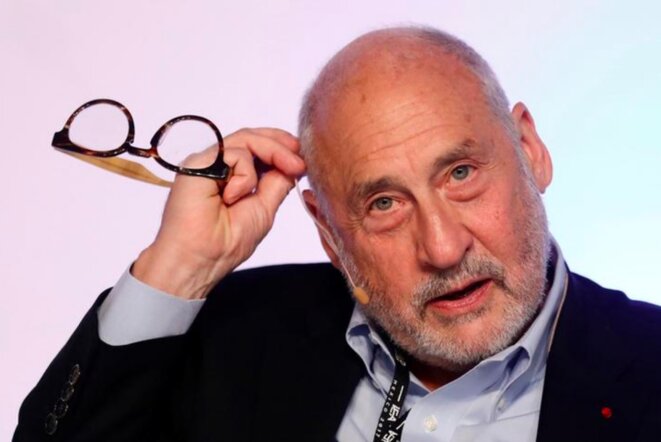 Joseph Stiglitz in Mexico, June 2017. © Reuters
In an interview with Mediapart the celebrated Nobel Prize winner for economics, Joseph Stiglitz, says he is worried about the continuing pursuit of austerity policies in the Eurozone. The economist say he is concerned, too, about President Donald Trump's policies and the explosion in inequality since the financial crisis of 2008. More than ever, he tells Mediapart, there is a need for wages to rise, for better regulation of the financial world and for a war on huge "monopolies". Mathieu Magnaudeix reports.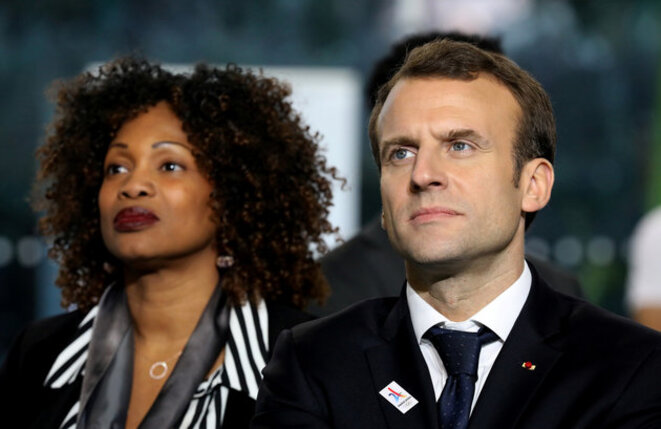 Former sports minister Laura Flessel with President Emmanuel Macron. © Reuters
When the former fencing champion Laura Flessel resigned as sports minister earlier this week her departure was initially put down simply to "personal reasons". Later it emerged that she and her husband face a possible investigation over tax fraud in relation to a company they own. The government, however, has refused to say when it first became aware of possible issues over the minister's tax affairs. Antton Rouget investigates.
Popular sports minister Laura Flessel, a former Olympic fencing champion, steps down for personal reasons as president's ratings hit new lows.
After the resignation of his high-profile and popular environment minister – which exposed the gulf between the presidency and wider society – President Emmanuel Macron made a declaration and a decision which then widened that gap still further. The decision was the nomination of a close friend, the writer Philippe Besson, as France's consul general in Los Angeles. The declaration was his criticism of his own people as "Gauls who are resistant to change". Mediapart publishing editor Edwy Plenel looks at what these recent episodes say about the state of France's outmoded presidential system.
Villers-Cotterets, north-east of Paris, in March 2017, Emmanuel Macron, accompanied by Alexandre Benalla, visits the town where writer Alexandre Dumas was born. © Reuters
Paris prosecutors have refused to broaden the scope of the investigation of the Alexandre Benalla affair into claims that evidence in the case was concealed. This is despite the fact that, according to documents seen by Mediapart, President Emmanuel Macron's former security aide himself claimed that he had arranged for evidence to be hidden. The affair concerns claims – backed by video footage – that Benalla and another official unlawfully took part in the arrest of a May Day demonstrator in a Paris park earlier this year. Pascale Pascariello, Fabrice Arfi and Karl Laske report.
Macron's praise for Danes as open to new ideas and description of French as 'Gauls who are resistant to change' had prompted criticism at home.
In a speech to French ambassadors in Paris, French President Emmanuel Macron said 'Europe cannot rely on the United States only for its security' and that 'it's up to us to meet our responsibilities and guarantee our security, and therefore European sovereignty', including in cooperation with Russia.
French President Emmanuel Macron held a post-holiday cabinet meeting of ministers ahead of challenging months ahead when he faces stern opposition to his planned reforms of the pensions system, an overhaul of the public healthcare system and a shake-up the highly unionized public sector, amid forecasts that economic growth is slower than expected.
The months following September's rentrée, when millions return from holidays, will test the resolve of French President Emmanuel Macron, who came to power last year on a pledge to uproot his country's traditions of work and exclusion and now faces his first major confrontations with public anger and perceptions of entrenched privilege.
Following the death of former UN secretary general and and Nobel peace laureate Kofi Annan, French President Emmanuel Macron joined a flood of tributes to the Ghanaian, saying, 'We will never forget his calm and strong-willed look, nor the passion he gave for his fights'.
A former US national security official has claimed that President Donald Trump has a 'bizarre' desire to 'constantly' call French President Emmanuel Macron, sometimes for no particular reason and leaving Macron bemused.