Related keywords
French President Emmanuel Macron arrived in Kenya on Wednesday on the final leg of a three-nation tour of East Africa, the first official visit by a French president since Kenyan independence in 1963, when he is due to seal a number of trade deals with his Kenyan counterpart Uhuru Kenyatta and to discuss closer cooperation in the fields of defence and counter-terrorism.
French President Emmanuel Macron, accompanied by a delegation of business leaders, arrived on an official visit to Ethiopia on Tuesday, the second destination in a three-nation tour of East Africa that began with Djibouti and which will end in Kenya, in a bid to drum up closer economic ties in the region.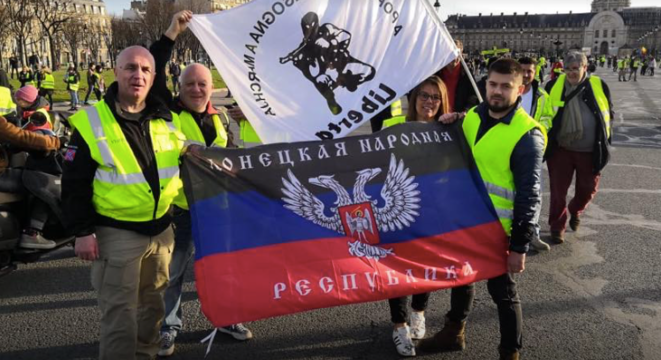 Screen grab from the Facebook page of Sergei Munier, a follower of former soldier Victor Lenta, at a 'yellow vest' protest. © DR
When President Emmanuel Macron spoke to a group of journalists at the end of January this year he claimed there were "40,000 to 50,000 extreme militants" stirring up the 'yellow vest' protests, and he warned that violence was being orchestrated by political hardliners. Yet at the very same time the president's own intelligence services were producing an analysis which came to precisely the opposite conclusion. According to those security agencies, the ultra-right and ultra-left are "virtually non-existent" in the protest marches. Matthieu Suc reports on the president who appears to be ignoring or contradicting his own secret services.
Annegret Kramp-Karrenbauer, head of CDU, backs French vision of reformed EU migration policy but warns against too much centralisation.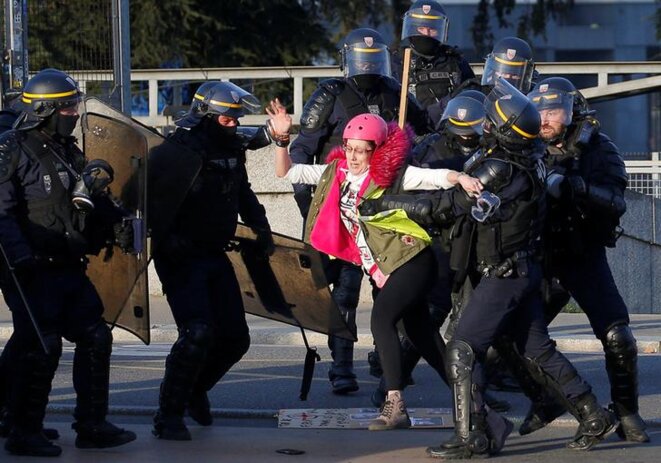 Scenes at a 'yellow vest' protest in Nantes in western France on February 16th 2019. © Reuters
The United Nations has followed the European Parliament in criticising the policing of some demonstrations staged by 'yellow vest' protestors in France. The UN's High Commissioner for Human Rights condemned what she called the "excessive use of force" used by the police on some occasions. The criticism came after interior minister Christophe Castaner's terse response to opposition MP Loïc Prud'homme after the latter was hit with a baton during a yellow vest protest last Saturday March 2nd in Bordeaux. Carine Fouteau reports.
The French president has set out wide-ranging plans to overhaul the EU in response to UK's vote to leave.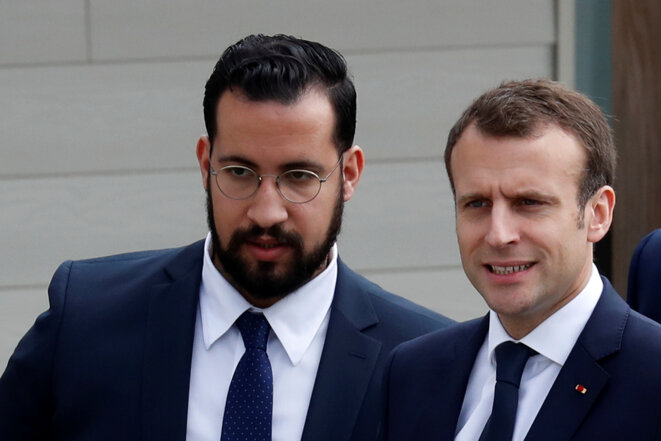 Alexandre Benalla and President Emmanuel Macron during a visit to Normandy April 12th 2018. © Reuters
Mediapart is not a back-room intelligence agency but a news-gathering organization. We do not spy on anyone nor do we install secret microphones, writes Mediapart publishing editor Edwy Plenel. We are content with revealing information in the public interest while respecting press laws. That is true in the current affair involving President Emmanuel Macron's security aide Alexandre Benalla just as it was in the earlier Bettencourt, Sarkozy-Gaddafi and Cahuzac affairs, he says.
Left to right: Alexandre Benalla, Iskander Makhmudov, and Farkhad Akhmedov. © DR
Emmanuel Macron's disgraced former personal security aide Alexandre Benalla, who also served as deputy to the president's inner cabinet chief, organised from the Élysée Palace a private deal to provide protection services to a Russian oligarch close to the Kremlin and who is suspected of ties to Russian organised crime. Benalla, who was initially dismissed from his post after assaulting people on the sidelines of a May Day march, last December also sold protection services to another Russian billionaire. The total of the two deals is worth 2.2 million euros, part of which was paid to Benalla in Morocco, Mediapart can reveal in this latest investigation into the growing scandal which, it is speculated, may be linked to the resignation announced this week of Macron's most senior advisor, Ismaël Emelien.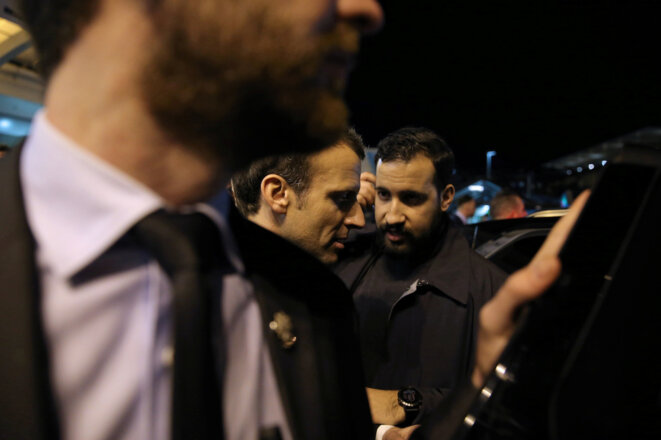 Emmanuel Macron and Alexandre Benalla. © Reuters
Mediapart refused a highly unusual attempt by prosecutors in Paris on Monday morning to search its editorial offices as part of an  investigation that notably cites a breach of the personal privacy of Alexandre Benalla, the disgraced controversial former security aide to President Emmanuel Macron. He was sacked and placed under formal investigation last summer after video footage emerged of him and ruling LREM party security manager Vincent Crase using violence on protestors during demonstrations in Paris on May 1st. The new prosecution services' probe follows Mediapart's revelations last week of extracts from a compromising conversation between Benalla and Crase, who met in violation of their conditional bail, which raise wider questions over Benalla's actions while employed by the presidency, and also his relationship with the president. Mediapart exercised its legal right to refuse the raid on the grounds of protecting the identity of its sources.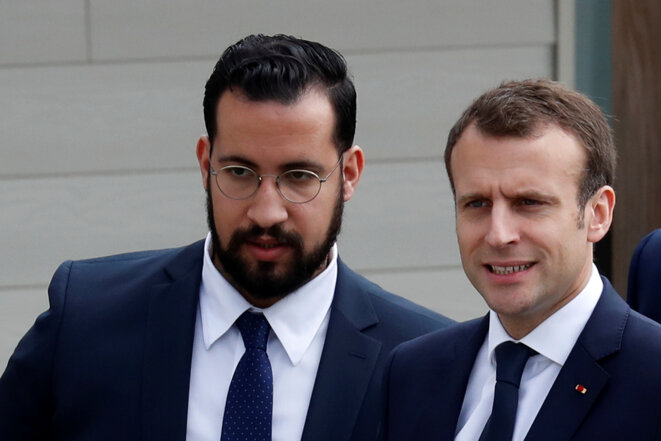 Alexandre Benalla and President Emmanuel Macron during a visit to Normandy April 12th 2018. © Reuters
An investigation by Mediapart sheds dramatic new light on the affair involving Alexandre Benalla, who was a security aide to President Emmanuel Macron until he was sacked when video footage emerged showing that he had used violence against protestors at a demonstration. In particular recordings of Benalla talking to the former head of security for the ruling LREM party, Vincent Crase, who also lost his job over the scandal, reveal details about a secret meeting that breached a judicial control order, about a security contract with a Russian oligarch close to Vladimir Putin, and Benalla's ongoing communications with President Macron. Fabrice Arfi, Antton Rouget and Marine Turchi report.
French President Emmanuel Macron and German Chancellor Angela Merkel met in the border town of Aachen on Tuesday to sign a pact that brings greater cooperation between their two countries, notably in economic and security issues, and including the aim of creating a 'German-French economic area with common rules' and a 'common military culture' that Merkel said could 'contribute to the creation of a European army'.
Emmanuel Macron led the second of a nationwide series of consultations with France's mayors on Friday, at Souillac in the south-west of the country, an initiative officially aimed as an exchange over citizens' complaints and aspirations which was prompted by the ongoing 'yellow vest' movement, supporters of which gave the president a rowdy reception as he arrived for the meeting.
Reacting late on Tuesday to the British parliament's rejection of Prime Minster Theresa May's Brexit deal with the EU, French President Emmanuel Macron said it was most likely that the UK would seek a better deal and that 'maybe we'll make improvements on one or two things', but warned that the British would be the 'first losers' in a no-deal brexit, and that 'we won't, just to solve Britain's domestic political issues, stop defending European interests'.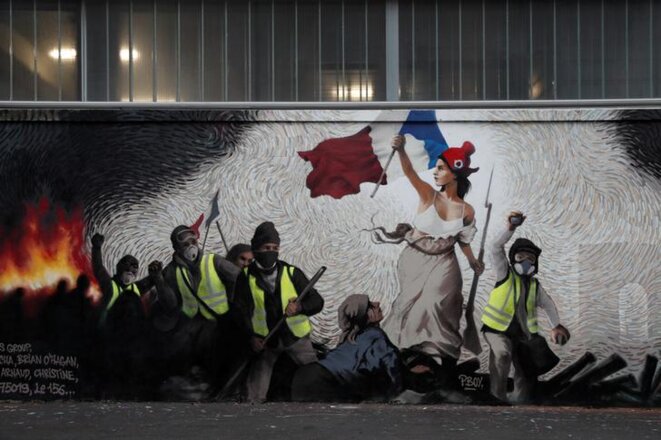 A work by artist Pascal Boyart, alias PBOY, in homage to the 'yellow vests', on the walls of Paris, January 7th 2019. © Reuters
On Monday January 7th the French prime minster Édouard Philippe announced plans to boost the array of security powers at the state's disposal with, in particular, a new law against rioters and undeclared demonstrations, plus preventative targeting of protestors presumed to be violent. Mediapart publishing editor Edwy Plenel points out that the prime minister did not utter a word about police violence, demonstrating that in making this repressive decision the government has turned its back on the sometimes vague democratic demands made by the 'yellow vest' protestors.