Related keywords
During a tour of the Old City of Jerusalem, French President Emmanuel Macron loudly reprimanded Israeli security officers who he accused of violating rules that prevent them from entering the Crusader-era Church of St Anne, which is considered French territory.
To a backdrop of high social tensions over government pension reform plans, French President Emmanuel Macron had to be evacuated from a Parisian theatre after a group of protestors arrived during a performance, while hours later a fire was started at a Montparnasse restaurant well known as the place where he celebrated his first-round victory in the 2017 presidential elections.
Facing hostility in five former colonies over a stalled fight against extremists, President Macron has taken a harsh public stance but few expect him to follow through.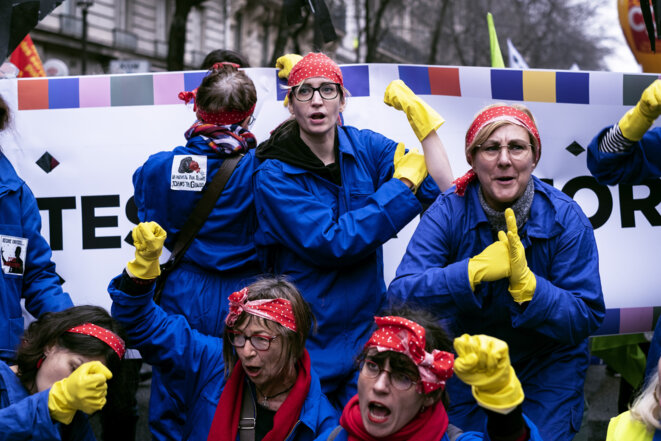 The feminist march during the Paris demonstartions on January 9th 2020. © Noemie Coissac / Hans Lucas
Emmanuel Macron said it himself: he did not want a "normal presidency". Nor has it been so: since his election in 2017, the number of serious social conflicts has shown the dangers of the exercise of power when there are no limits, argues Mediapart co-founder François Bonnet. The planned public protests on Saturday January 11th against the presidency's pension reform plans could be a turning point, he says.
Meanwhile ministers inched towards a deal with one labour union to try to end some of the longest public sector strikes in the country's postwar history.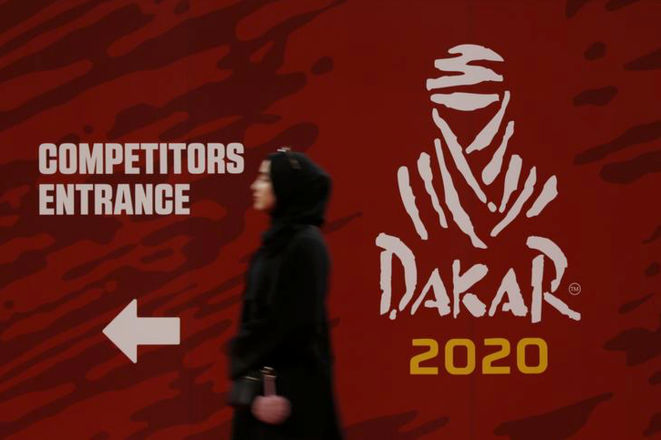 Preparations for the Paris-Dakar Rally in Saudi Arabia on January 2nd 2020. © REUTERS
The Paris-Dakar Rally, often now known simply as the Dakar Rally or Dakar, has been held most years since 1979, and this rally through desert sands is one of the most high-profile motor sports events on the planet. The 2020 rally, which began on Sunday January 5th, is taking place for the first time in Saudi Arabia. Mediapart's Middle East correspondent René Backmann argues in this opinion article that underneath the media din and razzmatazz, the event is nothing more than a PR exercise by the Saudi regime to persuade people to forget its despotic, fundamentalist and brutal nature, as well as the scale of its crimes.
As France returns from the Christmas break this week, the month-long strikes look set to get even more disruptiv.
France's transport strike against pension reform has entered its 29th day, making it the longest rail workers' strike since May 1968.
French president calls for 'rapid compromise' in attempt to end four-week-long protests but his address to the nation was dismissed as a 'declaration of war against millions of French people who reject his reforms'.
In the traditional presidential end-of-year TV address to the public, Macron said he hoped for a 'quick compromise' with union leaders demanding he abandon the plan.
After weeks of union-led strikes and protests against government plans to reform France's pension system, and which have severely disrupted transport services, notably in the Greater Paris Region, French President Emmanuel Macron is expected to finally relieve his prime minister on the political frontline by announcing measures to break the deadlock during the traditional presidential New Year's Eve TV address on Tuesday.
French President Emmanuel Macron with his Ivorian counterpart Alassane Ouattara in Abidjan, December 21st. © Reuters
On a visit to Ivory Coast at the weekend, French President Emmanuel Macron and his Ivorian counterpart Alassane Ouattara announced that the CFA franc, the common currency shared by 14 African countries and created in 1945, is to be replaced by the "Eco". It was presented as a "historic reform" that will see France disengaging its grip over monetary policy in its former African colonies. But some economists in the region argue that, on the contrary, the Eco is a disguised continuation of French dominance, while also representing a death blow to the common currency project of the ECOWAS group of West African states. Fanny Pigeaud reports.
President Emmanuel Macron, 42, has announced that he will forgo his future head-of-state pension in an effort to be 'exemplary and coherent' amid the standoff with unions which reject his proposed universal pension reforms that would put an end to some relatively advantageous retirement rights.
Discussions are now to be held over future of the CFA franc in west and central Africa, which critics say is a colonial relic