Related keywords
German foreign minister Heiko Maas, reacting to French President Emmanuel Macron's remark last week that the North Atlantic Treatty Organisation, NATO, was 'brain dead', has said that 'without the United States, neither Germany nor Europe will be able to effectively protect themselves'.
 In an interview with the magazine The Economist ahead of a London summit to mark 70th anniversary of the founding of the North Atlantic Treaty Alliance (Nato), French President Emmanuel Macron said weakening US commitment to the alliance has depleted its strength and that 'What we are currently experiencing is the brain death of Nato', while he urged Europe to think of itself as a 'geopolitical power' to ensure it remained 'in control' of its destiny.   
Iran's supreme leader said the French president was either naive or 'complicit with America'.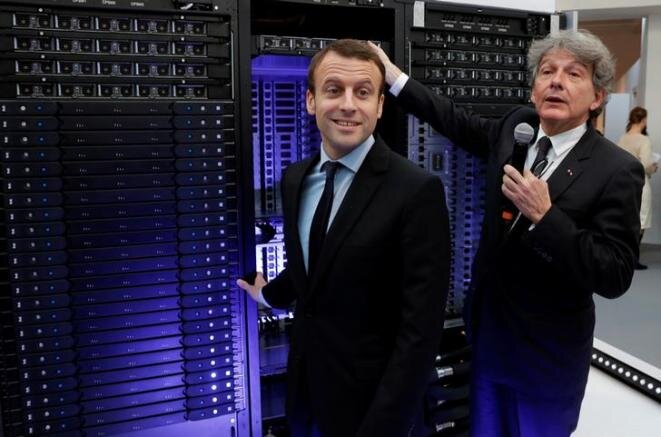 Thierry Breton with Emmanuel Macron, who was then economy minister, in 2016. © Reuters
After his first choice for EU Commissioner was rejected by MEPs, President Emmanuel Macron has nominated the veteran businessman and former government minister Thierry Breton as France's new candidate for the key Brussels post. But just how suitable is he? By flitting between business and politics, the former finance and economy minister has become a bridge between two worlds where collusion, cliquiness and conflicts of interest shamelessly run riot, argues Mediapart's Marine Orange.
French president was greeted by a general strike and a crisis situation on Indian Ocean island that hasn't let up over the past 12 months.
France's 101st département wants investment to strengthen the Indian Ocean territory's public services and to combat illegal immigration.
At a meeting on Wednesday between French President Emmanuel Macron and German Chancellor Angela Merkel, the two leaders reportedly agreed that weapons built by either of their countries and which contained 20% or more of components from the other would require before any export the consent of the country where the component was manufactured.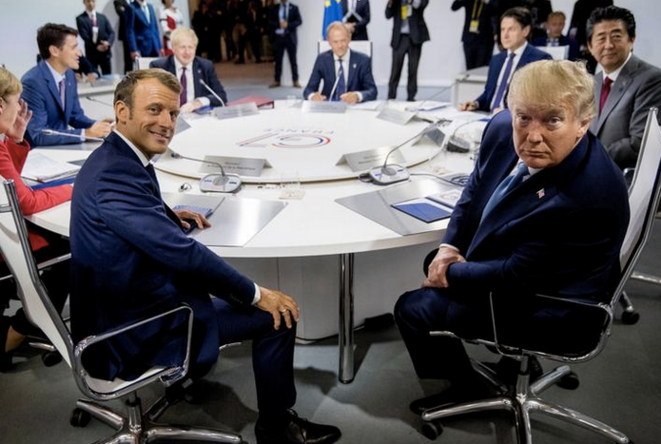 Emmanuel Macron and Donald Trump during the G7 at Biarritz, south-west France, August 25th 2019. © Andrew Harnik/Pool via REUTERS
The reaction to Donald Trump's behaviour and the attempts at impeachment highlights the vitality of democratic culture in the United States when faced with executive abuse of power. In contrast, argues Mediapart publishing editor Edwy Plenel, France is served by a low-intensity democracy that has been undermined by the country's system of presidential monarchy.
President Macron criticised teenager's attack, saying such very radical positions were liable to 'antagonise our societies'.
French president tells reporters en route to New York: 'We need to be clear-eyed.'
Speaking at a joint press conference in Rome on Wednesday, Italian Prime Minister Giuseppe Conte and French President Emmanuel Macron called for all 28 member states of the EU to share reception of the numbers of migrants landing in Europe after being rescued from perilous crossings of the Mediterranean Sea, when Macron said those who refused to do so should be 'seriously penalized'.
French President Emmanuel Macron has told a meeting of MPs from his ruling LREM party that it must shed its middle-class image and adopt a hard line towards illegal immigration which he said was pushing the working class 'who live with it' into the arms of the far-right.
With his long hair, bowties and ornate spider brooches, top mathematician Cédric Villani quickly became a popular politician as an MP in 2017.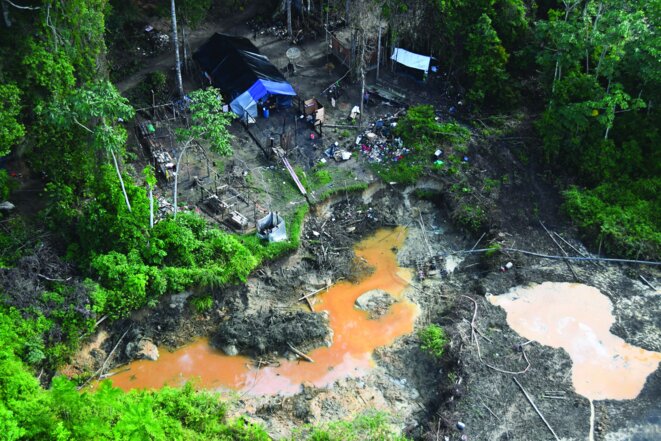 An unauthorised gold-prospecting site in operation in 2017 in French Guiana. © Parc Amazonien de Guyane
For many years, French leaders have liked to pose on the international scene as potential saviours of the Amazon, as we have just witnessed at the recent G7 summit in Biarritz with the diplomatic spat between President Emmanuel Macron and Brazilian president Jair Bolsonaro over forest fires. President François Mitterrand started the trend back at the Earth Summit in Rio de Janeiro in 1992. But alongside the diplomatic posturing there is also the reality of what is happening in French Guiana, an overseas region of France that lies just to the north-east of the Amazon rainforest. As Marion Briswalter reports from Cayenne in Guiana, what is happening on the ground in this French corner of South America reflects less well on Paris's stewardship of the environment.