Related keywords
In a speech to Germany's parliament, French President Emmanuel Macron said Europe must not become 'a plaything of great powers' and that 'in this global order [...] our true strength lies in unity'.
The Guardian's world affairs editor Julian Borger argues that in the spat between US President Donald Trump and his French counterpart Emmanuel Macron, 'the outcomes of Trump's meltdown could be far worse when it is not Macron on the receiving end but, say, Kim Jong-un'.
US President Donald Trump, apparently displeased with remarks warning against rise of nationalism pronounced by French President Emmanuel Macron during Armistice Day ceremonies attended in Paris by the US head of state, took to Twitter on Tuesday to say that 'They were starting to learn German in Paris before the U.S. came along', underlining that France suffers from high unemployment, adding, 'By the way, there is no country more Nationalist than France'.
French President Emmanuel Macron led a ceremony in Paris attended by more than 60 heads of state and dignitaries, including US President Donald Trump and his Russian counterpart Vladimir Putin, when he warned against the return of 'old demons' and issued a plea 'to prioritise peace over everything'.
Five men and a woman which prosecutors said have links to far-right circles have been arrested in several locations across France on suspicion of preparing a 'violent' aatack against President Emmanuel Macron.
Marine Le Pen's RN moves ahead of Macron's La République En Marche! as far-right parties gain combined 30% share of voting intentions.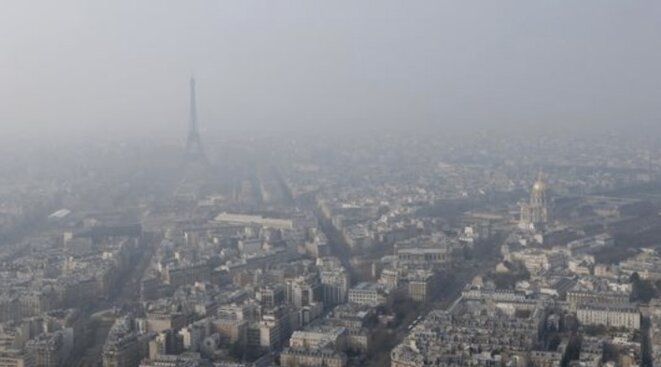 Paris, March 18th, 2015. © Reuters
The French government is shortly due due to announce its plans on energy use and carbon dioxide emission reductions to be implemented up to 2028. Environmental groups are worried the country is set to reduce its ambition on emissions targets and on the decommissioning of its nuclear power stations. Figures meanwhile show that Paris is not currently meeting its existing carbon emission commitments, a revelation that comes just weeks before the next climate change summit, COP24, takes place in Poland. Christophe Gueugneau reports.
Merkel's decision to stand down now as CDU party leader has forced French president to reassess prospects for critical relationship with Berlin.
The French president is leaving with his wife Brigitte for a break to rest before a week of travel to commemorate the 1918 Great War Armistice.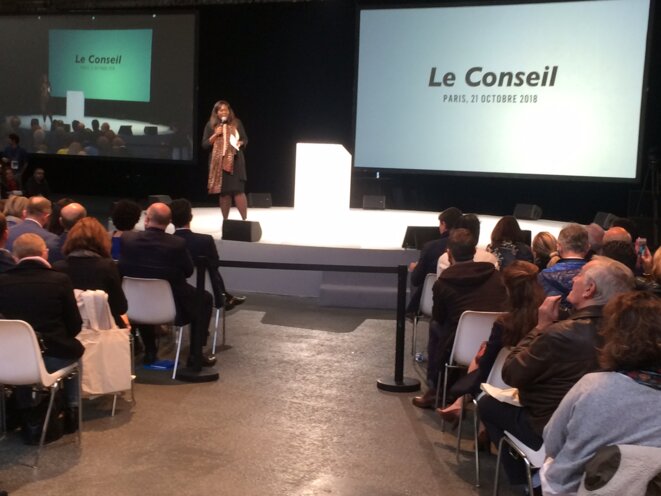 The La République en Marche party conference was held in Paris on October 21st, 2018. © MJ
The governing party set up by President Emmanuel Macron, La République en Marche (LREM), is seeking to mobilise and enthuse its activists as important elections approach. As part of that process it has developed a range of tools and documents inspired by business and management culture in which everyone is called upon to run grassroots initiatives. But as Manuel Jardinaud reports, these 'kit form' methods are not to everyone's tastes.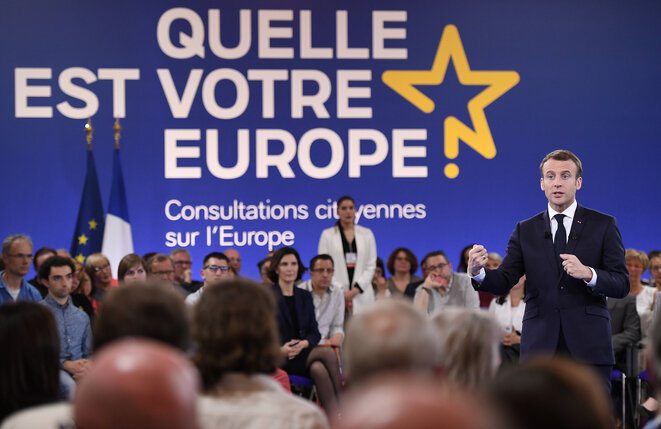 Emmanuel Macron at the launch of the citizens consultation process at Épinal in north-eastern France on April 17th, 2018. © Élysée
The aim was to allow people to come up with a concept of the "Europe of tomorrow". Hundreds of public citizen consultations have already been held across France and more will continue into the autumn in a bid to help bring the French people closer to the European Union. Mediapart has visited three such meetings held in northern France, in Dieppe, Issy-les-Moulineaux and one of the seats of the European Parliament, Strasbourg. The Élysée promised they would be no holds barred meetings. But in reality the gatherings have largely attracted people who are already pro-European or who are members of President Emmanuel Macron's ruling party La République en Marche. Justine Brabant and Ludovic Lamant report.
French president was asked if France would stop weapons sales to Riyadh after it admitted journalist Jamal Khashoggi was killed in its consulate.
Speaking at the European Union summit in Brussels dominated by the struggling negotiations to find a mutual agreement for conditions of the UK's exit from the union, French President Emmanuel Macron described reports that British citizens would require a visa to enter or remain in France as 'fake news', but also did not rule out the possibility.
French President Emmanuel Macron, speaking on Friday during a visit to Armenia, said he was still waiting for more facts about the fate of dissident Saudi journalist Jamal Khashoggi, who disappeared after entering Saudi Arabia's consulate in Istanbul earlier this month, before deciding on France's response.