EU Commission head Ursula von der Leyen agreed it was time for the EU to 'move up a gear' to become a standalone military power.
French MPs passed draft legislation including the vaccine pass shortly after 5am after an all-night session by a margin of 214 to 93.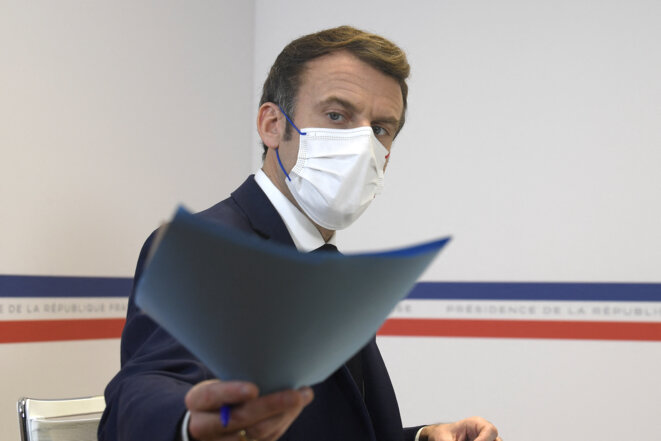 Emmanuel Macron at a meeting of the Defence Council to discuss the pandemic, December 27th 2021. © Nicolas Tucat/Pool/AFP
In an interview with daily newspaper Le Parisien French president Emmanuel Macron cheerfully admitted that he wanted to "piss off" those who had chosen not to get vaccinated against Covid-19 as much as possible. The comment has made headlines around the world. But less remarked upon was his extraordinary description of anyone unvaccinated as an "irresponsible person who is no longer a citizen". In saying this, says Mediapart's political correspondent Ellen Salvi, the head of state – the guarantor of law in the French Republic – has committed a moral, institutional and political error. In this op-ed article she argues that Emmanuel Macron is adding hysteria to the debate, dividing society and giving fresh impetus to the very people he is claiming to be combating.
French head of state's remarks have been condemned by his political opponents who said the language used was "unworthy" of the presidential office.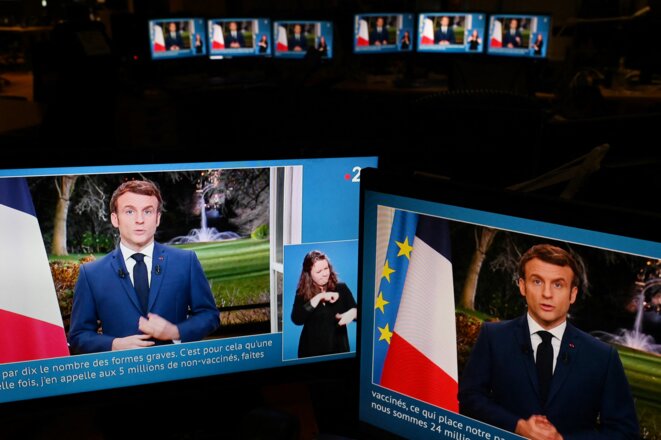 Emmanuel Macron during his televised New Year's message on December 31st 2021, the last of his presidency. © Martin Bureau/AFP
On Friday evening Emmanuel Macron delivered the final New Year's presidential broadcast to the nation of his five-year term of office. Ahead of April's presidential elections – for which Macron has yet to officially declare himself as a candidate – the incumbent gave a rapid overview of what he sees as his achievements in office. Despite the Covid pandemic, President Macron sought to describe a political landscape that embraced both "optimism" and "tolerance" - an assessment, says Ellen Salvi, that stands in stark contrast to the reality of his presidency. Political opponents immediately accused the president of being "out of touch".
Official in the French presidency says removal of flag was in line with planned schedule. 
In his televised New Year's Eve address, the last before the next election, the French president said despite the challenges it had faced, France was stronger now than two years ago.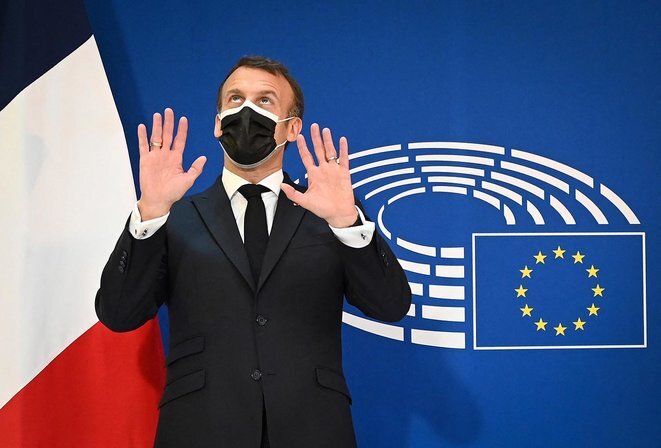 Emmanuel Macron at the European Parliament in Strasbourg, May 9th 2021. © Photo Frédéric Florin/AFP
Emmanuel Macron has still to announce his widely expected bid for a second term in office in next April's presidential elections. His eventual rivals accuse him of unfairly using his position to already campaign in disguise, and notably when France takes over the rotating, six-month presidency of the EU Council on January 1st. As Ellen Salvi reports, it will give Macron the opportunity of testing his election campaign arguments to win over the Eurosceptics among his potential electorate on the Right, and notably on the handling of the Covid-19 crisis and immigration controls.
Addressing Scholz as "dear Olaf" and using the informal "tu" pronoun in French, Macron said he welcomed the show of unity between the men at their meeting. 
In her first address as the French conservatives' presidential candidate, Valérie Pécresse vowed to break with President Emmanuel Macron's centrist policies and to defeat the extremism of her far-right presidential rivals.
France's aim is "to move towards a Europe that is powerful in the world, fully sovereign, free in its choices and in charge of its own destiny", Macron said. 
Far-right candidate Eric Zemmour has repeatedly spurred controversy by attempting to whitewash the extent of Marshal Philippe Pétain's collaboration.
While Pécresse would trail Macron in April's first round by 20 percent to his 23 percent, she would win a second run-off by 52 points to 48, the Elabe group survey published on Tuesday evening indicated.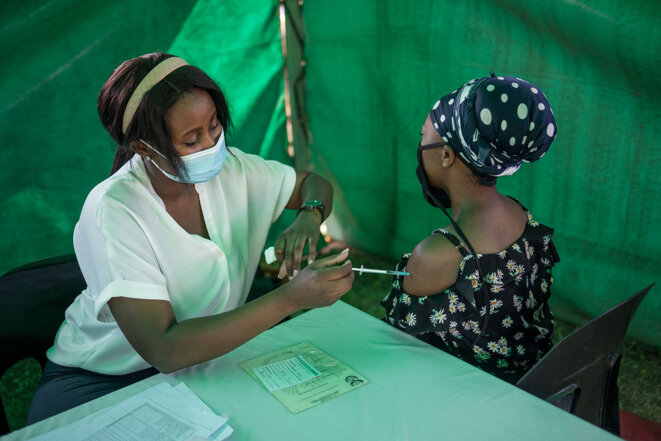 The Johnson & Johnson Covid vaccine being deployed in front of a voting booth in Soweto, November 1st 2021, during local elections in South Africa. © Photo Michèle Spatari / AFP
The emergence of the new variant of Covid-19 called Omicron should serve as a wakeup call to rich countries that unless the whole world is given access to vaccines the pandemic is doomed to continue. Instead, the new variant was given as the reason why a key meeting at the World Trade Organisation to debate the temporary lifting of intellectual property rights on vaccines was postponed indefinitely. Rozenn Le Saint reports on the anger of French activists at the lack of progress on what they see as a key issue in tacking the pandemic in poorer countries.