Related keywords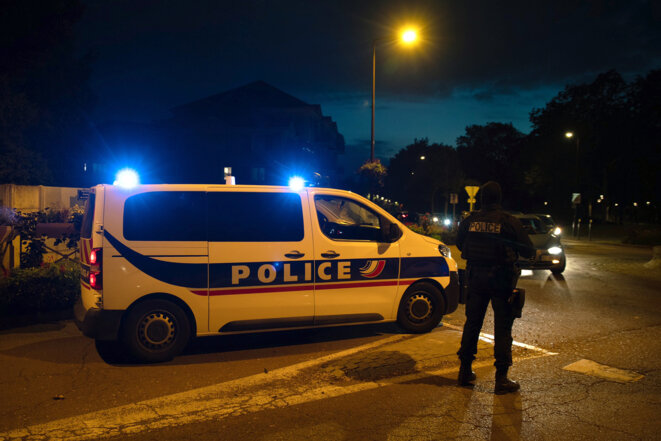 Police at the scene where the suepcted was shot and killed at Eragny near Paris. © AFP
The murder of 47-year-old history teacher Samuel Paty from near Paris who had shown his class caricatures of the prophet Muhammad as part of a lesson on freedom of expression has been greeted with shock and anger in France. The 18-year-old suspect, believed to be a Russian of Chechen origin, and named later as Abdoullakh Abouyezidovitch A., was later shot dead by police. Eleven people have also been questioned by police as part of an anti-terrorist investigation. President Emmanuel Macron, who visited the scene of the murder at Conflans-Sainte-Honorine, a suburb north-west of Paris, on Friday October 16th said: "One of our compatriots was murdered today because he taught ... his students about freedom of expression, freedom to believe or not believe."
Visiting the scene of the murder near Paris, the president said the attack should not  divide France because that is what terrorists wanted.
Visiting the scene of the murder near Paris, the president said the attack should not  divide France because that is what terrorists wanted.
French president Emmanuel Macron has announced a late night curfew for residents in Paris, Marseille and seven other cities: Grenoble, Lille, Lyon, Montpellier, Rouen, Saint-Etienne and Toulouse, covering 19 million people. The government also moved to reinstate its COVID-19 state of health emergency.
In keynote speech, French president said local officials will get extra powers to fight radicalism and social problems will be tackled.
French President Emmanuel Macron, on an official visit to Lithuania, on Tuesday offered to mediate for a "peaceful transition" of power in neighbouring Belarus, meeting with exiled Belarusian opposition leader Svetlana Tikhanovskaya and calling for new 'free elections under international observation' following the crisis in Belarus prompted by the contested August re-election of strongman president Alexander Lukashenko . 
French President Emmanuel Macron on Sunday notably slammed Hezbollah but also the whole of the ruling Lebanese political class, saying he was 'ashamed' of their inability to put an end to the political deadlock in the country, prone to a social and economic crisis, in an ill-tempered news conference after Saturday's resignation of its prime minister-designate and which has halted his own intervention in the former French procetorate.  
Regional president Xavier Bertrand made the call ahead of a ministerial visit to the site in northern France.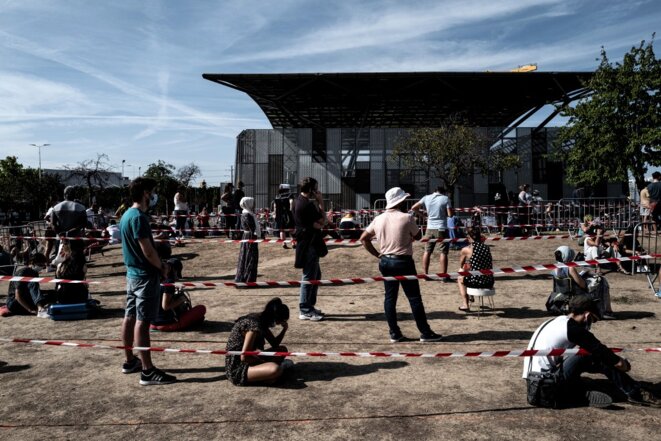 The queue for a free Covid-19 test at a centre in Vénissieux, south-east France, on September 11th, 2020. © Jeff Pachoud / AFP
The spread of the Covid-19 virus is accelerating in France and already the country's testing system is struggling to cope. Many people are having to wait for tests, long queues have formed at testing stations and laboratories, and delays in results themselves – which can be up to five days – are "unacceptable", the authorities admit. After pushing the policy of mass testing in the summer the government is now trying to rein back and give precedence to priority cases. Experts say that, once again, the national authorities have failed to anticipate events and demand. One glimmer of hope may be the arrival of new, much faster tests. Caroline Coq-Chodorge reports.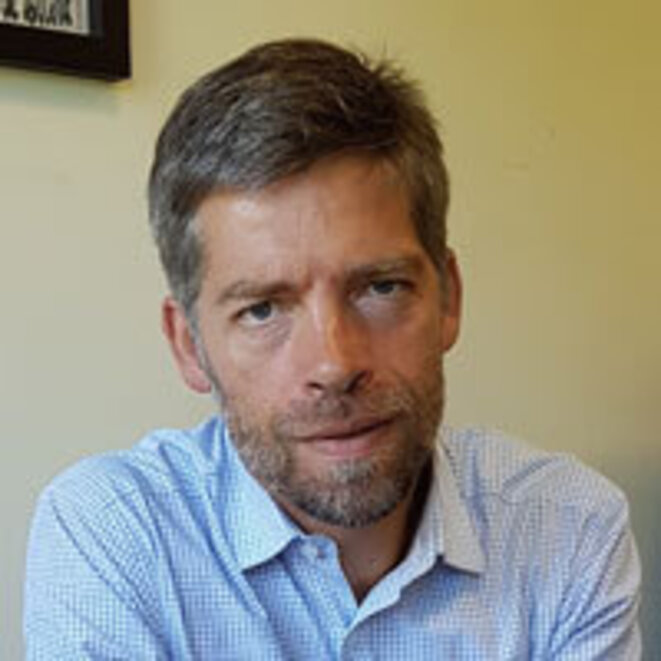 Jacques de Maillard. (© Sciences-Po Saint-Germain-en-Laye)
Through his appointment of the tough-talking Gérald Darmanin as interior minister, President Emmanuel Macron has shown himself to be a conservative on law and order issues, following in the footsteps of former president Nicolas Sarkozy. The French Left, meanwhile, which is wary of once again being portrayed as "soft" on crime, is showing signs of wanting to set its own agenda on the issue ahead of the 2022 presidential election. Against this backdrop Mediapart's Antoine Perraud spoke to political scientist Jacques de Maillard, an expert on the police and on law and order issues, about the fight against crime and the effectiveness of statistics. The academic warns against the "perverse effects" of focusing too narrowly on crime figures and of the dangers of proclaiming "simple solutions" to what are complex issues.
'France is the country of innovation... We are going to put to rest all false ideas,' French president told a gathering of French tech start-ups.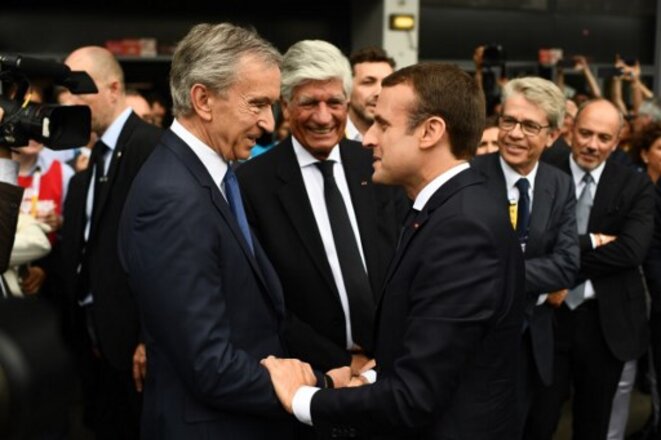 LVMH boss Bernard Arnault and Emmanuel Macron in June 2017. © Martin BUREAU / AFP
France's foreign minister has written an extraordinary letter that provides 'cover' for the French luxury goods group LVMH to pull out of an expensive deal to buy famous American jewellery firm Tiffany it no longer wanted to complete. That letter came after LVMH chief executive Bernard Arnault reportedly asked foreign minister Jean-Yves Le Drian for help. The affair is now likely to lead to a long and bitter legal battle, one that could even end up with the French state facing claims for compensation from disgruntled shareholders. Mediapart's Martine Orange argues in this op-ed article that no French government has ever gone out on such a limb to support a private company.

There is no way of knowing yet what kind and level of social protests may emerge in France this autumn. But judging by the new books from authors Alice Zeniter, Barbara Stiegler, Émilie Notéris, Sandra Lucbert and Aude Lancelin that have been published at the end of the summer break, one of the themes of the new literary season looks set to be that of political commitment and struggle – and the way in which people get involved. Lise Wajeman looks at a mixture of new fiction and non-fictional accounts of recent social conflicts and workplace disputes in France, and finds that 'hybrid' forms of writing win out over the traditional novel form.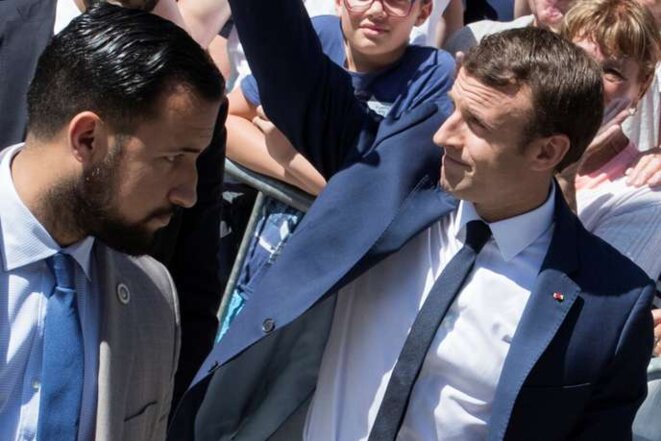 Alexandre Benalla and Emmanuel Macron at Le Touquet in northern France in June 2017. © Philippe Wojazer / Reuters
Despite claims from the Élysée that Emmanuel Macron's former security aide no longer has any links with the presidency, Alexandre Benalla held a secret meeting with an African head of state in the company of a current member of the president's inner circle, Mediapart can reveal. At the end of May 2020 Benalla – who was sacked from the Élysée in July 2018 after being filmed beating up protesters in Paris - met with the new president of Guinea-Bissau, Umaro Sissoco Embaló, along with Élysée aide Ludovic Chaker. Chaker is a former soldier who was the first secretary general of Macron's political movement En Marche! in 2016, and a significant figure in the president's entourage. Fabrice Arfi, Antton Rouget and Marine Turchi report.