Related keywords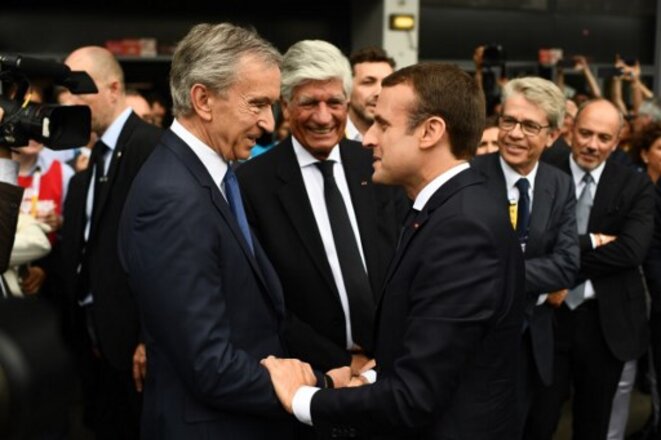 LVMH boss Bernard Arnault and Emmanuel Macron in June 2017. © Martin BUREAU / AFP
France's foreign minister has written an extraordinary letter that provides 'cover' for the French luxury goods group LVMH to pull out of an expensive deal to buy famous American jewellery firm Tiffany it no longer wanted to complete. That letter came after LVMH chief executive Bernard Arnault reportedly asked foreign minister Jean-Yves Le Drian for help. The affair is now likely to lead to a long and bitter legal battle, one that could even end up with the French state facing claims for compensation from disgruntled shareholders. Mediapart's Martine Orange argues in this op-ed article that no French government has ever gone out on such a limb to support a private company.

There is no way of knowing yet what kind and level of social protests may emerge in France this autumn. But judging by the new books from authors Alice Zeniter, Barbara Stiegler, Émilie Notéris, Sandra Lucbert and Aude Lancelin that have been published at the end of the summer break, one of the themes of the new literary season looks set to be that of political commitment and struggle – and the way in which people get involved. Lise Wajeman looks at a mixture of new fiction and non-fictional accounts of recent social conflicts and workplace disputes in France, and finds that 'hybrid' forms of writing win out over the traditional novel form.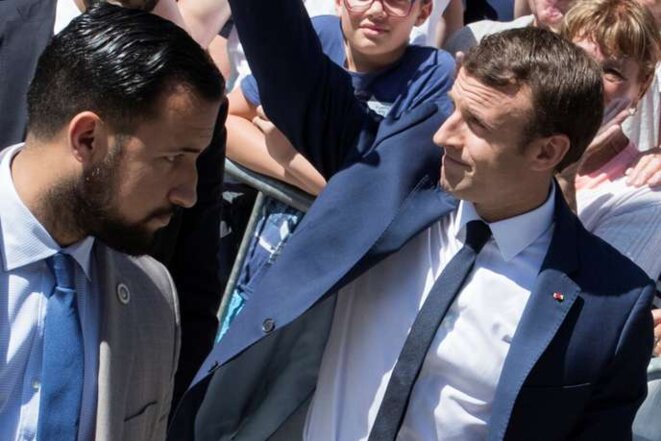 Alexandre Benalla and Emmanuel Macron at Le Touquet in northern France in June 2017. © Philippe Wojazer / Reuters
Despite claims from the Élysée that Emmanuel Macron's former security aide no longer has any links with the presidency, Alexandre Benalla held a secret meeting with an African head of state in the company of a current member of the president's inner circle, Mediapart can reveal. At the end of May 2020 Benalla – who was sacked from the Élysée in July 2018 after being filmed beating up protesters in Paris - met with the new president of Guinea-Bissau, Umaro Sissoco Embaló, along with Élysée aide Ludovic Chaker. Chaker is a former soldier who was the first secretary general of Macron's political movement En Marche! in 2016, and a significant figure in the president's entourage. Fabrice Arfi, Antton Rouget and Marine Turchi report.
France's president Emmanuel Macron is on Thursday to present a national plan to reinvigorate the country's economy, which he has said is 'not simply a strategy to respond to the consequences of the [coronavirus] crisis, but one designed to ensure how our country can emerge stronger'.
Intent on playing a high-profile role in helping Lebanon out of economic and political collapse, french President Emmanuel Macron arrived in Beirut on Monday, his second trip since the devastating chemicals blast in the capital on August 4th and just hours after Lebanese diplomat Mustapha Adib was named as the Middle East country's new prime minister.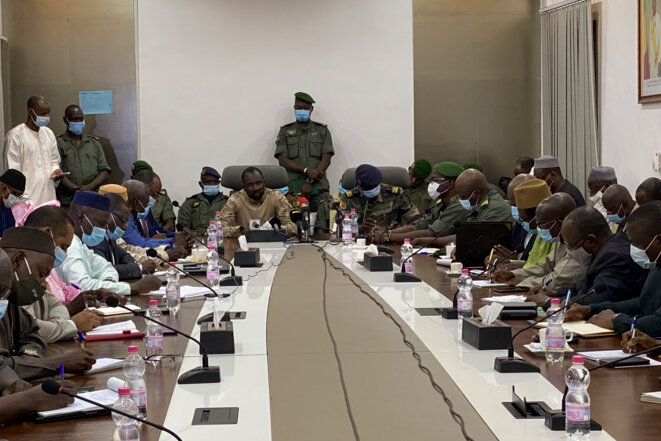 A press conference in Bamako given by the soldiers who took power in Mali, August 19th 2020. © MALIK KONATE / AFP
While the authorities in Paris knew that the position of Mali's president Ibrahim Boubacar Keïta was weak, they were not expecting the military coup that led to his resignation on August 18th. France's recent unyielding stance in negotiations between Mali's government and opposition, and its unflagging support for prime minister Boubou Cissé, are meanwhile now being highlighted as potential causes of the current crisis. Some observers say that without France's 'blind' support for the Malian government the soldiers might not have staged the coup at all. Rémi Carayol reports.
Emmanuel Macron and German Chancellor Angela Merkel also discussed growing tensions in the eastern Mediterranean and the coup in Mali, during talks at the French president's retreat in the south of France.
The French president warned of the 'considerable ... collateral damage' of a lockdown, as he held talks with German leader Angela Merkel.
Lebanon, anti-government protests in Belarus, the COVID-19 crisis, Mali's coup d'état, and tensions between Greece and Turkey will also be discussed, according to a French official.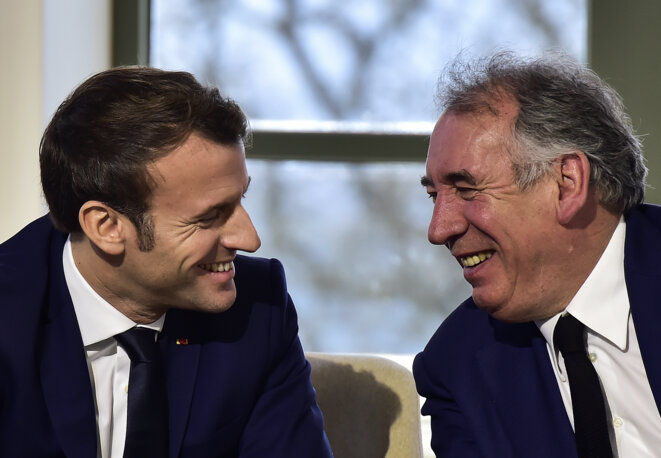 Emmanuel Macron and his political ally François Bayrou in January 2020. © AFP
As a presidential candidate Emmanuel Macron insisted he wanted to dispense with the old ways of doing politics. Yet over this summer President Macron has approved a series of appointments of loyal followers and advisers as well as political allies who have faced difficulties but whose support he may need. And as Manuel Jardinaud reports, this form of presidential patronage is exactly what French presidents have always done.
President Ibrahim Boubacar Keïta announced his resignation on state television late Tuesday, hours after he and prime minister Boubou Cissé were arrested by mutinous soldiers.
The move has sparked allegations of favouritism since Philippe de Villiers, a far-right French politician who founded the Puy du Fou, is said to be a friend of President Emmanuel Macron.
The move has sparked allegations of favouritism since Philippe de Villiers, a far-right French politician who founded the Puy du Fou, is said to be a friend of President Emmanuel Macron.
The public broadcaster television channel France Ô was created to showcase the programmes and culture of France's overseas territories to Metropolitan France and provide a link between the country's mainland and its far-flung lands. But now the government in Paris has decided to axe the channel, which has been getting very low viewing figures. It will broadcast for the last time on August 23rd. Ministers insist that the channel will be replaced by a new online portal and that programmes about the overseas territories, from the Caribbean to the Indian Ocean and the Pacific, will be shown in greater numbers on existing public broadcast channels. But as Julien Sartre reports, many fear that France's overseas territories may simply become "invisible" once more.