In a televised address to the nation on Sunday evening, French President Emmanuel Macron called for 'unity' in France at a key moment when the country is trying to put the coronavirus crisis behind it while being shaken by a series of protests against racial injustice and police brutality.
French President Emmanuel Macron will visit London on Thursday - his first foreign trip since the Covid-19 virus epidemic took hold in France - when he will commemorate the 80th anniversary of Charles de Gaulle's wartime appeal from the British capital calling on the French people to resist German occupation.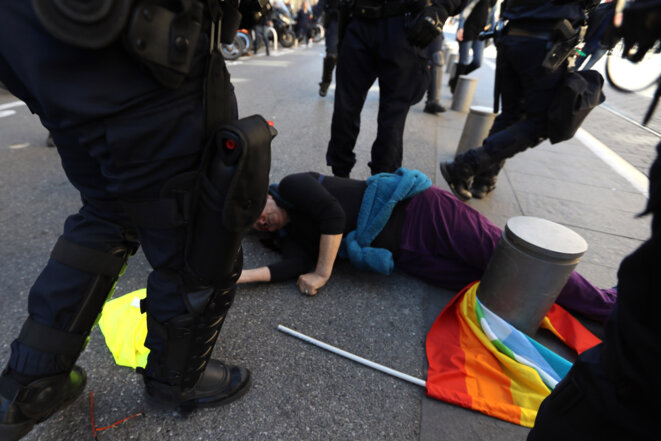 The activist Geneviève Legay on the ground having been knocked over by a police officer on March 23rd, 2019, in Nice. © Valery HACHE/AFP
In the spring of 2019 Mediapart journalist Pascale Pascariello revealed the lies told by a state prosecutor and President Emmanuel Macron himself over a case involving an activist in her 70s who was injured during a protest amid allegations of police violence. This week, on Tuesday 26th May, the reporter was questioned as a potential suspect by the police body which investigates police actions, the Inspection Générale de la Police Nationale (IGPN). The alleged offence is receiving information passed on as a result of a breach of professional confidentiality. As Mediapart's Fabrice Arfi writes, it is the fourth time in under 18 months that the legal system has targeted Mediapart's sources following investigations that have proved embarrassing for the government.
French president said that the Franco-German agreement had enabled progress to be made and that EU needed an ambitious agreement with 'all our European partners'.
President Macron said the package would include one billion euros in subsidies for electric and hybrid cars, adding France should be producing a million green cars annually by 2025.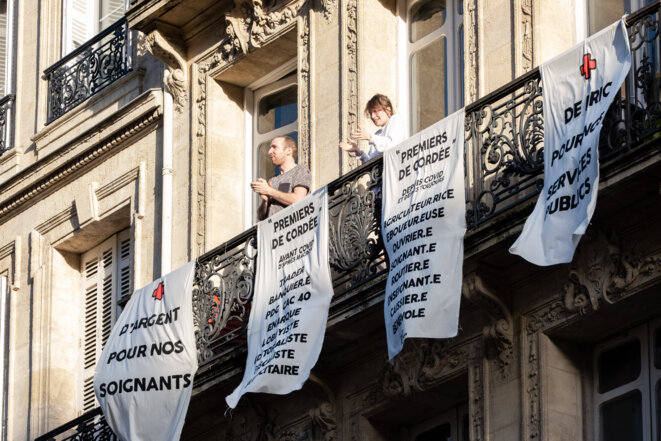 People in Bordeaux, south-west France, applauding health sector workers from their balconies on May 6th 2020. © AFP/Hans Lucas
The ongoing Coronavirus health crisis facing France is leading to unprecedented political change. Large sections of society are on the march: taking charge of their own professions themselves and setting up numerous support structures and initiatives. And as François Bonnet argues in this op-ed article, this sudden land grab of some very political arenas by new groups has left society's traditional  institutions and political forces flat-footed.
President Emmanuel Macron and Chancellor Angela Merkel announced the unprecedented package after talks by video conference.
French President Emmanuel Macron during a televised address on April 13th 2020. © Hans Lucas via AFP
In face of the Covid-19 virus crisis, French President Emmanuel Macron has failed in his mission, presiding over disorder, a sore lack of means to fight the epidemic and a 'communications' campaign of lies, argues Mediapart publishing editor and co-founder Edwy Plenel. In this op-ed article, he urges the dismissal of an antiquated presidential system and the establishment of a truly democratic republic in France.
French president said ending the national lockdown on May 11 would only be first step for France to pull out of coronavirus crisis, for which his handling faces mounting criticism.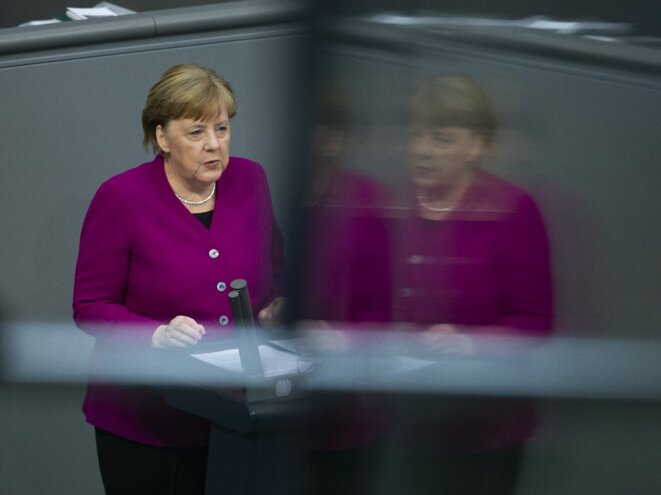 Angela Merkel - treating the German people as grown-ups.
In an interview with Mediapart, history lecturer Johann Chapoutot, an expert on contemporary Germany and the history of the Nazis, uses the example of Germany to highlight France's failings in its handling of the coronavirus pandemic. He says that while the German chancellor Angela Merkel appeals to people's reason, in France "they lie to us". Interview by Ludovic Lamant.
In an interview with the Financial Times, and during a week of heightening diplomatic tensions between Paris and Beijing, French President Emmanuel Macron said it would be 'naive' to believe the Chinese authorities had dealt better with the Covid-19 virus crisis than Western democracies, and that in China 'There are clearly things that have happened that we don't know about'.
French President Emmanuel Macron announced on Monday that the current national lockdown on public movement to contain the Covid-19 virus epidemic has been extended to May 11th, after which he forecast a gradual return to activity, while he also admitted that France had been insufficiently prepared for the health crisis.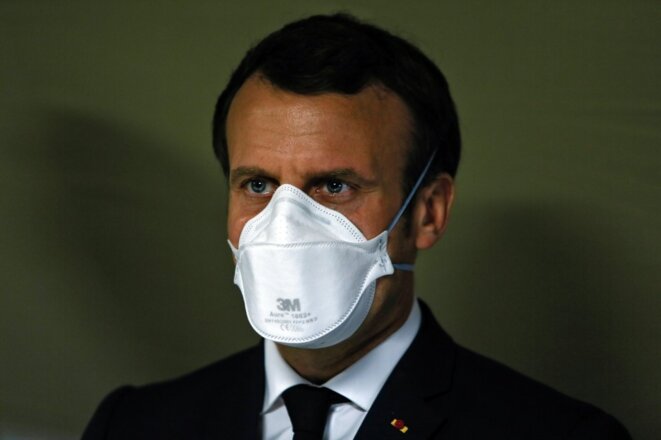 President Emmanuel Macron during a visit to a Covid-19 field hospital at Mulhouse in eastern France on March 25th 2020. © AFP
An investigation by Mediapart has revealed the chaotic management at the highest levels of the French state over the crucial issue of providing protective masks to help tackle the Covid-19 coronavirus pandemic. Our probe, which has analysed the situation since January and is based on numerous witness accounts and documentary evidence, highlights the hidden shortages, the unreliable health instructions, the neglected offers of help with importing masks, the continuing shortage of stocks and the way that some companies have been favoured. It also reveals the lies that have accompanied this mismanagement. Meanwhile hundreds of nurses have become infected with the virus. Yann Philippin, Antton Rouget and Marine Turchi report.
Consortium led by Air Liquide will help boost production of critical medical kit as President Emmanuel Macron promises to ramp up production of critical medical equipment to treat coronavirus.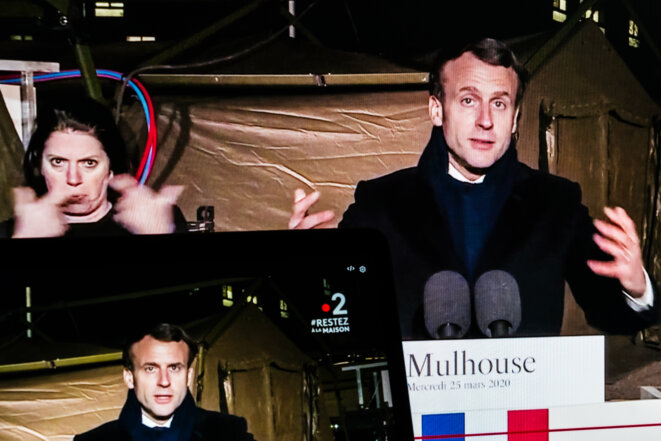 In the front line: President Emmanuel Macron has donned the mantle of a wartime leader. © AFP
The French government's public utterances during the coronavirus crisis have cruelly exposed its shortcomings, its method of thinking and the extent to which it is out of touch with events on the ground. There have been contradictory instructions, a slowness to express gratitude to those tackling the crisis on the front line, and great emphasis on the country being "at war". Inside the government, writes Mediapart political journalist Ellen Salvi, some are worried about the image the executive is giving of itself during the crisis.