However, when asked if an apology would be a further important gesture Kagamé, who was in Paris for a summit on post-pandemic financing for African nations hosted by President Emmanuel Macron, responded: 'I think so.'
Speaking from the Portuguese city of Porto on the sidelines of an EU 'social summit', French President Emmanuel Macron on Friday accused what he called 'the Anglo-Saxons', an apparent reference to both the US and the UK, of blocking exports of anti-Covid-19 vaccines and their raw materials.
Emmanuel Macron on Wednesday led an official ceremony at the tomb of Napoleon Bonaparte to mark 200 years since the death of the one-time emperor, in what the French president said was a commemoration and not a celebration of his life.
Theatres, cinemas and concert halls will also reopen on May 19, President Emmanuel Macron told regional French newspapers in a highly-anticipated announcement.
Presidsent Macron is under pressure to harden terrorism laws amid growing row over security in run-up to election.
The text, backed by far-right leader Marine Le Pen, was dismissed by Macron's government as a diatribe from a bunch of military pensioners who "only represent themselves".
French president spoke after a female police officer was stabbed to death outside a police station south west of Paris by a suspected Islamist extremist from Tunisia who was then shot dead by the security forces.
French president wants law change after Jewish groups reacted with outrage to the decision by France's highest court that Kobili Traoré was not criminally responsible for the murder in 2017 of Sarah Halimi because of the drugs he had taken.
French President says he foresees at least some tourists returning to Paris this summer if they have been vaccinated or have proof of testing negative for the coronavirus.
French President Emmanuel Macron has announced that the École Nationale d'Administration (ENA), a hothouse for those who make up France's political, economic and civil service jobs-for-life elite  –  and from where he himself graduated  – is to be closed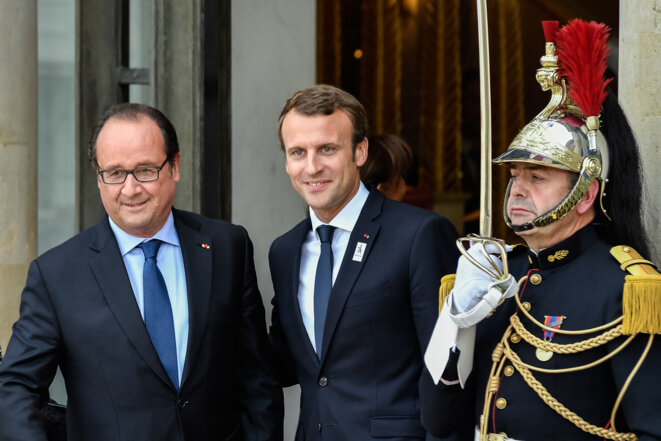 French President Emmanuel Macron and his predecessor François Hollande at the Élysée Palace in September 2017. © Julien Mattia / NurPhoto via AFP
In this second of a three-part series of investigations into the controversial sale by France to India of 36 Rafale fighter aircraft, Mediapart details how the then head of the French public prosecution services' financial crimes branch, Éliane Houlette, shelved investigations into evidence of corruption behind the deal, despite the contrary opinion of her colleagues. France's current president, Emmanuel Macron, and his predecessor, François Hollande, are cited in the allegations levelled in the case. Houlette has since justified her decision as preserving "the interests of France, the workings of institutions". Yann Philippin reports. 
The French president has imposed a national lockdown, but he still will not own up to his mistakes and broken promises, argues academic Philippe Marlière.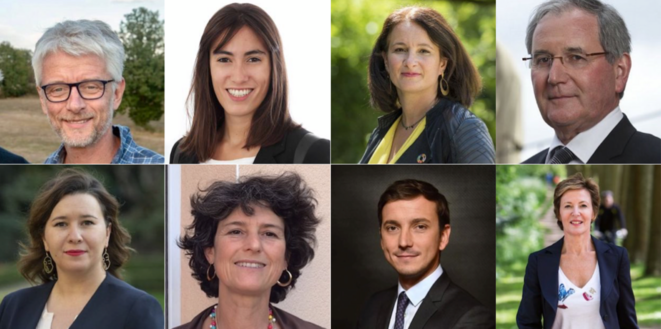 Some of the 30 MPs who have quit Emmanuel Macron's ruling La République en Marche party. © DR
Since the Parliamentary elections held in 2017 around 30 Members of Parliament have deserted the ranks of Emmanuel Macron's ruling La République en Marche party. Some have joined other movements, a few have set up their own groups while others simply sit as independents. A year before the next presidential and Parliamentary elections, Mediapart's Ellen Salvi talked to some of these MPs about why they supported Emmanuel Macron in 2017 but are not prepared to do so in 2022.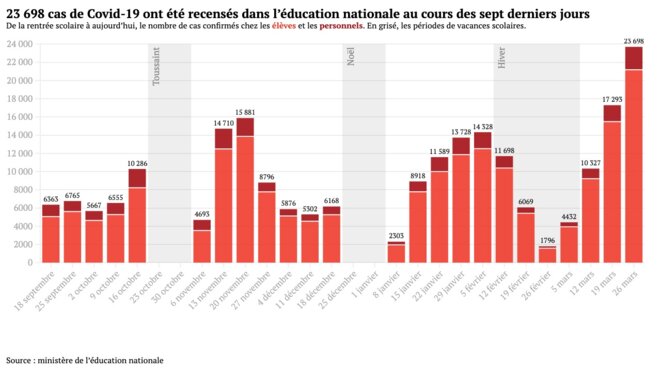 The number of Covid cases found in French schools, week by week.
There has been exponential growth in the number of Covid-19 cases in French schools, both among pupils and staff, and some teaching personnel have become seriously ill as a result. Though the education minister has just announced a further toughening of the health protocols to tackle the virus in schools, some teachers fear the ministry is still "in denial" over the scale of the problem they are facing. One teaching union is now calling on members to take strike action. Ismaël Bine and Caroline Coq-Chodorge report.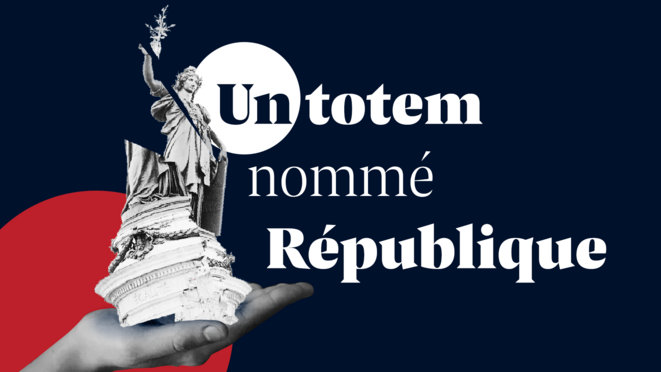 © Mediapart
The word 'Republican' has a hugely positive place in the French collective memory. But recently the concept has come to be used – and abused - as a form of political shorthand to tell people to obey the rules. Mediapart's Fabien Escalona talks to French academics about the shifting meaning of the concept and how it is now cited more to protect existing privileges rather than to extend safeguards and rights to new groups.