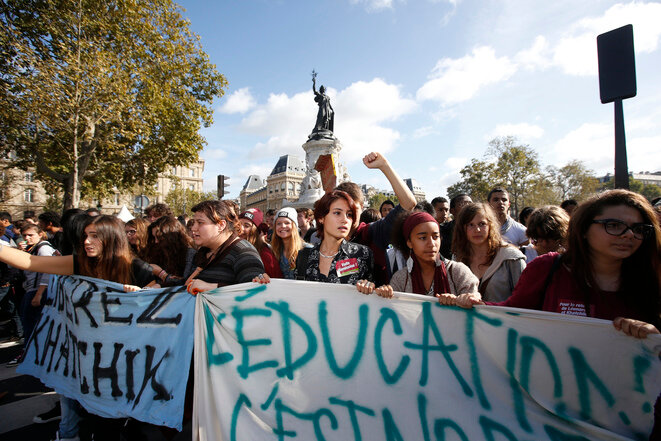 What French governments fear: when students take to the streets. © Reuters
A total of 20 student and youth organisations have called for protests on Wednesday, March 9th against the government's proposed reforms of employment law. Though the formal presentation of the bill has now been postponed pending further discussions with trade unions, ministers still fear the spectre of widespread social mobilisation, of the kind seen ten years ago that sank plans for new workplace contracts. In particular, President François Hollande is afraid the final months of his presidency would be doomed if students take to the streets in large numbers. Lénaïg Bredoux and Faïza Zerouala report on the unpredictability of France's student protests.
However, Manuel Valls promised 'improvements' to controversial bill which as it stands would make it easier for companies to lay off workers.

Facing the storm: employment minister Myriam El Khomri and prime minister Manuel Valls. © Reuters
On Monday February 29th the prime minister Manuel Valls announced that the government was postponing for two weeks the formal presentation of a new bill reforming employment law. This concession came after days of vociferous opposition to the bill from trade unions, students and many members of France's ruling Socialist Party itself who see the measure as an attack on workers' rights. Mediapart's Lénaïg Bredoux, Rachida El Azzouzi, Mathilde Goanec and Mathieu Magnaudeix analyse how what was intended to be a flagship government reform went so badly wrong.
Move by premier Manuel Valls follows angry reactions from unions, students and members of his own Socialist Party over planned reforms.