Related keywords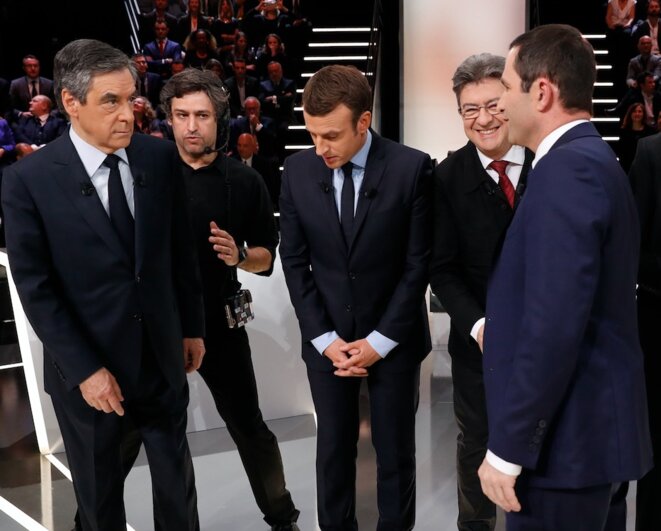 François Fillon, Emmanuel Macron, Jean-Luc Mélenchon and Benoît Hamon, on March 20th, 2017, during the presidential campaign. © Reuters
New documents seen by Mediapart undermine claims that the substantial discounts that events firm GL Events handed to Emmanuel Macron's presidential campaign were simply in line with "normal" business practice. The documents show that neither socialist candidate Benoît Hamon or conservative candidate François Fillon received similar discounts despite renting the same halls during the campaign. Opposition politicians are now raising questions over the cut-price deals offered by GL Events, whose boss Olivier Ginon the president describes as a "friend". Antton Rouget reports.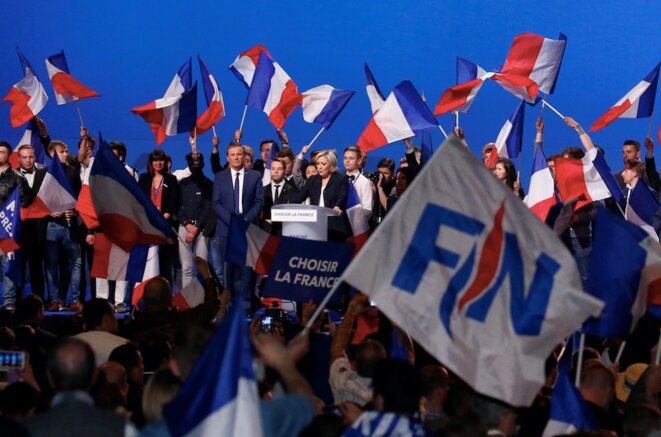 The far right's Marine Le Pen during a politcal rally at Villepinte near Paris on May 1st, 2017. © Reuters
Mediapart is calling for a vote for Emmanuel Macron against Marine Le Pen in the second round of the French presidential election on Sunday May 7th. This is not out of approval for his manifesto, writes Mediapart's publishing editor and co-founder Edwy Plenel, but in defence of democracy as an arena where one has the freedom to object - including against Macron's policies. For under the authoritarian and identity-obsessed far right, he says, this fundamental right would certainly come under challenge.
For some years the European Union has been recommending that France carry out a series of policy initiatives in key areas such as public finances, pensions, unemployment benefit, workers' rights and even large-scale infrastructure projects such as digital development. Now, says Mediapart's Martine Orange, these policies have found a home – in centrist candidate Emmanuel Macrons's manifesto for the French presidency. In some cases they are almost word for word.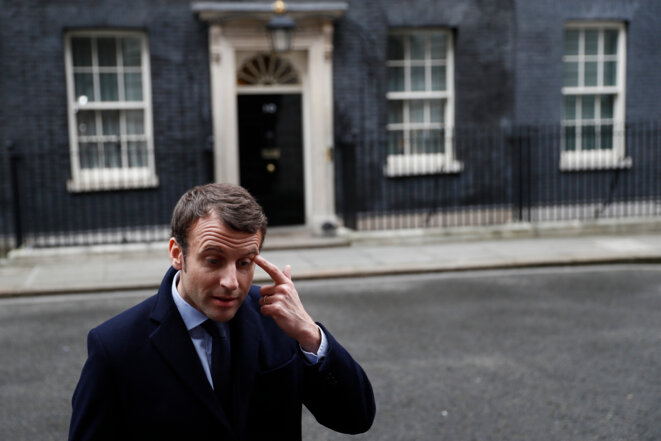 Emmanuel Macron outside 10 Downing Street where he met British PM Theresa May on February 21st, 2017. © Reuters
The independent centrist candidate Emmanuel Macron has no public money behind him to help his presidential campaign, as he has no established political party. Instead he is relying on donations both via the internet and from private gatherings with wealthy supporters. Opponents have raised questions over the former economy minister's links with the world of money and business, as well as the declarations of his personal assets which seem to suggest he spent large amounts of money while working as a merchant banker. Those rivals seek to paint him as a candidate for "global capitalism". His entourage are irritated by such a depiction but, given his background in the world of finance, they have little choice but to accept it, report Mathieu Magnaudeix and Mathilde Mathieu.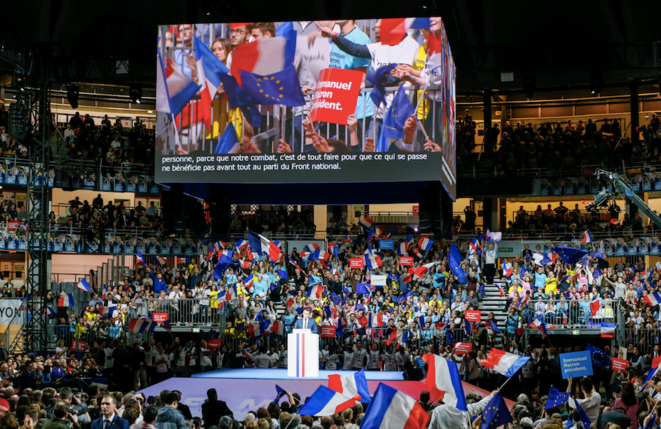 The glitzy Emmanuel Macron rally at Lyon on Saturday February 4th, 2017. © Reuters
With just over 70 days to go before the first round of the French presidential election, former economy minister Emmanuel Macron continues to attract large crowds to his rallies and is doing well in the opinion polls. Yet what does the founder of the 'En Marche!' political movement - who keeps talking about "bringing people together" - actually plan to do if he is elected president? Mathieu Magnaudeix attended Macron's latest gathering but came away little the wiser.
Minutes after quitting government, former Hollande protégé Emmanuel Macron sets his sights on 2017 presidential election.
Emmanuel Macron, 38, came close to announcing he would stand against François Hollande next year at a rally of his new political movement in Paris.
French economy minister Emmanuel Macron is to announce he will make a bid as an independent candidate for the French presidency in elections due in 2017, Mediapart has been told by well-informed sources. Macron, 38, who launched his own political movement last month, is reported to be actively seeking funds for his campaign. The move, which Mediapart understands may be announced in early June, could well be the final blow for President François Hollande's own ambitions for a second term in office and has heightened tensions between Macron and Prime Minister Manuel Valls. Laurent Mauduit reports.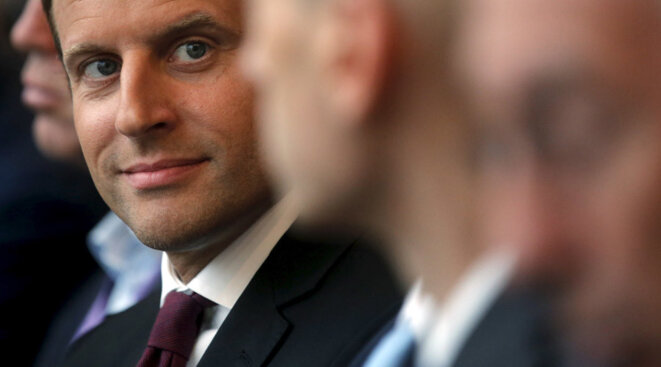 An eye on 2017: Emmanuel Macron. © Reuters
French economy minister Emmanuel Macron this week announced the launch of his political movement, En Marche, raising speculation that he was preparing a bid for next year's presidential elections. Macron, a former advisor to socialist president François Hollande and who holds no elected office, declared that his movement was neither left- nor right-wing. But, as Laurent Mauduit reports, it is in fact domiciled at the private address of the director of one of the leading think tanks of French business.