French ecology minister Nicolas Hulot has presented a draft bill of law to end France's relatively small fossil fuel production by 2040, as part of President Emmanuel Macron's broader plan to take the lead against climate change, after US counterpart Donald Trump ditched the landmark Paris COP 21 agreement to fight global warming.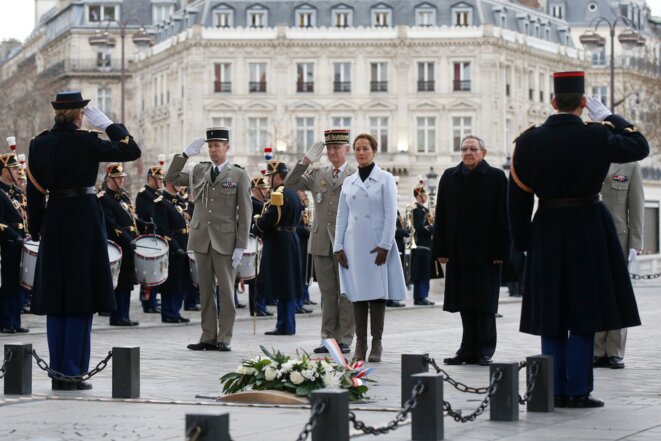 Ségolène Royal with Cuban President Raul Castro at a ceremony in front of the Arc de Triomphe in Paris, February 1st. © Reuters
Ségolène Royal has led an up and down political career over three decades. After serving three ministerial posts and three terms as an MP, she lost, as socialist candidate, the 2007 presidential elections to Nicolas Sarkozy, narrowly lost her 2008 bid to become Socialist Party leader, was humiliated in the 2011 socialist primaries, and lost in legislative elections in 2012. But, retaining a power base as a local council leader in mid-west France, the 63-year-old former wife of President François Hollande is now back in the stable of power. Made environment minister in 2014, her ministry emerged from this month's government reshuffle with added powers, including her role as president of post-COP 21 UN climate talks. But she is also regarded as a key figure for Hollande's hopes of re-election in 2017. Mathieu Magnaudeix reports.
Mediapart has gained access to a report by the French government's environment and energy agency which concludes that France's electricity supply, of which 75% is currently produced by nuclear power, could be entirely provided by renewable energies in 2050. Furthermore, the study found that a 100% reliance on renewables is not only materially and technologically feasible, but that it would also cost relatively little more than the electricity supply in which nuclear power plays a key part. The study was due to be made public this month, but its publication has now been inexplicably postponed until after the summer, and after key energy strategy decisions are to be taken by the government. In this report by Christophe Gueugneau and Jade Lindgaard, Mediapart presents the study in its entirety and highlights the key findings.
Energy minister Ségolène Royal says if it costs too much to maintain ageing reactors then 'renewable energy' plants would be better.
French company's boss says it is not interested in taking over GE's freight train business as political debate continues over controversial deal.
President François Hollande unveils plans to make France 'the nation of environmental excellence', aims to cut fossil fuel use in half by 2050.
In 2011 the possibility of exploiting France's underground shale gas reserves seemed to be over with the passing of a new law banning the so-called hydraulic fracturing method of extracting it. Yet just two years later that ban is under challenge from an American energy company which claims it is unconstitutional. Jade Lindgaard reports on a legal counter attack by one small association to protect a law it believes is saving the environment from grave potential harm.
As in many recent conflicts involving Western intervention in other countries, France's decision to wage war against Islamist militants in Mali has been accused by some as furthering its energy interests and economic investments, a suggestion that President François Hollande has unequivocally denied. Mediapart's international affairs specialist Thomas Cantaloube finds the truth lies in between as he examines here just what are France's interests in the region. While Mali has quasi-inexistent mineral or energy resources, in the wider Sahel area, comprising the north of Mali, the east of Mauretania, Niger and parts of Algeria and Libya, the energy issue is significant.
The French government announces move to blackout overnight illuminations of stores, buildings and offices as part of a cost- and energy-saving plan.
French regulated electricity tariffs could rise by 30% by 2016 given current investment plans, energy regulator CRE estimates.
Nuclear power plants in France, the most nuclear dependent country in the world, are vulnerable to the catastrophic effects of a major natural disaster such as that which hit the Japanese plant at Fukushima in March. That is the conclusion of a stress-test study of the country's 58-strong reactor fleet carried out by the French radioprotection and nuclear safety institute, the IRSN, presented Thursday by the national nuclear safety agency, the ASN, which warned that "massive investment" is required for the recommended safety upgrades. Jade Lindgaard reports on the findings.