Keyword: energy transition
Related keywords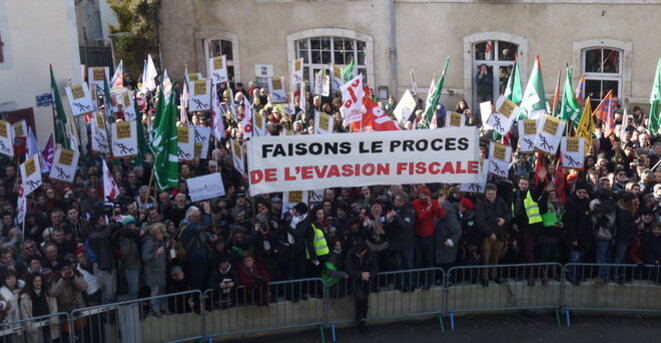 Protesters in Dax, south-west France, turned the trial into an attack on tax evasion.
An activist has gone on trial in a town in south-west France for having "requisitioned" some chairs from a bank. Jon Palais and others took the chairs as part of a wider protest against tax evasion and the use of tax havens which costs France billions of euros a year. The bank in question, BNP Paribas, took exception to the protest and made a formal complaint over their "stolen" chairs. But as Dan Israel reports, the legal complaint backfired as Palais and his supporters turned the trial into a media event in which the bank's own actions were held up to scrutiny.
The French government's environment and energy minister Ségolène Royal has just unveiled her plans for what is known as "energy transition" - the move to a society which uses less energy and which switches from fossil and nuclear fuel to renewables. This long-awaited new law, which will be debated by the French Parliament in the autumn, has been touted as one of the flagship measures of President François Hollande's five-year term of office. But as Mediapart's environment correspondent Jade Lindgaard and Dan Israel report, the proposals, while regarded as a step in the right direction, have been widely described as timid and lacking in ambition.
Energy minister says homeowners will be able to deduct 30 percent of cost of insulation from taxable income to a maximum of €16,000.
President Francois Hollande wants to cut nuclear output by a third in 20 years but so far only one plant has been earmarked for closure.
Jean-Marc Ayrault unveils plans to finance energy transition with funds from nuclear plants on top of carbon tax levied on fossil fuels from 2014.
Party says it wants commitment from government on environment 'within six days' after ministers postponed energy transition plans until 2014.
Amid a six-month programme of national consultations commissioned by the French government to help define the country's future energy policies, a conference organised by two leading business organizations in central Paris on May 17th provided a platform for company bosses to argue that energy transition strategies should first and foremost be concerned not with the environment but with industrial competitiveness. Jade Lindgaard reports.