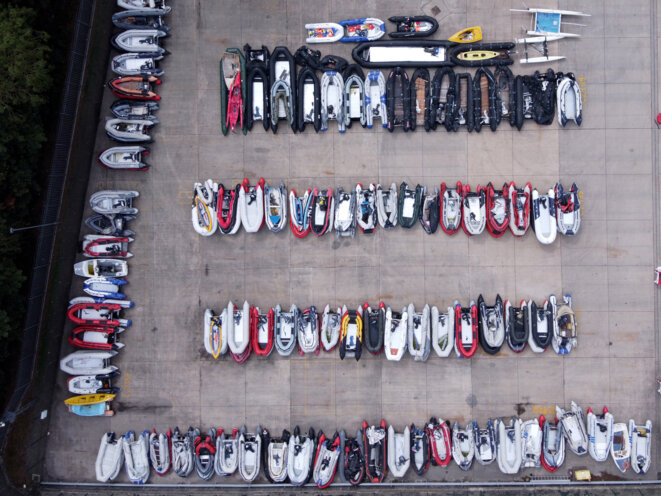 Small dinghies used by migrants to cross the Channel, lined up in the port of Dover. © AFP
The numbers of migrants attempting hazardous clandestine crossings of the Channel to reach Britain, mostly in overcrowded small dinghies, has soared this year, already reaching well more than double the total of 2019. Now the British government has called on the Royal Navy to assist the country's Border Force in a move officials say is intended to make the crossings "unviable". In this interview with Mediapart, François Gemenne, a prominent Belgian political scientist specialised in migratory issues, says that the situation in the Channel is comparable to that in the Mediterranean and warns that "the idea of closing migratory routes is absurd and dangerous" and "will lead to yet more tragedies".
French politicians believe the boy, whose body was found in Calais, went missing while attempting to cross the English Channel in a small boat.
Authorities were alerted to the migrants' plight off Dunkirk by a ferry just after midnight and sent out search and rescue teams.
The 39-year-old Iranian national, accused of arranging several crossings from northern France to England, fainted upon hearing his sentence.
Call came as UK Border Force officials detained 74 people after 8 boats were spotted off Kent coast and two vessels were intercepted in France.
British and French sea rescue services intervened in the early hours on Christmas Day to bring to safety at least 40 migrants, including children, attempting to cross the English Channel to England in precarious conditions in five separate boats.  
A fleet of French fishing trawlers surrounded British boats fishing scallops off the Normandy coast, when heated exchanges included stone-throwing by the French who are angry that their scallop reserves, which they are prohibited from fishing between June and September, were being depleted by the British.
The French navy said the group of Northern Fleet vessels were waiting for a storm to pass and were not holding exercises as reported in Russia.