Keyword: environment minister
Related keywords
French environment minister François de Rugy resigned on July 16th following Mediapart's revelations of his use of public funds to host with his wife grand dinner parties with fine wines and food when he was speaker of the National Assembly, and later to redecorate his grace and favour apartment as environment minister at a cost to the public purse of more than 60,000 euros. The revelations prompted two administrative inquiries, which were published on Tuesday. Far from the claims by the ex-minister, once an outspoken campaigner for greater transparency in public office, that he has been exonerated, their findings confirm the events and amounts reported in Mediapart's investigations.
Transport minister replaces de Rugy who quit after a week of reports by Mediapart about his high spending on private dinners and renovations of his ministerial residence.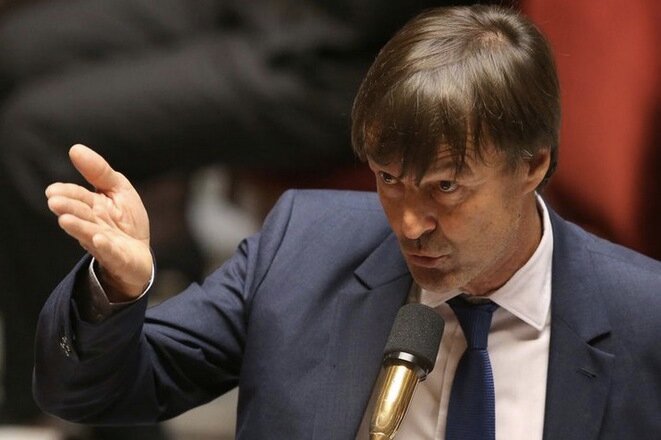 Nicolas Hulot addressing French parliament in September 2017. © Stéphane Mahé/Reuters
French environment minister Nicolas Hulot dramatically resigned from government on Tuesday, announcing his surprise decision during a live radio interview. Mediapart publishing editor Edwy Plenel argues here that it represents a salutary electroshock that highlights the impasse of economic policies leading to an ecological catastrophe, and also puts an end to the illusion that the will of a supposedly providential man alone can bring about a sudden turnaround in approach to environmental issues. Hulot's resignation, he says, resonates as a call for society to mobilise itself in favour of a veritable political alternative.       
French environment minister Nicolas Hulot, one of the most popular ministers, resigned during a live radio interview, citing 'an accumulation of disappointments' with the environmental 'mini-steps' decided by President Emmanuel Macron and his government which he said were too influenced by lobbyists.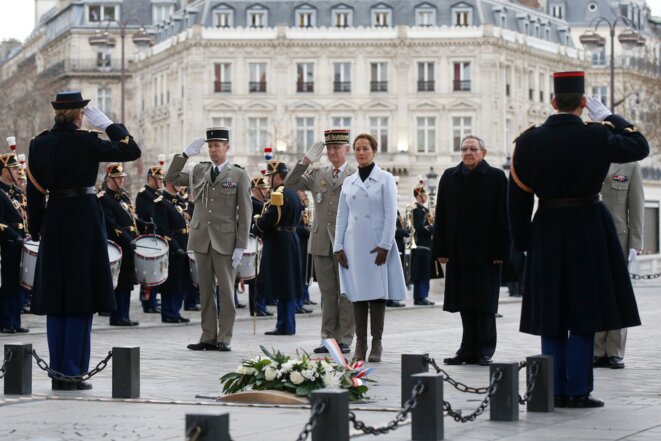 Ségolène Royal with Cuban President Raul Castro at a ceremony in front of the Arc de Triomphe in Paris, February 1st. © Reuters
Ségolène Royal has led an up and down political career over three decades. After serving three ministerial posts and three terms as an MP, she lost, as socialist candidate, the 2007 presidential elections to Nicolas Sarkozy, narrowly lost her 2008 bid to become Socialist Party leader, was humiliated in the 2011 socialist primaries, and lost in legislative elections in 2012. But, retaining a power base as a local council leader in mid-west France, the 63-year-old former wife of President François Hollande is now back in the stable of power. Made environment minister in 2014, her ministry emerged from this month's government reshuffle with added powers, including her role as president of post-COP 21 UN climate talks. But she is also regarded as a key figure for Hollande's hopes of re-election in 2017. Mathieu Magnaudeix reports.
Press reports claim Ségolène Royal, the French president's former partner, told female ministry staff to adopt sober dress.