There were growing calls from French medical professionals and politicians on Monday for the re-introduction of a general lockdown of public movement to combat the soaring numbers of Covid-19 infections across the country, now at more than one million, and which has seen a significant rise in people hospitalised with the disease.
French health minister Olivier Véran on Wednesday evening announced new measures to contain the rapid resurgence of novel coronavirus infections across the country, including the shutting down of bars and restaurants in the southern city of Marseille, while stopping short of earlier reports of drastic measures for Paris, although bars and cafés in the capital will from Monday have to close business at 10pm. 
The French scientific committee set up to monitor and advise on the Covid-19 virus epidemic in the country has warned that the current spread of the virus could 'at any moment' spin out of control and concluded that it was 'highly likely that we will experience a second epidemic wave this autumn or winter'.
A report released last week by France's national statistics institute show that the year-on-year rise in country's mortality rate during the height of the Covid-19 virus epidemic was proportionately more than twice as high among inhabitants born abroad, and notably those from sub-Saharan Africa and also Asia, than for the population born in France. While the data paints an incomplete picture, it convincingly illustrates, as seen in studies in other European countries and in the US, that among populations it has been ethnic minorities which have been the most at risk from the coronavirus.    
Immunologist Jean-François Delfraissy, head of the French government's scientific advisory council, on Friday pronounced that 'we can reasonably say' the Covid-19 virus epidemic was now 'under control' in the country.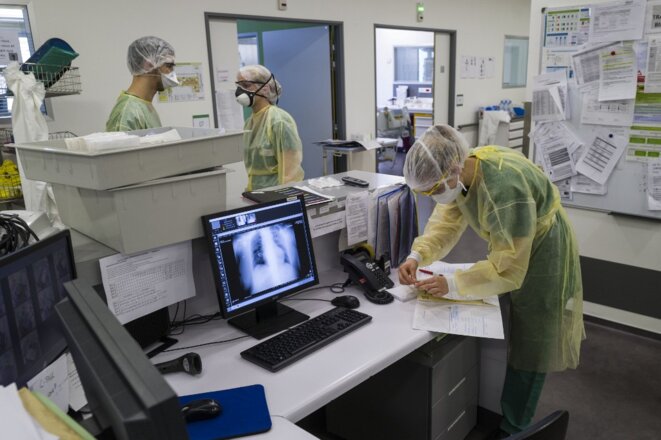 The Albert-Schweitzer hospital in the town of Colmar, north-east France, which was almost entirely devoted to Covid-19 cases in March and April. © Sébastien BOZON / AFP
The number of people infected by the Covid-19 virus in France had already reached epidemic proportions in February, weeks before the lockdown on public movement was introduced, this investigation by Mediapart reveals. Research now being carried out by doctors even suggests that the very first cases of the coronavirus appeared in the country in mid-November of last year. But the restrictive measures limiting testing for the virus hid the reality of its propagation, which has to date claimed more than 28,000 lives.
Ahead of the country's lifting of lockdown on public movement on Monday, France on Saturday recorded the lowest 24-hour toll of deaths from the coronavirus epidemic since early April, with 80 fatalities, while patients infected with the disease treated in intensive care in hospitals also continued to fall, although new hospital admissions numbered 265 on Friday.
Official French health ministry figures released on Friday evening reported deaths from the Covid-19 epidemic had risen over the past 24 hours by 243, bringing the total number of fatalities in the country from the epidemic to 26,230, while the number of people being treated in hospital for the infection fell to 22,724, confirming a three-week downward trend since an April 14th peak of 32,292.
In a joint press conference with his health, interior and transport ministers, French Prime Minister Édouard Philippe on Thursday outlined the practical manner in which the two-month lockdown on public movement due to the Covid-19 epridemic will be lifted on Monday, with a gradual return to activity according to the rates of infection in different regions, and which remain notably high in a large swathe of the north-east of the country, including Paris.
French President Emmanuel Macron during a televised address on April 13th 2020. © Hans Lucas via AFP
In face of the Covid-19 virus crisis, French President Emmanuel Macron has failed in his mission, presiding over disorder, a sore lack of means to fight the epidemic and a 'communications' campaign of lies, argues Mediapart publishing editor and co-founder Edwy Plenel. In this op-ed article, he urges the dismissal of an antiquated presidential system and the establishment of a truly democratic republic in France.
A fishmonger treated for pneumonia symptoms in a Paris suburban hospital in late December 2019 has been found to have in fact been suffering from Covid-19 virus infection, according to a French medical study, suggesting the virus was circulating well before the first officially announced cases in France on January 24th.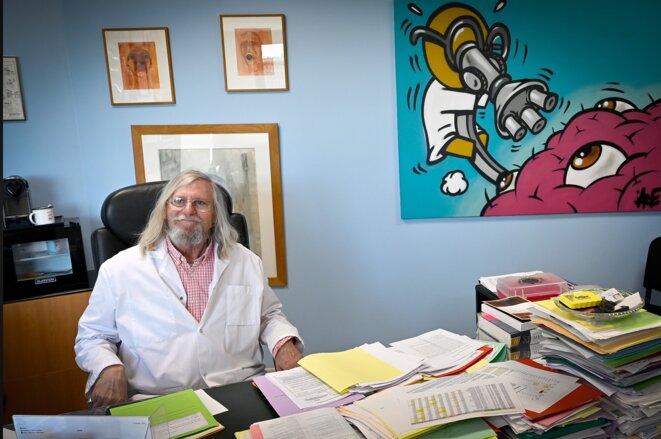 Professor Didier Raoult in his Marseille office, February 2020. © GERARD JULIEN / AFP
As the Covid-19 pandemic continues its devastating path across the world, wreaking close to 200,000 recorded deaths from the virus and a global economic meltdown, the only evident hopes for a stabilised return to normal activity lies in a vaccine or a drug treatment to contain its spread. But few believe a vaccine will be realistically ready before, at the earliest, 2021. French microbiologist Didier Raoult has championed an immediately available antiviral compound called chloriquine, previously used against malaria, as a miracle drug that neutralises the virus, receiving the support of US President Donald Trump and last week hosting a visit to his laboratory by French President Emmanuel Macron. But as Pascale Pascariello reports, deep controversy surrounds the work of Raoult, a maverick amid France's scientific establishment.
During the 24 hours up until Friday evening, 761 people died in France's hospitals and care homes from the effects of the Covid-19 virus, according to official figures, bringing the country's total number of officially recorded deaths from the virus to 18,681, while the numbers of those hospitalised for the infection, and notably those in intensive care, continued along this week's downward trend.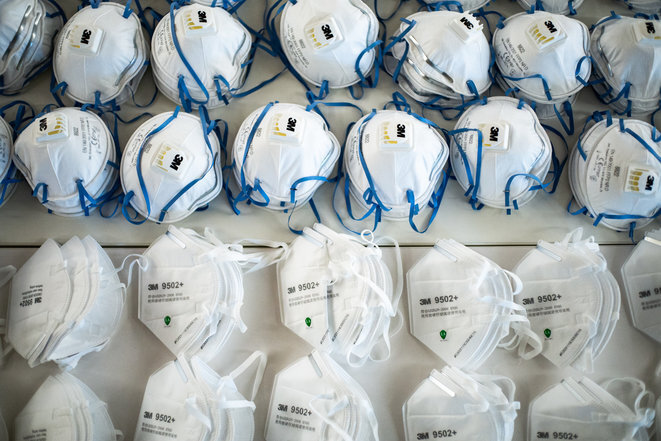 In dire need and short supply: protective face masks. © Nicolas Liponne/Hans Lucas
In a televised address on Monday evening when he announced the lockdown on public movement to contain the Covid-19 virus epidemic is now extended into May, French President Emmanuel Macron admitted "our country was not sufficiently ready for this crisis". But while the unpreparedness can be traced back to its predecessors, the French government has failed with its strategy for the urgent procurement of a vital piece of equipment that frontline healthcare staff sorely lack: protective masks. In this second investigation into the fiasco, Mediapart details the blunders that continue to place healthcare workers in danger, and how the business world has been more effectively provided for than hospitals.