In all "several dozen" military personnel in France have contracted the Covid-19 coronavirus since the start of the outbreak. The Ministry of Defence in Paris insists that measures to stem the spread of the virus within the armed forces have been applied "very rigorously". But the accounts of some soldiers and defence staff on the ground tell a different story and paint a picture of a command structure unsure how to react to the growing health threat to their own personnel. Justine Brabant reports.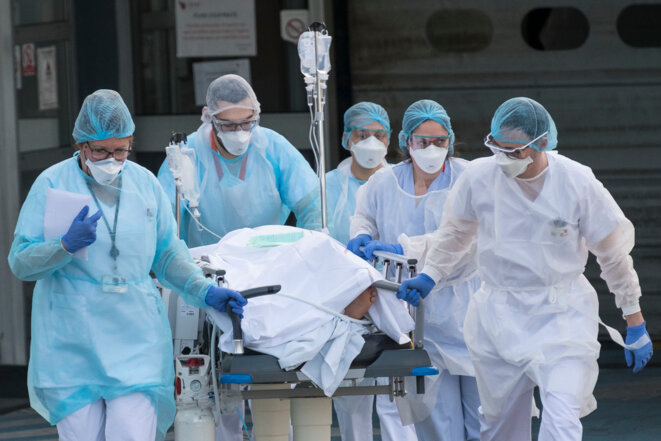 A patient being evacuated from the Émile-Muller hospital in Mulhouse, Alsace, March 17th 2020. © SEBASTIEN BOZON / AFP
Recorded deaths in France from the Covid-19 coronavirus by Saturday evening had risen to 562, with 6,172 people receiving hospital treatment for the infection, a quarter of who are in intensive care, according to official figures. But no-one doubts this is still a statistical calm before the epidemic engulfs France's healthcare system, a wave forecast to reach a peak in early April. Mediapart has been talking to doctors and nurses around France about how they are preparing for a crisis many predict will be so great that choices will have to be made about which patients are admitted for treatment – as is already happening in the currently worst-hit region of Alsace.
Antoine Vieillard-Baron, head of the surgical and medical intensive care unit of the Ambroise Paré hospital in Paris said on Friday that urgent measures were underway to increase available beds for patients seriously ill from Covid-19 coronavirus infection ahead of an expected peak of the epidemic in early April.