Related keywords
President Emmanuel Macron and Chancellor Angela Merkel announced the unprecedented package after talks by video conference.
European affairs minister Amelie de Montchalin told France Inter radio that if Europe was just a single market when times were good, then it made no sense.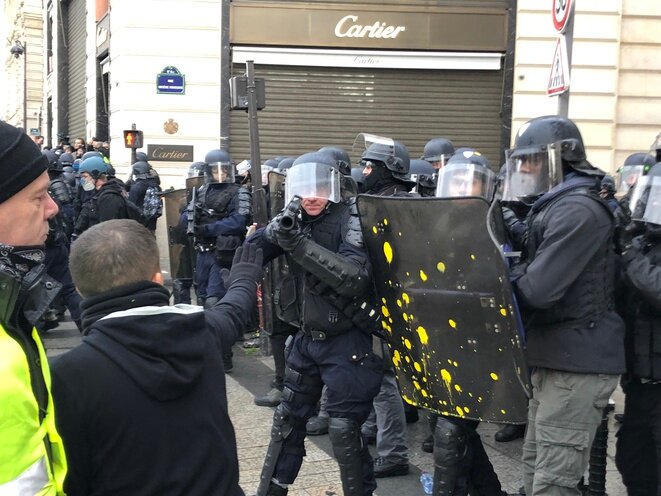 A police officer takes aim with a rubber bullet weapon during a 'yellow vest' protest in Paris, December 8th 2018. © Karl Laske
Visiting Poland this week, French President Emmanuel Macron slammed the country's government over its moves to take control of the judiciary, denouncing a "negation of European political principles". In a tit-for-tat move, Polish members of the European Parliament launched a petition denouncing French police violence in recent demonstrations as "unjustified brutality against protestors exercising their civil rights". The row has escalated through the week, and returned the spotlight to crowd policing methods in France, already the subject of outspoken concern from international bodies, and which over the past year have left hundreds injured, many seriously. Ellen Salvi reports.
Following talks in Warsaw with his Polish counterpart Andrzej Duda, French President Emmanuel Macron said he hoped his visit 'will mark a real turning point' in bilateral relations because following Brexit 'fragility and doubt' had gained the EU, in a move to appease previously strained ties with Poland's right wing populist government over judicial reforms, climate goals and criticism of the bloc's powers.
Speaking at a joint press conference in Rome on Wednesday, Italian Prime Minister Giuseppe Conte and French President Emmanuel Macron called for all 28 member states of the EU to share reception of the numbers of migrants landing in Europe after being rescued from perilous crossings of the Mediterranean Sea, when Macron said those who refused to do so should be 'seriously penalized'.
French president praised 'capacities and competences' of French ex-minister Christine Lagarde who is set to be new European Central Bank boss.
A planned European Union statement calling on military strongman Khalifa Haftar to halt his Libyan National Army's offensive against the UN-backed Government of National Accord in Tripoli was vetoed by France, which has provided military assistance in past years to Haftar in his eastern stronghold.
At a meeting of European Union (EU) ministers on Tuesday, France and Germany said they were concerned over reforms of the Polish judicial system, which are regarded as politically intimidating for the country's courts and a threat to their independence, voicing their support for EU Commission infringement procedures which could in theory result in Poland losing its EU voting rights.
Lucrative French deals came as German foreign minister warned some countries doing 'clever' deals with China could end up dependent.
When it was announced last year, the merger was hailed as the birth of an industry giant that would compete with a formidable Chinese rival.
Merkel's decision to stand down now as CDU party leader has forced French president to reassess prospects for critical relationship with Berlin.
President of region that includes Calais, Boulogne and Dunkirk, urged EU to review decision to ship goods via Belgium and Netherlands instead.
British foreign secretary Jeremy Hunt, who visited Paris on Tuesday, has called on France and Germany to put pressure on European Union negotiators in Brexit talks to respond more positively to the UK's propositions for a deal and to avoid what he has said is otherwise 'the real chance' of his country leaving the EU next year without one.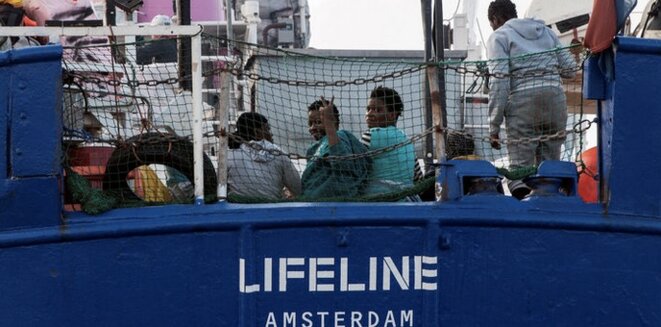 Rescued migrants on board the MV Lifeline shortly before disembarking in Malta. © Reuters
Late in June, after days of diplomatic wrangling, 234 migrants rescued off the Libyan coast while attempting to reach Europe in flimsy dinghies were finally allowed to disembark in Malta after several countries agreed to receive quotas from the group. Earlier this month, 51 of them arrived in France. Mediapart travelled to Toulouse, where some were given provisional accommodation, to listen to the harrowing stories of their experiences in Libya, where black Africans are subject to endemic racism and many become the prey and prisoner of vicious local militias. "If an Arab catches you, he sells you," said one of the survivors. "When you are black, you are a commodity, you're bought and sold on." Mathilde Mathieu reports.