Related keywords
French president praised 'capacities and competences' of French ex-minister Christine Lagarde who is set to be new European Central Bank boss.
A planned European Union statement calling on military strongman Khalifa Haftar to halt his Libyan National Army's offensive against the UN-backed Government of National Accord in Tripoli was vetoed by France, which has provided military assistance in past years to Haftar in his eastern stronghold.
At a meeting of European Union (EU) ministers on Tuesday, France and Germany said they were concerned over reforms of the Polish judicial system, which are regarded as politically intimidating for the country's courts and a threat to their independence, voicing their support for EU Commission infringement procedures which could in theory result in Poland losing its EU voting rights.
Lucrative French deals came as German foreign minister warned some countries doing 'clever' deals with China could end up dependent.
When it was announced last year, the merger was hailed as the birth of an industry giant that would compete with a formidable Chinese rival.
Merkel's decision to stand down now as CDU party leader has forced French president to reassess prospects for critical relationship with Berlin.
President of region that includes Calais, Boulogne and Dunkirk, urged EU to review decision to ship goods via Belgium and Netherlands instead.
British foreign secretary Jeremy Hunt, who visited Paris on Tuesday, has called on France and Germany to put pressure on European Union negotiators in Brexit talks to respond more positively to the UK's propositions for a deal and to avoid what he has said is otherwise 'the real chance' of his country leaving the EU next year without one.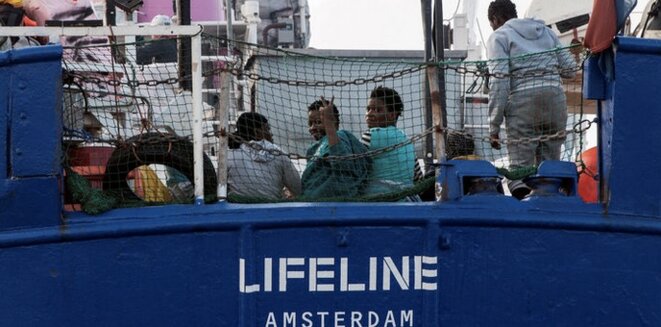 Rescued migrants on board the MV Lifeline shortly before disembarking in Malta. © Reuters
Late in June, after days of diplomatic wrangling, 234 migrants rescued off the Libyan coast while attempting to reach Europe in flimsy dinghies were finally allowed to disembark in Malta after several countries agreed to receive quotas from the group. Earlier this month, 51 of them arrived in France. Mediapart travelled to Toulouse, where some were given provisional accommodation, to listen to the harrowing stories of their experiences in Libya, where black Africans are subject to endemic racism and many become the prey and prisoner of vicious local militias. "If an Arab catches you, he sells you," said one of the survivors. "When you are black, you are a commodity, you're bought and sold on." Mathilde Mathieu reports. 
On eve of EU migration policy summit, French president says he favours financial penalties on EU states that refuse to accept migrants.
European Parliament's watchdog has said that Le Pen used two legislative aides who were on EU payroll for party's political activity in France.
France's economy minister Bruno Le Maire has said he hoped the European Union would step in to compensate companies from among its member states who are targeted by sanctions which US president Donald Trump intends to introduce against firms doing business with Iran.
Macron's comments will be disappointment to Albania and Macedonia, who are hoping for green light next month to begin talks to join the bloc.
New force would not be within the European Union and would allow non-EU, such as Britain, to be part of it, said French defence source.