As French government anger mounts over Australia's announcement this month that it has abandoned an agreement to buy 12 submarines from France in favour of a defence and weapons pact with the US and UK, French European affairs minister said Paris is ready to block ongoing EU talks for a trade deal with Australia, which he called 'a country in which we no longer trust'.
Speaking from the Portuguese city of Porto on the sidelines of an EU 'social summit', French President Emmanuel Macron on Friday accused what he called 'the Anglo-Saxons', an apparent reference to both the US and the UK, of blocking exports of anti-Covid-19 vaccines and their raw materials.
In an unusally strong statement posted on Twitter, the European Union's transport commissioner, Adina Valean, commenting on the massive logjam of trucks around the English port of Dover following border restrictions introduced by France after a new contagious strain of the coronavirus was found in the UK, said 'I deplore that France went against our recommendations'.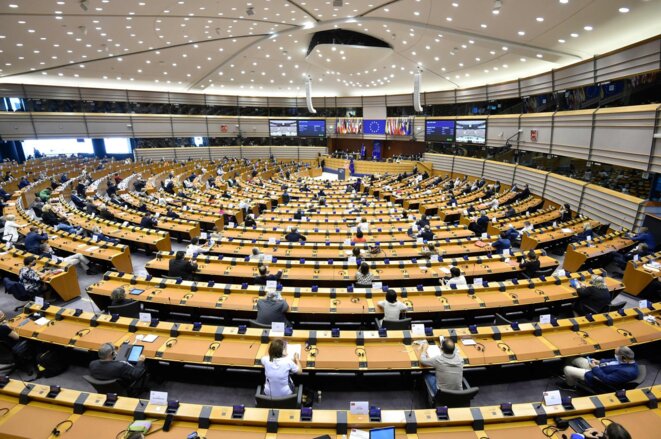 MEPs in a plenary session of the European Parliament in Brussels, September 16th 2020. © AFP
Among the Members of the European Parliament are a group of farmers and others with agricultural interests who benefit directly from the subsidies provided for in the EU's Common Agricultural Policy (CAP). The fact that many of them are at the forefront of negotiations to map out the reform of the CAP, to be put to a vote during this week, raises a clear question of conflicts of interest. Amélie Poinssot reports.
President Emmanuel Macron and Chancellor Angela Merkel announced the unprecedented package after talks by video conference.
European affairs minister Amelie de Montchalin told France Inter radio that if Europe was just a single market when times were good, then it made no sense.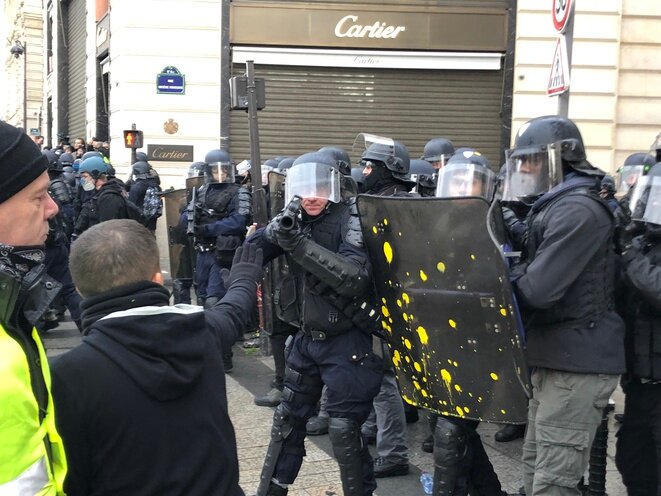 A police officer takes aim with a rubber bullet weapon during a 'yellow vest' protest in Paris, December 8th 2018. © Karl Laske
Visiting Poland this week, French President Emmanuel Macron slammed the country's government over its moves to take control of the judiciary, denouncing a "negation of European political principles". In a tit-for-tat move, Polish members of the European Parliament launched a petition denouncing French police violence in recent demonstrations as "unjustified brutality against protestors exercising their civil rights". The row has escalated through the week, and returned the spotlight to crowd policing methods in France, already the subject of outspoken concern from international bodies, and which over the past year have left hundreds injured, many seriously. Ellen Salvi reports.
Following talks in Warsaw with his Polish counterpart Andrzej Duda, French President Emmanuel Macron said he hoped his visit 'will mark a real turning point' in bilateral relations because following Brexit 'fragility and doubt' had gained the EU, in a move to appease previously strained ties with Poland's right wing populist government over judicial reforms, climate goals and criticism of the bloc's powers.
Speaking at a joint press conference in Rome on Wednesday, Italian Prime Minister Giuseppe Conte and French President Emmanuel Macron called for all 28 member states of the EU to share reception of the numbers of migrants landing in Europe after being rescued from perilous crossings of the Mediterranean Sea, when Macron said those who refused to do so should be 'seriously penalized'.
French president praised 'capacities and competences' of French ex-minister Christine Lagarde who is set to be new European Central Bank boss.
A planned European Union statement calling on military strongman Khalifa Haftar to halt his Libyan National Army's offensive against the UN-backed Government of National Accord in Tripoli was vetoed by France, which has provided military assistance in past years to Haftar in his eastern stronghold.
At a meeting of European Union (EU) ministers on Tuesday, France and Germany said they were concerned over reforms of the Polish judicial system, which are regarded as politically intimidating for the country's courts and a threat to their independence, voicing their support for EU Commission infringement procedures which could in theory result in Poland losing its EU voting rights.
Lucrative French deals came as German foreign minister warned some countries doing 'clever' deals with China could end up dependent.
When it was announced last year, the merger was hailed as the birth of an industry giant that would compete with a formidable Chinese rival.