The spot market appears to be bracing itself for the possibility that a higher than estimated score for French far-right presidential candidate Marine Le Pen in the first round vote may drive the euro lower despite the low odds of her winning the final round.
Front National party leader Marine Le Pen, tipped by pollsters to reach the second round of France's presidential elections this spring, is making a French exit from the European Union one of her major campaign pledges, along with resinstating the franc as national currency within a euro-shadowing group of currencies with other nations disenchanted with eurozone policies.
Emmanuel Macron called for a euro zone budget to finance investments and to extend financial assistance to struggling member states.
But to soften impact the far-right Front National leader proposed Europe could return to a parallel Ecu-like common currency unit.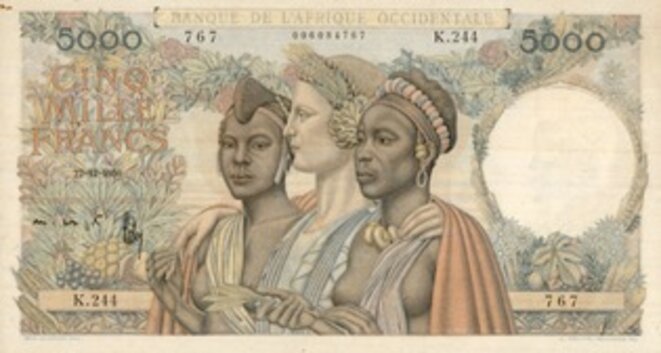 A Franc Zone banknote.
France's African colonies were finally given independence around 70 years ago but one throwback to that era still remains – control by Paris of its former colonies' currency. The 'CFA franc', guaranteed by the French Treasury, is the legal tender in 14 west and central African nations. As Fanny Pigeaud reports in the first of two articles, many African economists are critical of the 'Franc Zone', which many feel holds back economic development.
Following the European debacle of the Greek crisis, French President François Hollande has called for reforms to the eurozone that include giving it budgetary powers and a parliament, and will soon meet with European Central Bank president Mario Draghi to discuss the issue which he hopes to place on the agenda of a European leaders' summit in October. Lénaïg Bredoux reports.
Arriving at a Brussels summit of eurozone leaders on Sunday, President François Hollande vowed to do 'everything' to reach a deal within hours.
After last week's referendum in Greece rejecting bailout terms Paris played a key role in helping Athens say analysts and Greek minister.
Paris forced Brussels to scrap a 2-euro coin commemorating Napoleon's defeat, but the Belgians use EU loophole to mint a 2.5-euro version.
Following pressure from France, Belgium has withdrawn its plan to issue a new 2-euro coin depicting Napoleon's 1815 defeat at Waterloo.
French government says a new Belgian 2-euro coin with an image of the memorial at Waterloo, site of Napoleon's defeat, is 'negative' symbol.
President Hollande says he wants to continue the 'close' cooperation between France and Greece in favour of 'growth' and euro zone 'stability'.
Two prominent French businesmen call on ECB to lower exchange rate to boost competitivity and counter other currency manipulations.
French finance minister Michel Sapin calls for 'rebalancing' of the currencies used for global payments after US fined BNP Parisbas bank.