Related keywords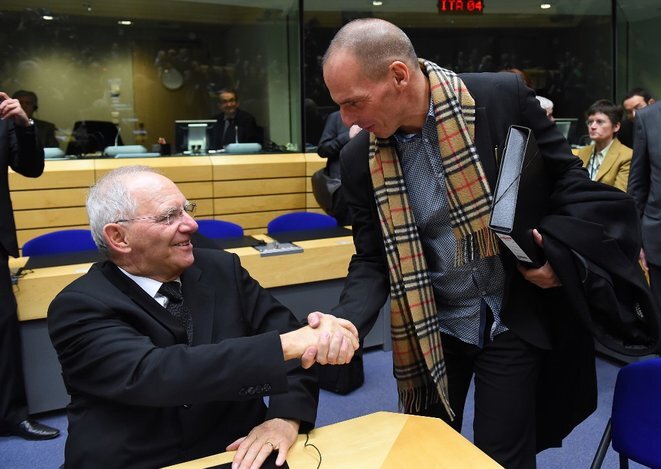 Former German finance minister Wolfgang Schaüble and his Greek counterpart Yanis Varoufakis in 2015. © AFP © AFP
Mediapart has obtained access to secret sound recordings made by former Greek finance minister Yanis Varoufakis of his negotiations with eurozone finance ministers and representatives of the IMF, ECB and the European Commission at the height of the Greek debt crisis in 2015. The 15 hours of recordings offer a sometimes disturbing insight into the tense, closed-door, informal talks aimed at deciding the fate of a nation that was being brought to its knees. Ludovic Lamant reports.
President Emmanuel Macron's government has put down markers for its intention to field French candidates for two key eurogroup jobs as part a push to reassert France's economic policymaking role after years of subservience to Germany.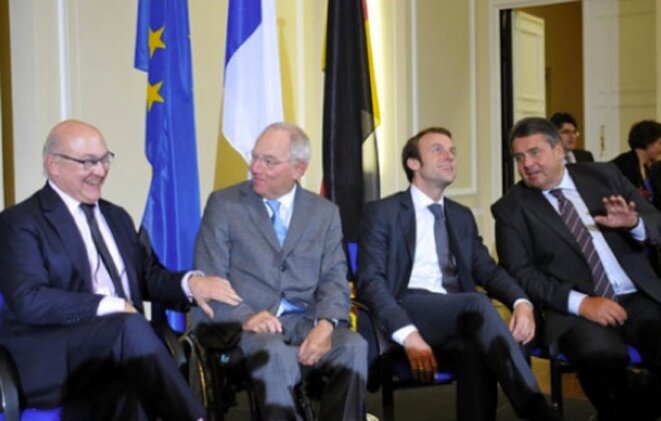 Crucial meeting? French and German finance and economy ministers meeting in Berlin, October 2014. © france-allemagne.fr
The French government's labour law reform bill, now being debated in the Senate, has prompted fierce opposition from several trades unions, massive demonstrations across the country, and a deep political and social crisis. Opinion polls show a majority of the population are opposed to the bill, which reduces current protection for employees with measures that include easing conditions for firing staff and placing a ceiling on compensation sums awarded by industrial tribunals. But the government is adamant it will not negotiate the bill's contents. Martine Orange investigates the reasons for its unusual intransigence, and discovers evidence that the most controversial texts of the bill were demanded by European Union economic liberals.