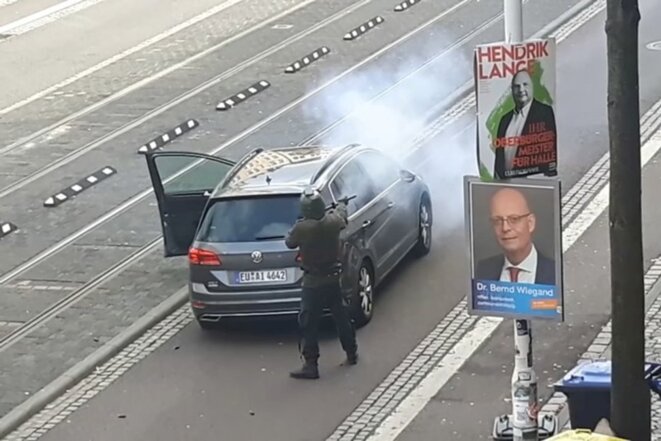 The gunman in Halle, filmed here by a witness, recorded his rampage on video. © ATV STUDIO HALLE/REUTERS TV via REUTERS
The suspect arrested for the deadly attacks last Wednesday on a synagogue and Turkish restaurant in the German city of Halle has said his acts were driven by far-right ideology and a hatred of Jews. The shooting and bombing rampage followed a series of attacks around Europe by ultra-right groups, prompting the EU police agency Europol, in a recent confidential report, to urge increased cooperation to contain the problem. But Europol also gave a chilling warning that the extremists "are attempting to win over members from the military and security services" in order to build "combat skills".
French economy and finance minister Bruno Le Maire has said France will seek to prevent Facebook's digital currency Libra from rolling out in Europe, arguing that it represents 'risks of abuse of dominant position, risks to sovereignty and risks for consumers and for companies'.
A heatwave unusually intense for June is due to hit France next week, when temperatures across most of the country are forecast to reach up to 40° Celsius for several days, and when emergency services are to be placed on high alert.
The French president has set out wide-ranging plans to overhaul the EU in response to UK's vote to leave.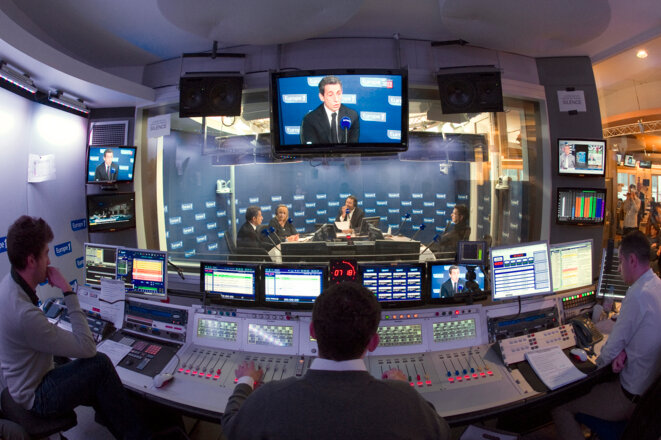 Europe 1's studios on March 14th 2012. © Reuters
For nearly 20 years the privately-owned French radio station Europe 1 kept files and stored information on more than half a million listeners, sometimes with their details accompanied by insulting comments. This was detailed in a 2017 report by the French data watchdog the Commission Nationale de l'Informatique et des Libertés (CNIL) which has remained confidential but which has been seen by Mediapart. As a result of the report the radio station was given an official warning but the matter was never referred to the prosecution authorities, nor did Europe 1 have to pay a fine. Lou Syrah reports.
French president congratulated Chancellor Angela Merkel and acting SPD leader Olaf Scholz after Social Democrats voted for new coalition.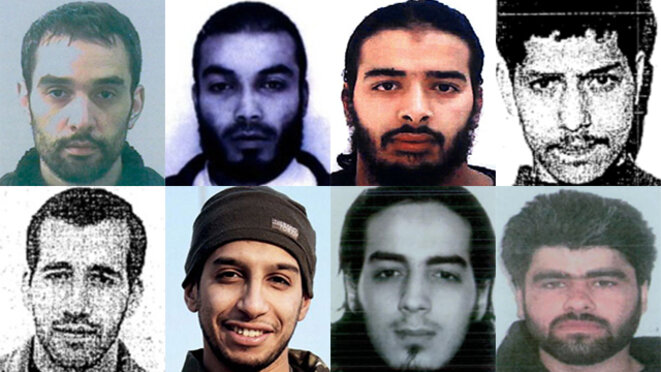 Eight of the terrorists behind attacks against Europe. From left to right and from top to bottom: Oussama Atar, Boubakeur el-Hakim, Salim Benghalem, Samir Nouad, Abdelnacer Benyoucef, Abdelhamid Abaaoud, Najim Laachraoui and Ahmad Alkhald. © DR
Jihadi veterans have been seeking to cause disarray among European intelligence agencies with hoax attacks that distract from real ones and attempts to infiltrate public agencies and companies. As a result security official are having huge difficulties in trying to measure the true scale of the terrorist threat that faces us. In the last of this lengthy series of investigations on Islamic State's intelligence operations, Matthieu Suc reports on the dangers still posed by jihadist agents operating within Europe despite Islamic State's major reverses in Iraq and Syria.
Hosting the leaders of Germany, Italy, Spain, Chad, Niger and Libya in Paris, President Macron said it was time for greater coordination.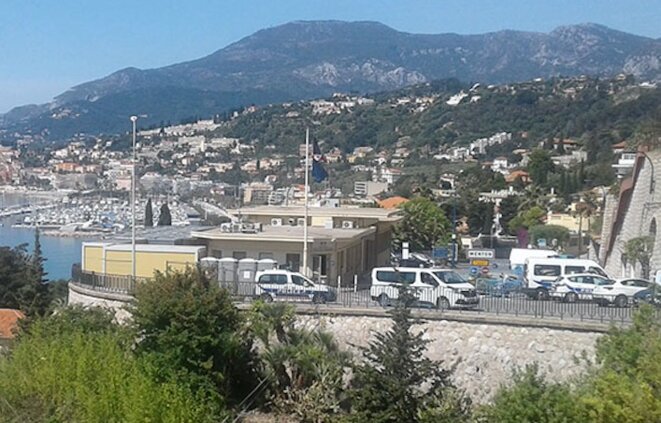 The prefabriated huts behind the police station at Menton where the migrants are detained before being sent back to Italy. © La Cimade
Migrant rights groups are taking legal action after discovering that migrants  are being secretly detained overnight in prefabricated huts in the French town of Menton on the border with Italy. The groups say the the French authorities' treatment of the refugees, many of whom are from Sudan and Eritrea and who include some children, is illegal. Carine Fouteau reports.
The far-right Front National party leader, who is standing as candidate in this spring's presidential elections in France, met in Germany with far-right leaders from across Europe, claiming that Brexit would "set the dominos falling" across the continent.
French Prime Minister Manuel Valls, attending an aceonomic forum in Berlin on Thursday, said a far-right victory was possible in France's presidential elections next year and that 'Europe is in danger of falling apart', and called for strong leadership from France and Germany.
The far-right National Front party leader, Marine Le Pen, made pledge to give French people the chance to vote on EU membership.
After emergency cabinet meeting in Paris the French president said: 'France will implacably continue the fight against terrorism.'

DR
The terrorist attacks in Paris last year were back in the headlines this weekend after the arrest in Belgium of Salah Abdeslam, wanted for his part in the November 13th shooting and bombing massacres in the French capital. Those attacks, like the shootings carried out at Charlie Hebdo magazine and a Paris kosher store in January 2015 demonstrate the ease with which terrorists can acquire reactivated weapons, notably from Eastern Europe. In partnership with eight other European media organisations grouped in a collective project, European Investigative Collaborations, Mediapart exposes here how the European Union has turned a blind eye to the trafficking of improperly deactivated military weapons, as illustrated by the history of one such weapon used to murderous effect in Paris. Fabrice Arfi, Karl Laske and Matthieu Suc report.