Keyword: European Commission
Related keywords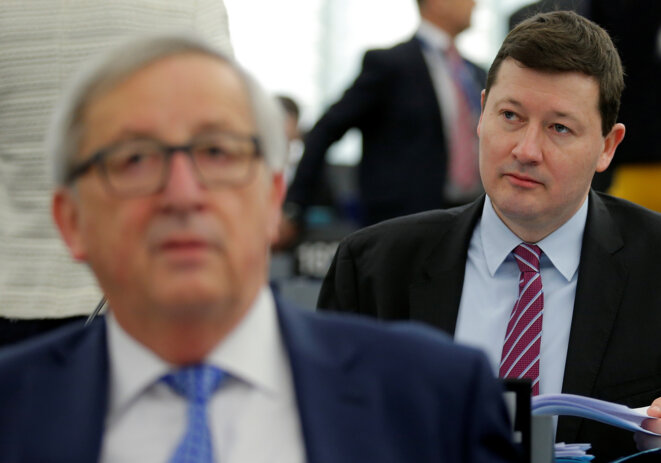 Martin Selmayr (right) with European Commission president Jean-Claude Juncker at the European parliament on March 13th. © Reuters/Vincent Kessler
The highly questionable circumstances of the appointment of German conservative Martin Selmayr as secretary-general of the European Commission, a move initiated by commission president Jean-Claude Juncker for whom Selmayr until then served as chief of staff, has been met with outrage within the European Parliament, which on Wednesday adopted a motion describing the promotion as "coup-like" and "which possibly even overstretched the limits of the law". But it pulled back from demanding Selmayr's resignation, thereby avoiding a serious institutional crisis. Meanwhile, the commission, accused of blatant cronyism, has refused to compromise and insists Europe's new top civil servant will remain in the post. Mediapart Brussels correspondent Ludovic Lamant reports.    
European Union commissioners spent nearly 500,000 euros on travel expenses in just two months in 2016, including 75,000 euros on a trip to Azerbaijan and Armenia by the EU's foreign affairs head Federica Mogherini and 27,000 euros on a round trip to Rome by Commission president Jean-Claude Juncker. The partial details on commissioners' spending were released only after a lengthy campaign by a Spanish rights organization which is demanding that their expenses be systematically posted online, which the Commission is refusing to do. Mediapart's Brussels correspondent Ludovic Lamant reports.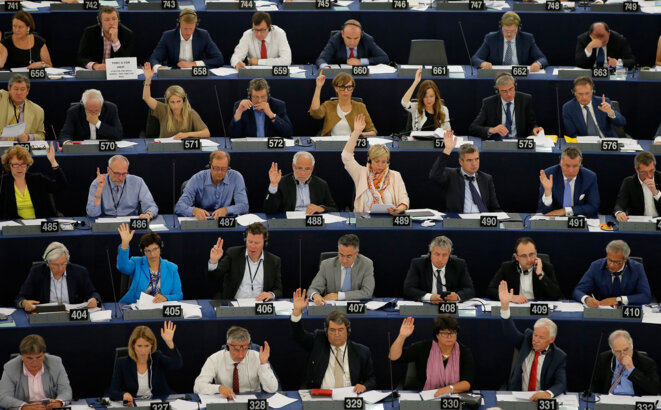 No final power: a sitting of the European Parliament in September. © Vincent Kessler / Reuters.
When the European Union finalises legislation adopted by its executive body, the European Commission, the definitive texts of the directives are thrashed out in secret, closed-door meetings known as "trialogues", unknown to the general public, where no minutes are kept. The trialogues – sometimes called trilogues – bring together, and without democratic control, representatives from the EU's three major institutions: the Commission, the European Council of Ministers and the European Parliament. Mediapart's Brussels correspondent Ludovic Lamant reports.
The European Commission said the utility giant, formerly called GDF Suez, may have received significant tax breaks that gave it and unfair advantage over other companies and in breach of EU state aid rules.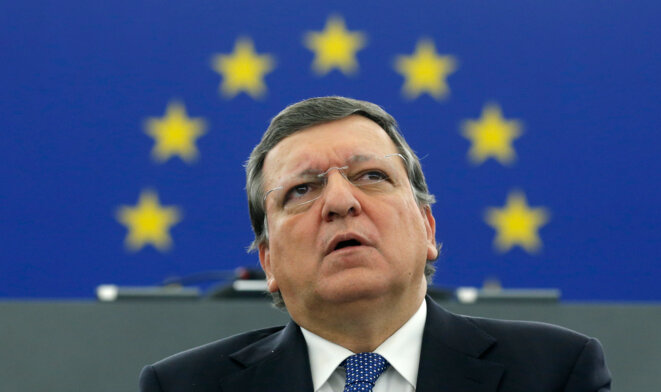 Under fire: ex Commission boss José Manuel Barroso. © Reuters
The recent decision by former European Commission president José Manuel Barroso to join Wall Street bank Goldman Sachs as an advisor caused outrage across much of Europe. Apart from, that is, at the heart of the Brussels institution itself where Barroso's successor Jean-Claude Juncker has only just, and grudgingly, criticised the move. However, disgruntled EU staff feel Barroso's appointment further tarnishes the EU's image and are examining ways to sanction their former boss. Ludovic Lamant reports.
Amid increasing protests by French farmers Manuel Valls says EU has 'done too little, too late' in response to downturn in agricultural markets.
The European Commission said France failed to charge all corporation tax owed by state-owned utilities giant in 1997, adding interest to the sum due.
In a third reprieve obtained by Paris, the European Commission has allowed France until 2017 to bring its public deficit to under 3% of GDP.
The EU said the Sivens dam project, an opponent of which was killed in a protest last month, was 'a suspected violation' of its water directive.
In a letter addressed earlier this week to French finance minister Michel Sapin and to which Mediapart has gained access, the European Commission's vice-president Jyrki Katainen, responsible for economic and monetary affairs, demands to know "why France plans to deviate from the budgetary targets" set by the European Council and "how France could ensure full compliance with its budgetary policy obligations".  President François Hollande has refused to make public the letter, which he described as "of no great significance", and which Mediapart exclusively publishes in full in this report by our Brussels correspondent Ludovic Lamant.
French economy minister said he is 'totally sure' of commission's approval, even though budget deficit targets would not be met before 2017.
Brussels may be willing to use new compliance rules to tell Paris to rewrite its 2015 budget, triggering a crisis.
Pierre Moscovici en marge d'un Eurogroupe à Bruxelles, en mars 2014, sous l'oeil de Mario Draghi (BCE). ©CE.
France's Pierre Moscovici has been named as the new European Union commissioner for economic and monetary affairs in Brussels. At first glance it appears a clear-cut triumph for President François Hollande who has installed his former finance minister in a key economic post at the heart of the EU despite German opposition. It is also a sign that the new European Commission president Claude Juncker wants to display his independence from German chancellor Angela Merkel. But as Ludovic Lamant reports, Juncker has also shaken up the Commission's structure and placed two economic hawks alongside the French commissioner. Some observers believe their main role is to stop the French "social democrat" being too soft on member countries struggling to cut their deficits – and in particular France.
Diplomatic sources say former finance minister Pierre Moscovici is close to being appointed to Jean-Claude Juncker's new commission.