Keyword: European elections
Related keywords
In a speech on Sunday to supporters of her Rassemblement National (National Rally) party in the southern French town of Fréjus, far-right leader Marine Le Pen said her party would campaign 'in liaison' with its Europe of Nations and Freedom party allies for next May's European Parliament elections, which President Emmanuel Macron has billed as a battle between anti-immigrant populists like Le Pen and pro-European Union progressives like himself.
The French president, speaking 24 hours after the historic victory of the far-right in European elections, underlined discontent towards the EU.
The results in France of the European Parliament elections held on May 25th saw a landslide victory for the far-right Front National party, amid the disintegration of the Left and the collapse of the mainstream Right, choked by scandals and internal divisions. The worst-case scenario for French democracy is now an imminent possibility, writes Mediapart's editor François Bonnet who argues here why, unless there is a major change to political dynamics, the far-right now has a real chance of taking the French presidency.
French president met with inner cabinet Monday to discuss his government's way forward after socialist trouncing in European elections.
Monday's French press banner headlines describe the Front National party's victory in European elections as a 'big bang' and an 'earthquake'.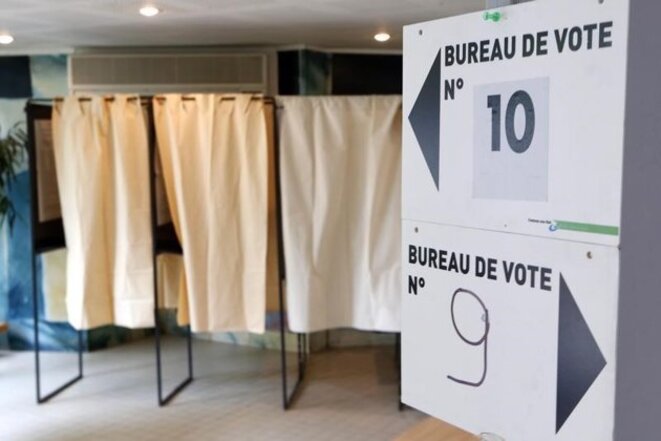 © Reuters
France's 46 million registered voters went to the polls on Sunday to elect the country's allotted 74 members of the European Union's 751-seat European Parliament. France is one of 21 European Union states that voted on Sunday, with elections already held, beginning last Thursday, in the remaining seven. The elected representatives will have a mandate of five years, and this year's poll has a heightened importance because of the European parliament's expanding powers over EU decision-making.  In France, opinion surveys predicted a surge in support for the far-right Front National (FN) party, but their forecasts were largely surpassed. The same surveys predicted a debacle for the mainstream Right and the ruling Socialist Party, which were similarly confirmed. Mediapart's English-language service reported live on the key results in France as they came in through the evening in this special edition that begins with a presentation how the voting functions and what is at stake.
Early estimates show higher turnout than in previous elections in 2009, while far-right predicted to make strong gains.
France's far-right Front National party is tipped to make important gains from mainstream Right in Sunday's European Parliament elections.
As the campaigning heats up for the European elections to be held later this month, critics of the European Commission's handling of discussions over the future landmark European Union-United States free trade treaty have been making their voices heard. Of all the different concerns, the most controversial political issue now emerging is the intended inclusion in the deal of a provision whereby foreign corporations can sue governments before arbitration tribunals for damages in the event that their investments are undermined by future changes in laws, such as those concerning the environment or public health. Mediapart's Brussels correspondent Ludovic Lamant reports.
The official lists include former ministers of Left and Right for what is tipped to be an election beset by a poor turnout and abstentions.
On-the-rise National Front leader claims full-scale insurrection and bankruptcy loom, blaming immigration, globalisation, the EU and technocrats.