Keyword: European Parliament
Related keywords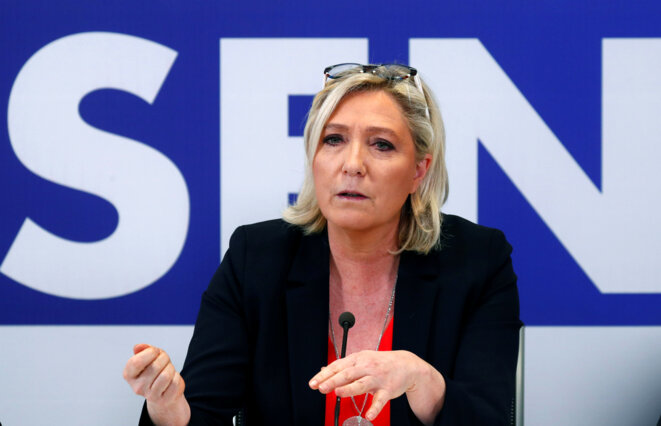 Far-right Rassemblement National party leader Marine Le Pen. © Reuters
To fund its campaign for this month's European Parliament elections, the French far-right Rassemblement National party (the renamed Front National) has raised around 4 million euros through so-called "patriotic" loans from its members and supporters, to who it has promised a 5% interest rate. The party will submit the amounts raised, with interest, in its application for a post-election refund of campaign spending that is granted to parties and paid out of the public purse. The generous interest payments paid to its lending members and supporters will cost the taxpayer around 200,000 euros, and the party says it plans employing the same strategy in future elections. Marine Turchi reports.
Opinion polls are giving France's far-right Rassemblement National party (the former Front National) a short lead over President Emmanuel Macron's LREM party in the run-up to European Parliament (EP) elections on May 26th, while both are way ahead of the 31 other party lists, which are the most ever seen in EP elections in France.
Following two months of nationwide protests as a loosely formed movement communicating mostly on social media, the so-called 'yellow vests', made up of low- and middle-income earners angry at falling living standards and against the political and social elite, have formed a group to field candidates for this spring's elections for the European Parliament.
Members of the European Parliament's ENF group, a pan-European alliance of parliamentarians from far- and hard-right parties, and mostly made up of France's Rassemblement National, have nominated a South African organisation championing the landowning interests of the country's white Afrikaner farmers for the assembly's prestigious yearly Sakharov Prize, Mediapart can reveal. The move follows increasing lobbying for the Afrikaner activists by far-right groups and commentators who claim the existence of a "white genocide" in South Africa. Mediapart Brussels correspondent Ludovic Lamant reports.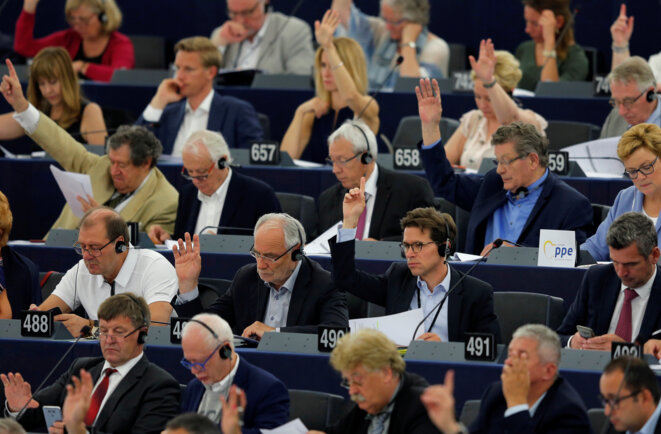 European Parliament members attending a plenary session in Strasbourg in July 2018. © Vincent Kessler / Reuters.
Almost a third of the 751 Members the European Parliament (MEPs) have earned a combined total of up to 41 million euros from outside activities over the four years since the current legislature was elected in 2014, according to a report published this week by anti-corruption organisation Transparency International. The numbers of MEPs remunerated for outside activities – which include working for private companies, lobbyists and investment funds – has risen dramatically since 2014, reveals the NGO which highlights a limp and ill-enforced code of ethics that allows numerous potential conflicts of interest among the lawmakers who are among the continent's highest-paid elected representatives. Mediapart Brussels correspondent Ludovic Lamant reports.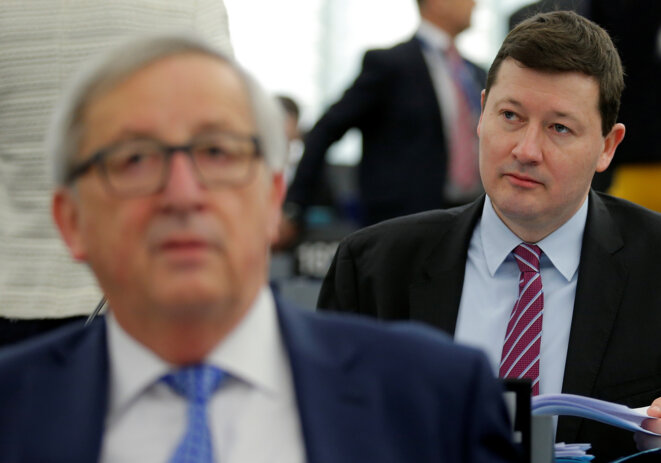 Martin Selmayr (right) with European Commission president Jean-Claude Juncker at the European parliament on March 13th. © Reuters/Vincent Kessler
The highly questionable circumstances of the appointment of German conservative Martin Selmayr as secretary-general of the European Commission, a move initiated by commission president Jean-Claude Juncker for whom Selmayr until then served as chief of staff, has been met with outrage within the European Parliament, which on Wednesday adopted a motion describing the promotion as "coup-like" and "which possibly even overstretched the limits of the law". But it pulled back from demanding Selmayr's resignation, thereby avoiding a serious institutional crisis. Meanwhile, the commission, accused of blatant cronyism, has refused to compromise and insists Europe's new top civil servant will remain in the post. Mediapart Brussels correspondent Ludovic Lamant reports.    
In a loudly applauded speech before the European Parliament on Monday, French President Emmanuel Macron warned against the spread of nationalist politics among some EU member states, slamming 'a fascination with the illiberal' and insisting that democracy 'is a word with meaning, which emerged from the battles of the past'.
The Front National's Marine Le Pen and her European allies at Koblenz in Germany, January 21st, 2017. © Reuters
The European Parliament is poised to launch proceedings to reclaim "non-compliant" expenses from the far-right parliamentary grouping that includes France's Front National, Mediapart has learnt. The total amount of the expenses involved, which include "unreasonable" claims of meals costing 400 euros a person, and the purchase of 228 bottles of champagne as gifts, comes to 427,000 euros. Ludovic Lamant and Marine Turchi report.
French president's statement came after MEPs rejected a proposal for pan-EU lists of candidates for seats in the European Parliament.
France's far-right Front National party has been placed under investigation by Paris magistrates over suspicion it fraudulently placed France-based staff on the European Parliament payroll as assistants to its sitting MEPs. 
Prosecutors leading an investigation into far-right Front National party leader and presidential candidate Marine Le Pen's involvement in a suspected 'fake jobs' scandal at the European Parliament have asked the institution to lift her parliamentary immunity from questioning and prosecution.
French far-right Front National party leader and presidential election frontrunner Marine Le Pen, implicated in an alleged scam to pay party workers with European Parliament funds, said she will not attend a French magistrate's summons for questioning over the affair before the end of the elections in May.
The chief of staff and senior bodyguard of France's far-right Front National party leader and presidential election candidate Marine Le Pen were on Wednesday questioned in police custody as part of an investigation into alleged fraudulent payments made to them by Le Pen out of European Parliament funds dedicated to remunerating parliamentary assistants. Le Pen's chief of staff, Catherine Griset, was later placed under formal investigation. The case, which mirrors the scandal surrounding conservative presidential candidate François Fillon, now threatens to become more than a severe embarrassment to Le Pen, one of the frontrunners in the election, whose campaign hinges on her image as an anti-establishment alternative to a corrupt political class.
A report published this week by the Greens-EFA group in the European Parliament presented the conclusions of a study of tens of thousands of documents provided by the Offshore Leaks platform of the International Consortium of Investigative Journalists, and which identified the principal intermediaries behind tax evasion. The report demonstrates that many of them are well-known names among banks and financial institutions, operating in countries across Europe as the vehicle for the transfer of huge sum to tax havens. Dan Israel reports.