Related keywords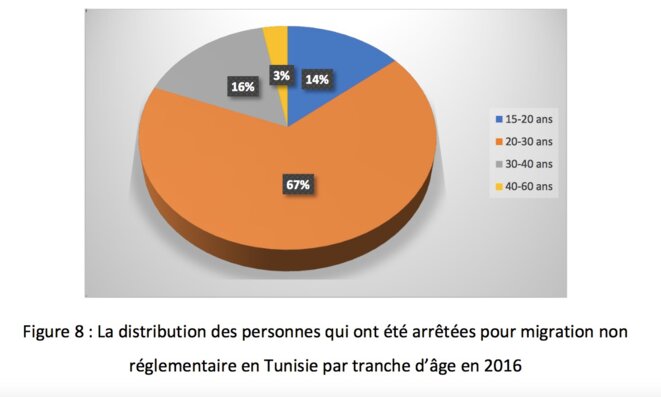 A 2017 report showing the breakdown in ages of Tunisians seeking to leave the country clandestinely. © dr
Migration has fashioned Tunisia for over two decades, most notably after the uprising that sparked the Arab Spring in 2011, when tens of thousands left a country riddled with unemployment and inequality once old restrictions were lifted. Now Tunisia finds itself in a double bind. It is resisting pressure to house migrants from other African countries trying to reach Europe via its territory, even as a new exodus of its own citizens gathers pace, prompted by economic, political and social distress. Rachida El Azzouzi reports.
Talks at Elysée set to cover Syria and EU-Turkey relations, but host Macron is also likely to voice concern over Erdogan's post-coup purges.
European Commission president Jean-Claude Juncker said that the late pop star 'reconciled French chanson with American music'.
French finance minister Bruno Le Maire warned that the bloc could succumb to nationalism if they failed in their attempts at reform.
He proposes a 'common defence force,' two agencies handling counter-terrorism intelligence and new talks about a tax on financial transactions.
New French head of state says EU says needs to be more protective of its citizens as he seeks to shore up plunging approval ratings. 
French minister said it was time for Europe to defend its own interests and make Google, Amazon and Facebook pay 'taxes they owe in Europe'.
The passionately pro-EU centrist presidential candidate spoke as he and his anti-EU rival Marine Le Pen entered last week of campaigning.
Far-right presidential candidate said she would seek to replace it with a 'Europe of the people' based on a loose cooperative of nations.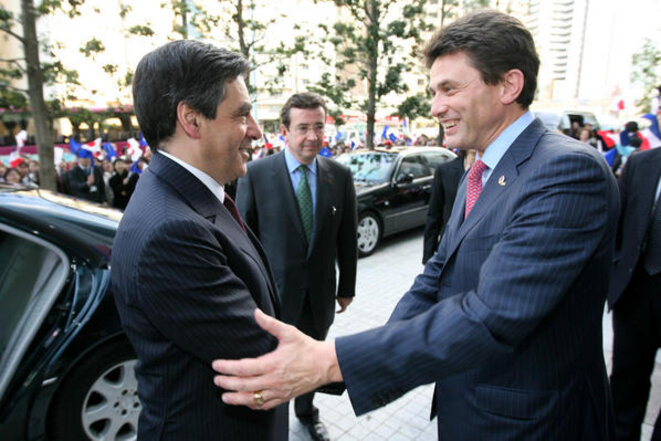 François Fillon (left) and his friend Henri de Castries, former CEO of AXA. © DR
On February 6th the beleaguered right-wing presidential candidate was forced to admit that the major insurance firm AXA was a client of his consultancy firm 2F Conseil. Between 2012 and 2014 the group paid 200,000 euros to Fillon, who was a Member of Parliament at the time. The money was apparently paid to the former prime minister because he could "open doors in Brussels and Berlin" as new European Union insurance regulations were being implemented. Mediapart's Martine Orange argues that the affair is a clear example of conflict of interest.
This spring's presidential elections in France, in which the far-right Front National candidate Marine Le Pen is tipped to reach the second-round playoff, has the potential to set in train the victories of other anti-EU parties in elections across Europe warned Spanish Prime Minister Mariano Rajoy and German Vice Chancellor Sigmar Gabriel.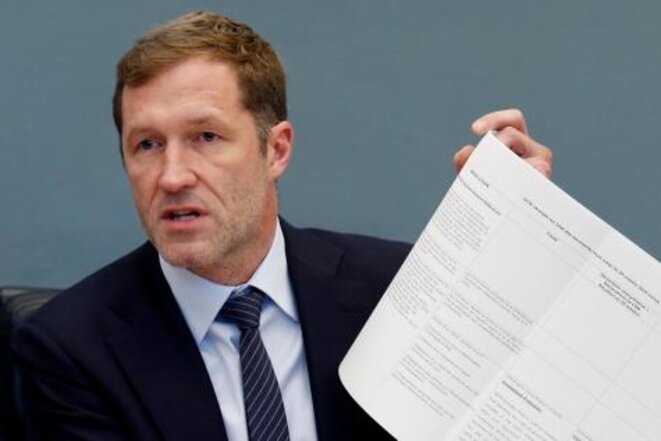 'Non': Walloon leader Paul Magnette rejects the CETA deal in its current form. © Reuters
The Comprehensive Economic and Trade Agreement or CETA trade deal between the European Union and Canada was in deep trouble after the Belgian region of Wallonia refused to accept it, despite strong efforts behind the scenes by neighbouring France to put pressure on the French-speaking area. Finally a last-minute deal was reached on Thursday October 27th, but came too late to allow Canada's prime minister Justin Trudeau to fly to Brussels to sign the deal at a summit that has now been postponed. Martine Orange looks at how a small Belgian region became a focal point of opposition to a trade deal many fear will act as a Trojan horse for North American multinationals.
Paper by country's defence ministers proposes setting up a European defence headquarters, a common surveillance system and sharing logistics.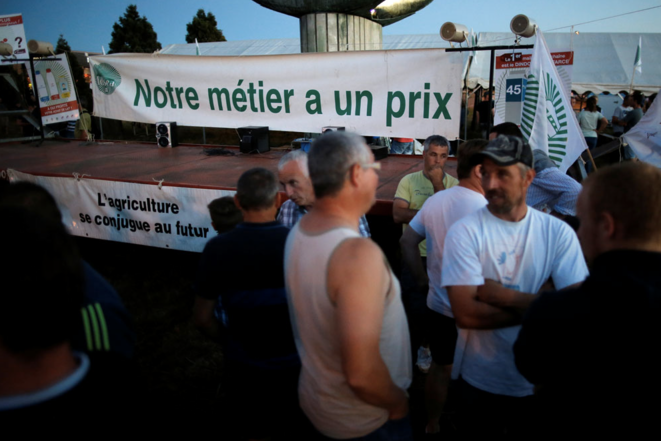 Farmers protesting outside the headquarters of dairy firm Lactalis, at Laval, central-west France, August 23rd. ©Reuters
As European farm ministers met earlier this month at a château in France's Loire Valley to reframe EU agricultural policy, a detailed study of European farm aid has revealed a major contradiction right at the heart of that policy; that the most polluting farms actually receive the most cash from subsidies. And amid French farmers' protests against falling prices and shrivelling incomes, the study also showed that in the current economic context, the usual strategy of continually boosting production is no longer an option. Jade Lindgaard reports.