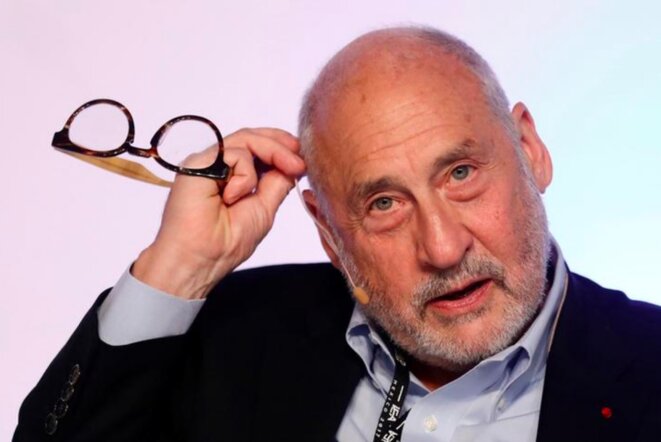 Joseph Stiglitz in Mexico, June 2017. © Reuters
In an interview with Mediapart the celebrated Nobel Prize winner for economics, Joseph Stiglitz, says he is worried about the continuing pursuit of austerity policies in the Eurozone. The economist say he is concerned, too, about President Donald Trump's policies and the explosion in inequality since the financial crisis of 2008. More than ever, he tells Mediapart, there is a need for wages to rise, for better regulation of the financial world and for a war on huge "monopolies". Mathieu Magnaudeix reports.
French Finance Minister Bruno Le Maire, speaking in German to a business conference in Berlin, said France and Germany had 'a way to go' in order to reach a common position for an ambitious reform of the eurozone, adding, 'We must act, it is now or never'.
President Emmanuel Macron's government has put down markers for its intention to field French candidates for two key eurogroup jobs as part a push to reassert France's economic policymaking role after years of subservience to Germany.
French economy minister Bruno Le Maire said the UK's departure from the EU was 'an opportunity for our financial companies to be more attractive', apparently referring to the relocation of what is currently the of the City of London's lucrative business of clearing euro-denominated derivatives.
French economy minister Bruno Le Paire met with his German counterpart Wolfgang Schäuble in Berlin on Monday, when the pair agreed that a working group would be set up to study measures for greater integration of the 19-member eurozone before a planned bilateral summit in July.
Just hours after naming the conservative Edouard Philippe as his prime minister on Monday, France's new president Emmanuel Macron flew off to pay a visit to German Chancellor Angela Merkel. She, like European Commission president Jean-Claude Juncker, has hailed the election of pro-EU Macron, and notably his announced structural reforms of France's economy, which are at the heart of his political programme. Macron considers they represent a panacea for the ills in French society, but are they really appropriate to the country's economic situation? Romaric Godin weighs up the widely different views on the mantra that there is no alternative to "structural reforms".  
French business activity has grown since January faster than that in Germany for the first time since 2012, according to IHS Markit's latest Purchasing Managers' Index, which showed an overall rise in economic activity in the 19-nation eurozone to be on track for a quarterly growth of 0.6 percent.  
Former economy minister and French presidential hopeful Emmanuel Macron dismisses idea of post-Brexit concessions for the City of London.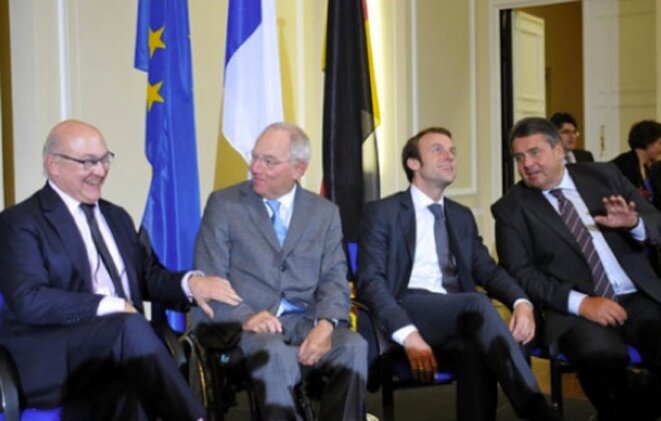 Crucial meeting? French and German finance and economy ministers meeting in Berlin, October 2014. © france-allemagne.fr
The French government's labour law reform bill, now being debated in the Senate, has prompted fierce opposition from several trades unions, massive demonstrations across the country, and a deep political and social crisis. Opinion polls show a majority of the population are opposed to the bill, which reduces current protection for employees with measures that include easing conditions for firing staff and placing a ceiling on compensation sums awarded by industrial tribunals. But the government is adamant it will not negotiate the bill's contents. Martine Orange investigates the reasons for its unusual intransigence, and discovers evidence that the most controversial texts of the bill were demanded by European Union economic liberals.
AfD says France and south European countries pose problem to single currency as they have a different political culture from north Europeans.
Despite German opposition to idea, Emmanuel Macron calls for permanent fiscal transfers to poorer countries to avoid end of euro.
Following the European debacle of the Greek crisis, French President François Hollande has called for reforms to the eurozone that include giving it budgetary powers and a parliament, and will soon meet with European Central Bank president Mario Draghi to discuss the issue which he hopes to place on the agenda of a European leaders' summit in October. Lénaïg Bredoux reports.
Addressing what some see as a flaw in the euro, the French president calls for 'a specific budget' and parliament 'to ensure democratic control'.
Le Néerlandais Jeroen Dijsselbloem (de dos) et le Grec Yanis Varoufakis, en février à Athènes. © Reuters.
In this interview with Mediapart, a senior advisor to the Greek government, who has been at the heart of the past five months of negotiations between Athens and its international creditors, reveals the details of what resembles a game of liar's dice over the fate of a nation that has been brought to its economic and social knees. His account gives a rare and disturbing insight into the process which has led up to this week's make-or-break deadline for reaching a bailout deal between Greece and international lenders, without which the country faces crashing out of the euro and complete bankruptcy. He describes the extraordinary bullying of Greece's radical-left government by the creditors, including Eurogroup president Jeroen Dijsselbloem's direct threat to cause the collapse of the Hellenic banks if it failed to sign-up to a drastic austerity programme. "We went into a war thinking we had the same weapons as them", he says. "We underestimated their power".