Related keywords
Jean-Marc Ayrault : " l'Europe est un combat " © Mediapart
In this first part of a wide-ranging exclusive interview with Mediapart, French Prime Minister Jean-Marc pledges his government will do its all to keep the euro alive, argues that a delay should be given to Greece to meet its deficit target and answers mounting criticism that he and President François Hollande have capitulated their pro-growth policies with the adoption, without any compromise, of the austerity-promoting European Treaty on Stability, Cooperation and Governance, the TSCG. The French Prime Minister, in an interview conducted in French and translated here into English, calls on the treaty's opponents to come clean that they want to leave the euro, and claims the election of President Hollande has announced a re-orientation of European policy-making. "I am convinced there has been an enormous degree of political weakness and lack of vision since the start of the crisis," he comments, adding that European leaders are "beginning to be conscious of the major risks into which we will be plunged if Greece leaves the euro."
UK PM David Cameron slams French President François Hollande's plans to raise taxes on the wealthy while meeting business leaders at G-20 summit.
IMF head Christine Lagarde, a former French finance minister, causes uproar for saying Greeks were tax-dodgers for whom crisis was payback time.
The OECD backs France's call for the issue of jointly-guaranteed eurobonds and for the European Investment Bank to be given more resources.
No French banking group is in danger even in the "extreme" scenario that Greece leaves the euro, says the Governor of the Bank of France.
European stock markets and the euro tumbled Monday over political uncertainty in two key euro-zone countries, France and the Netherlands.
Ratings agency Moody's maintains triple-A rating for France, despite the downgrade inflicted on the country by Standard & Poor's last Friday.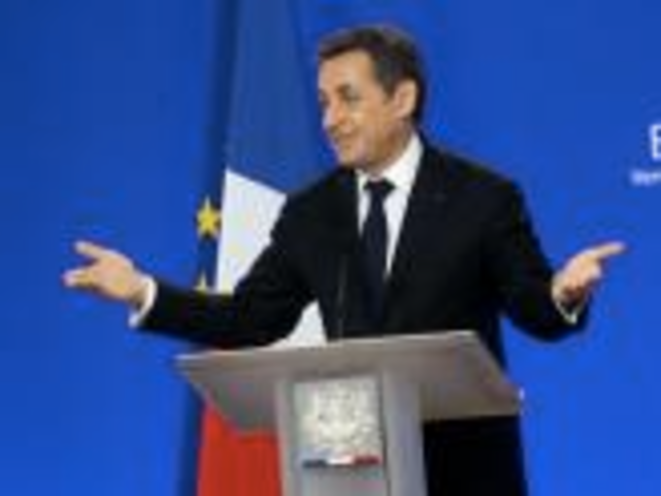 Le 9 décembre. © Elysée.fr
Ratings agency Standard & Poor's announced Friday that it had downgraded France's triple-A credit rating to AA+. Mediapart editor François Bonnet argues here that the downgrade has stripped bare President Nicolas Sarkozy's attempts, as he prepares to announce his candidature for re-election in April, to hide the amplitude of the economic crisis and his own failures in Europe and at home.
Europe plunges into a fresh crisis after France was stripped of its coveted AAA rating in a mass downgrade of at least half a dozen eurozone countries.
French finance minister François Baroin has confirmed that France has lost its top AAA credit rating from ratings agency Standard & Poor's.
The German and French leaders turn tack on austerity measures, insisting that boosting economic growth in the 17-nation eurozone is a priority.
British deputy Prime Minister Nick Clegg has told the French prime minister that steps should be taken to "calm the rhetoric" on the UK economy.
Ratings agency Fitch has affirmed France's top-notch AAA credit rating but has revised its outlook on the country to "negative" from "stable".
To the long list of victims emerging from Europe's financial crisis, make room for a new one, namely the Entente Cordiale between Britain and France.