A helicopter carrier has been sent to the French Mediterranean island of Corsica to evacuate people seriously ill from with infection from the Covis-19 coronavirus, who will be taken to hospitals in the southern mainland cities of in Marseille and Toulon.
France will later this week begin airlifting its nationals from Wuhan, the locked-down Chinese city at the centre of a coronavirus outbreak where an estimated 500 French expatriates live, after reaching agreement for the evacuation with the Chinese authorities, health minister Agnès Buzyn has announced.
The Eiffel Tower was evacuated on Monday afternoon after a man in jeans and a jacket was seen trying to scale with bare hands the last stage of the 324-metre-tall Paris landmark which last week celebrated its 130th anniversary.  
Drama began when a train on the metro line serving tourist landmarks in the French capital suddenly broke down.
The Mont-Saint-Michel, the small tidal island home of a monastery and abbey off the Normandy coast and one of the most popular tourist sites in France, was briefly evacuated on Sunday after a man made threats to attack police there before apparently escaping a vast manhunt involving helicopters and police reinforcements.
A British Airways flight from Paris to London was halted on the tarmac of Roissy-Charles de Gaulle airport on Sunday morning in an urgent security alert, when passengers were ordered off the plane and searched along with their baggage.
The Gare du Nord, one of the major Paris railway hubs serving suburban, national and international destinations, reopened Tuesday after it was evacuated on Monday evening when police launched a search for three suspected terrorists who were reported to be travelling to the station in a train from northern France. 
With the expected dismantlement of the 'jungle' migrant camp in Calais to begin as of Monday morning, the French authorities step up attempts with UK counterparts to save children who have right of entry into Britain from being herded with adults into centres around France amid 'chaos' of evacuation. 
The evacuation and subsequent demolition of the makeshift camp estimated to shelter up to 10,000 migrants attempting to reach Britain in clandestine crossings of the English Channel will begin on October 24th, the French authorities have announced, when thousands of migrants will be bussed to refugee centres around France.
After Prime Minister Manuel Valls pledged this week to begin evacuation of the site of France's contested "Great West" airport near Nantes in north-west France, militant ecologists, anti-capitalism activists, and local inhabitants occupying the earmarked land are preparing for a showdown with anti-riot police.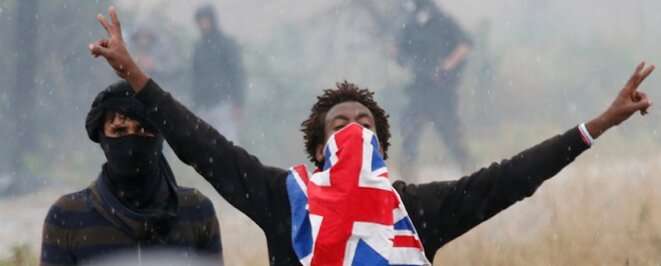 A group of migrants close to the "Jungle" camp in Calais, October 1st 2016. © Reuters
The notorious makeshift migrant camp in the French Channel port of Calais, which NGOs estimate houses between 8,000 and 10,000 people, including 1,300 minors without parents, is to be evacuated and razed in the coming weeks. But 11 humanitarian associations involved in providing assistance for the migrants living in a shantytown of huts and tents known as "the Jungle", many of which initially supported the move, have now applied for a court order to halt the operation, arguing that it is "a violation of the fundamental rights of the exiled". Carine Fouteau hears from the head of one of the most active NGOs, L'Auberge des Migrants, why it has now come out against the evacuation and his fears over the consequences.
More than 80 migrants had set up camp outside a library in Paris' 18th arrondissement, some of whom came from a nearby camp dismantled Friday.
The Gare du Nord was plunged into chaos after the ammunition, apparently dating from WWI or WWII, was found in a man's backpack.
An anonymous call threateneing an attack on the Eiffel Tower in Paris caused the evacuation of more than 1,400 people Saturday evening.