Thousands of schoolchildren demonstrated in Paris and elsewhere against the expulsion of a girl student to Kosovo and another to Armenia.
The French government found itself on Wednesday the target of a storm of protests over the arrest and repatriation to Kosovo last week of a 15 year-old Roma girl who was taken into custody by police in front of her schoolmates after her family's application for asylum in France was rejected. The heavy-handed arrest of Léonarda Dibrani, which was first revealed in a blogpost on Mediapart, has split opinion both among the ranks of the ruling Socialist Party and within the government itself, with education minister Vincent Peillon calling for a ban on the arrests of pupils during school activity. The controversy comes as interior minister Manuel Valls leads a high-profile, hardline campaign targeting Roma immigrants who he has claimed are not apt to integrate into French society.  Interviewed by Mathieu Magnaudeix, Socialist MP Sandrine Mazetier, vice-president of the National Assembly and head of her party's immigration affairs department, strongly denounces the treatment handed out to Léonarda Dibrani, and demands that sanctions be taken against the police prefect responsible for ordering her arrest in an act of "political provocation".
The official defender of citizens' rights accused the government of flouting its own rules for the expulsion of Roma migrants from illegal camps.
Manuel Valls says he stands by his views that few Roma could integrate into French society and a "majority" should be sent "back to the borders".
Rights groups supporting Roma migrants call for international protests after a mob of  Marseille residents torched one of their camps.
France is to ease conditions for Roma immigrants to obtain work and residence rights, after years of expulsions which continued this month.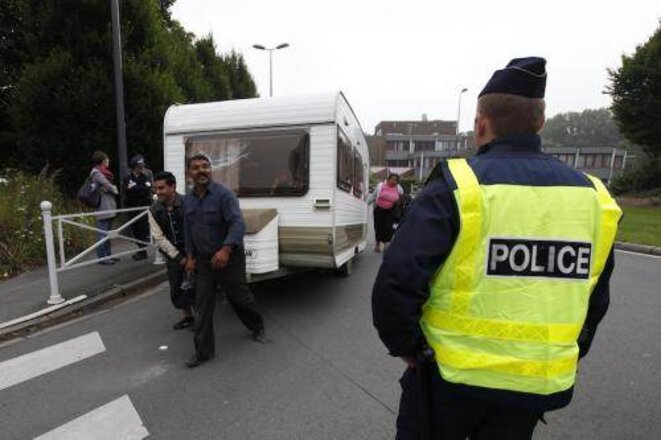 © Reuters
The French socialist government this summer ordered the forced evictions of hundreds of Roma gypsy families from makeshift camps set-up around several of the country's major cities, followed by the repatriation of some of the occupants to their native Romania. The crackdown has divided government ministers and caused an outcry from Roma rights' associations, prompting Prime Minister Jean-Marc Ayrault to organize an inter-ministerial meeting to seek wider solutions to dissolving the illegal camps, to be held on Wednesday. Mediapart sought out the views of several police officers involved directly and indirectly in evictions of two Roma camps near the city of Lille (photo) earlier this month. "The problem isn't solved, what we've done is all for show," commented one, echoing criticism leveled at the government that the forced dismantling of the camps is doing little else than keeping the Roma trapped in a spiral of poverty. Louise Fessard reports.
French officials to discuss lifting working restrictions on Bulgarian and Romanian nationals, in an effort to give legal status for Roma immigrants.
The European Union says French expulsions of Roma are under scrutiny to ensure they comply with its rules on free movement of people.
French police evicted some 200 Roma gypsy migrants from makeshift camps close to Lille on August 9th, in an early morning operation that followed several other forced evictions of Roma from settlements in Paris and Lyon in recent days. The evictions in Lyon led to 240 of the homeless Roma being sent back to Romania by plane, which French officials described as a voluntary repatriation. The moves have outraged French associations campaigning for the rights of Roma, who accused the new socialist government of continuing with the stigmatizing policies of its conservative predecessors.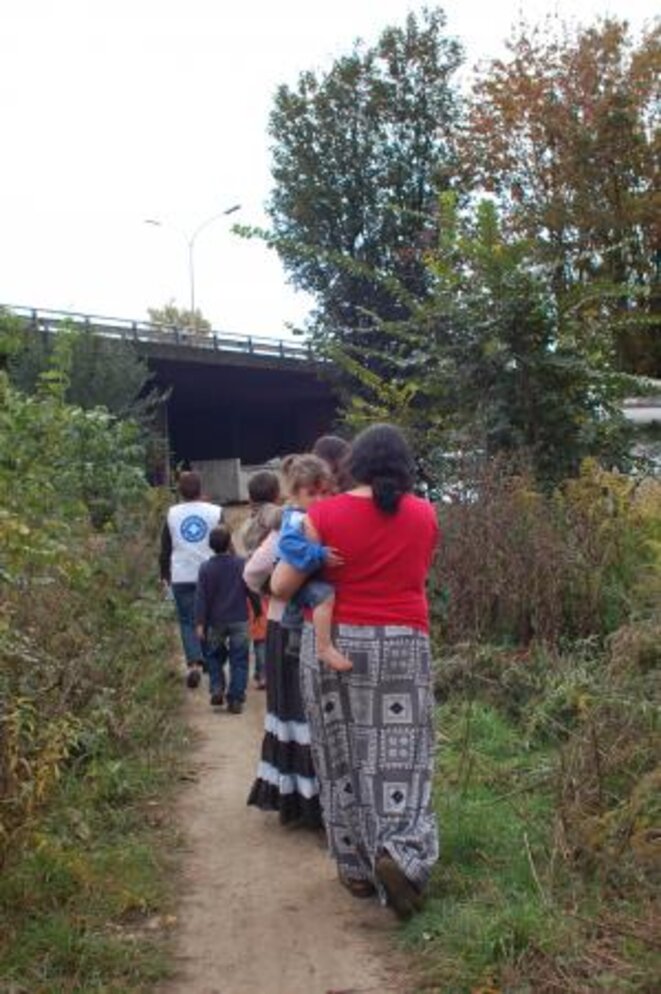 Roma family in Strasbourg. © L.F.
In the summer of 2010, the French government launched a crackdown on Gypsy immigrants in France,with the demolition of hundreds of Roma camps and mass expulsions, mainly to Romania. In an interview with Mediapart, French sociologist Jean-Pierre Liégeois, one of Europe's leading experts on the Gypsy community, traces the history of the Roma and slams the campaign of stigmatisation against them as "economically costly and humanly devastating".