Related keywords
Ian Bailey, 62, an expatriate British former journalist living in Ireland who was found guilty in absentia by a Paris court for the murder in 1996 in County Cork of French TV producer Sophie Toscan du Plantier, a crime he denies, has been ordered to be extradited to France by Dublin's High Court.
Mario Sandoval, 66, who had been living since 1985 in France where he taught at the University of Marne-la-Vallée and at the New Sorbonne University, has been extradited to his native Argentina where he is wanted for crimes against humanity, including torture, during the country's 1976-1983 dictatorship.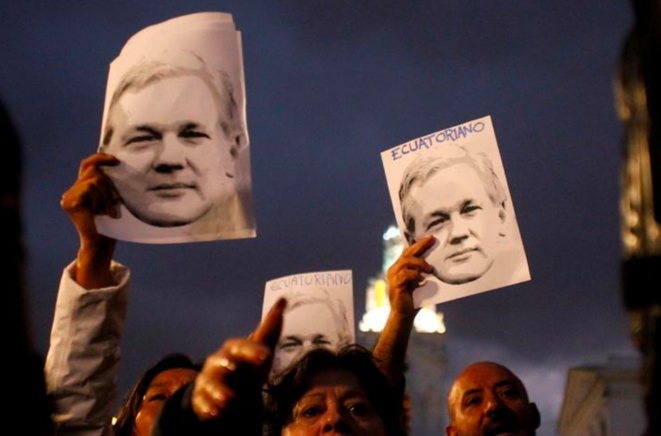 A demonstration in supporrt of Julian Assange held in Quito, the capital of Ecuador, on October 31st 2018. © Reuters
The fate of Julian Assange, just like that of Chelsea Manning or Edward Snowden, represents a far bigger issue than that of him as an individual, writes Mediapart's publishing editor Edwy Plenel in this opinion article. Whatever Assange's personal faults or mistakes, he argues, the move for his extradition to the US is about making an example of him to others because he had the audacity to challenge the powers that be with the weapon of the right to know.
Alexandre Djouhri is wanted by Paris over claims including corruption of a foreign public official and conspiracy to misappropriate public funds.
Yassine Atar, brother of Osama Atar who is suspected of having planned the November 13th 2015 Islamic State group attacks in Paris that left 130 people dead, has been extradited to France from Belgium where he was arrested in March 2016 in connection with the terrorist bomb attacks in Brussels that month which claimed 32 lives.
Mohamed Bakkali, 30, who is accused of knowingly offering his Brussels apartment to attackers who took part in the November 13th 2015 terrorist attacks in and around Paris which left 130 people dead, has been extradited to France, just as the Paris trial of Jawad Bendaoud, 31, continues into his alleged conspiracy with the Islamic State group cell which were housed in a property belonging to him in a suburb close to the French capital.
The middleman Alexandre Djouhri has been released on bail by a court in London pending proceedings to extradite him to France. Examining magistrates in Paris investigating claims that Libyan regime money was used to finance Nicolas Sarkozy's 2007 election campaign want to question Djouhri over crucial documents found at his Swiss home. Mediapart understands these show that the middleman did indeed oversee the payment of half a million euros of Libyan origin to President Sarkozy's most trusted lieutenant, Claude Guéant. Karl Laske and Fabrice Arfi report.
British journalist Ian Bailey, 60, wanted by France for the 1996 murder in Ireland of film producer Sophie Toscan du Plantier, has been summoned to an Irish court hearing on May 31st to decide upon his extradition.
A former militant with the Algerian extremist Armed Islamic Group, which led brutal attacks in the country in the 1990s, Merouane Benhamed fled to France and was among 25 people convicted in 2006 for plotting an attack in support of Islamist fighters in Chechnya.
Mourad Hamyd, the French brother-in-law of gunman Chérif Kouachi, was arrested in Bulgaria last month suspected of attempting to join Islamic State group.
Mourad Hamyd, the 20-year-old brother-in-law of Chérif Kouachi, has agreed to his extradition to France from Bulgaria.
Lawyer for suspect in Paris attacks, who was arrested in Brussels on March 18th, says he wants to be handed over to French authorities.
Dutch court must decide within 90 days whether to grant a request from Paris to extradite the 32-year-old to France over terror allegations.
Lawyer for Salah Abdeslam, held in Belgium and fighting extradition to France, said weekend comments by French official violated probe's confidentiality.