Related keywords
Former French conservative prime minister François Fillon was on Monday handed a five-year prison sentence, with three years suspended, and his British wife Penelope was given a three-year suspended jail sentence, after a Paris court found the pair guilty of a scam in which Fillon paid his wife more than 800,000 euros as his parliamentary assistant for work she never did. 
Judges have said Fillon and his British wife Penelope  should face trial on charges including the misuse of public money and conspiracy.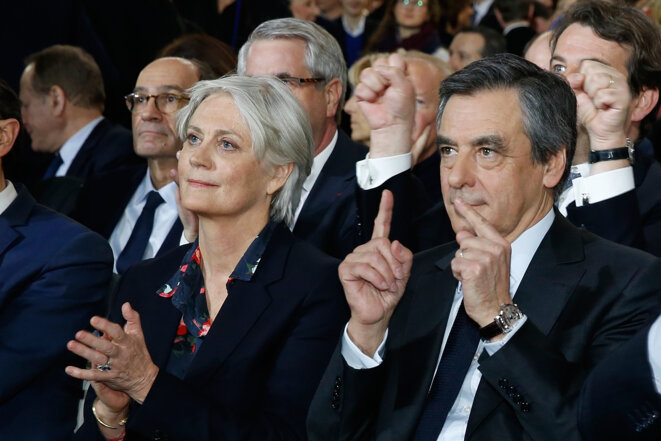 Penelope and François Fillon: the 'fake jobs' affair highighted the fact that many MPs employed family members. © Reuters
The much-trumpeted law to improve morality in public life and restore public confidence in the nation's elected representatives has passed its key hurdle in the French Parliament. The two key measures voted for by Members of the National Assembly were the ban on MPs employing members of their own family, and an obligation to produce receipts for expenses. After 50 hours of sometimes lively debate and 800 amendments, MPs voted overwhelmingly in favour – even if some on the Right called it an act of "masochism". Mathilde Mathieu reports.
Presidential candidate François Fillon's wife is placed under investigation on suspicion of complicity in misappropriating public funds.
Conservative candidate in French presidential election gave defiant speech in Paris on Sunday but appeared to leave his fate in hands of party.
'If it hadn't been me, he would have paid someone else to do it, so we decided that it would be me,' she told newspaper as 'fake jobs' row goes on.
Thierry Solère's resignation adds to slew of notable departures, including campaign treasurer, from cosnervative candidate over 'fake jobs' row.
Latest opinion poll shows that only 25 percent of people now want right-winger to continue as a candidate, as senior supporters jump ship.
Right-winger claims he is victim of a 'political assassination' as judges prepare to put him under formal investigation over fake job controversy.
The allegations have seriously damaged right-winger Fillon's campaign for the presidency, sending his opinion poll approval ratings plummeting.
Like many of leading French politicians, François Fillon has his own 'micro' party which is used to develop policy ideas and raise funds. But Mediapart can reveal that the micro party run by Fillon, whose candidacy for the French presidency has been rocked by the so-called "fake jobs" scandal involving his wife Penelope, is discreetly banking donations from members of the public supporting his official electoral campaign. "It's madness!" says one senior figure on the Right. Mathilde Mathieu reports.
Candidate has denounced a left-wing 'institutional coup d'état' as he faces mounting pressure to quit the presidential race over 'fake jobs' scandal.