Related keywords
Interior minister Christophe Castaner's false claims on Twitter on May 1st.
A newly introduced French law designed to combat the proliferation of false information on social media which may manipulate elections was tested this month for the first time, but not in the manner the government foresaw when it devised the legislation. Two communist politicians lodged a demand, under the articles of the law, for the removal of a message posted on Twitter by French interior minister Christophe Castaner, who falsely claimed that May Day demonstrators had attacked a Paris hospital and its staff. Géraldine Delacroix reports on how they lost their case, but won their demonstration that the law, as they put it, "serves no purpose".
French police called for calm and said crowds had been attacking people in Paris suburbs they believed were responsible for rumored abductions.
Commission for the Enrichment of the French Language (CELF) has offered another possibility for French speakers - 'infox'.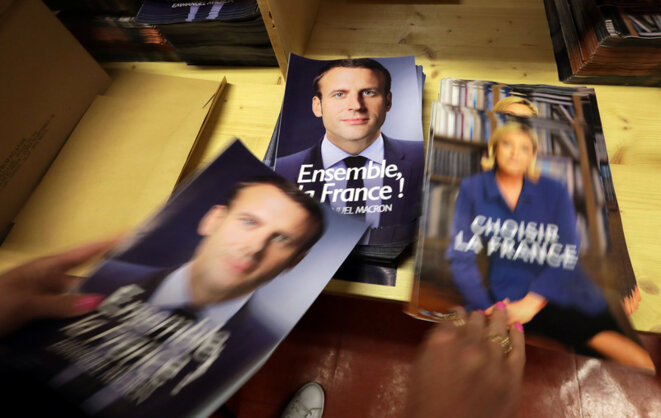 The 'Macron Leaks' data dump came 48 hours before Emmanuel Macron faced the final contest against far-right leader Marine Le Pen. © Reuters
The French government has drafted legislation, dubbed the "anti-fake news law", aimed at combatting the proliferation of false information during election campaigns. It was prompted by a mass data dump of confidential emails and fake documents relating to Emmanuel Macron and his campaign staff shortly before the final round of last year's presidential elections, which became known as the "Macron Leaks". The bill, which would empower judges to order the de-publication of information ruled to be fake, and even to block foreign media in France, has created such controversy that the parliamentary debates have now been postponed until later this summer to allow for more than 200 amendments to be considered. Here, Fabrice Arfi and Antton Rouget argue why the new legislation, if it becomes law, would in fact severely curb the freedom of the press, as in fact demonstrated by the very history of the "Macron Leaks".
Draft legislation which allows for a magistrate to ban publication of information during electoral campaigns that appears false or 'implausible'  has met with fierce criticism as debating began in the French parliament, with MPs from Left and Right denouncing dangers of censorship and abuses by 'thought police'.
Culture minister says a judicial process will be put in place to allow 'rapid blocking of the dissemination of fake news' once it has been published.
At the start of the New Year President Emmanuel Macron told a gathering of journalists that his government was preparing a new law to clamp down on 'fake news' on social media. But already the French media are wondering whether an attack on 'fake news', however desirable, would not end up damaging freedom of information in general. Hubert Huertas looks at the pitfalls presented by the plan.
Only authoritarian regimes try to control what the truth is, said one conservative senator while many Twitter users mocked the plan..
French president has criticised Russian media in particular, openly accusing TV channel RT of sowing disinformation about him.
Company says it will work with several leading French news organizations to ensure that false news items are not published on its platform.