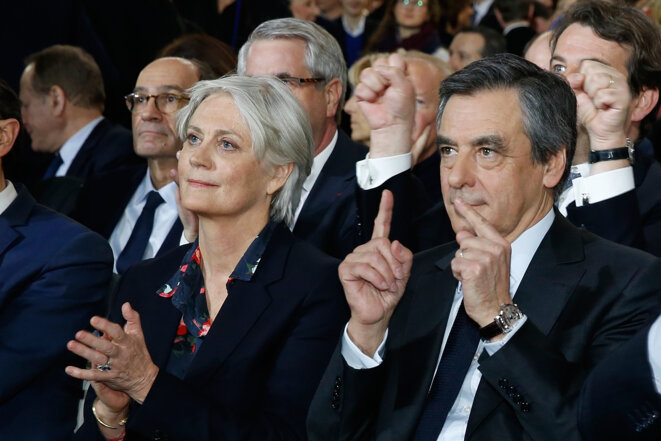 Penelope and François Fillon: the 'fake jobs' affair highighted the fact that many MPs employed family members. © Reuters
The much-trumpeted law to improve morality in public life and restore public confidence in the nation's elected representatives has passed its key hurdle in the French Parliament. The two key measures voted for by Members of the National Assembly were the ban on MPs employing members of their own family, and an obligation to produce receipts for expenses. After 50 hours of sometimes lively debate and 800 amendments, MPs voted overwhelmingly in favour – even if some on the Right called it an act of "masochism". Mathilde Mathieu reports.
Campaigners battling to stop medics switching off 38-year-old's life support system post a video of him supposedly responding to mother's voice.
The family group, which includes a baby and other children, are believed to have left their home in Nice in late September.
French court upholds the October expulsion of the teenager, her parents and six siblings to Kosovo which sparked major public controversy.
A couple were found hanged and their children aged 13 and 16 had been poisoned, according to police who are investigating the family 'tragedy'.
French prosecutor says clues into the shooting of al-Hilli family last September may be in data stored on US internet servers, but is denied access.
While US Secretary of State John Kerry's strong French ties have been hailed in France but used by Republicans in America to discredit him.
Five people, including a child, were killed in an overnight fire that swept their apartment in the suburb of Gennevilliers, north of Paris.
New eye-witness evidence emerges of family massacre that left four dead, including initial crime scene and strange behaviour of victim days earlier.
A single weapon was used in the gunning down of four people, including a British family, in woodland near Lake Annecy in the French Alps.
Embarassed officials explain why four year-old girl was left hiding under her dead mother eight hours after police found murder victims' car. 
Two young girls are the only survivors of a shooting attack on a holidaying family from Britain that left four dead in woodland in the French Alps.