Related keywords
The youth arms of France's Rassemblement national (National Rally) party, formerly called the Front National, and its far-right Italian ally, the League, staged a joint demonstration near the French-Italian border on Sunday to demand tough measures against what they said was the 'overwhelming' of Europe by migrants.
Ten men, including a former gendarme, have been arrested across France for their suspected role in a plot to attack Muslims. Mediapart can reveal that one of the suspects had been setting up his own laboratory to make explosives. Matthieu Suc, Marine Turchi and Jacques Massey report on the story behind the dramatic arrests and the murky world of the far-right in France.
Arrests were made in operations across France but mainly on the island of Corsica, prosecution sources said.
The men, who include three minors, face investigation into claims far-right activists plotted to target both French politicians and mosques.
The far-right party, shaken by its collapse in support at the final post of May's presidential election, is holding a two-day closed-door meeting to debate what its leader Marine Le Pen called a 're-founding of the Front National', including a re-think of its policies that France should leave the eurozone and European Union, while also pondering a change of its name.
The far-right Front National party leader, who is standing as candidate in this spring's presidential elections in France, met in Germany with far-right leaders from across Europe, claiming that Brexit would "set the dominos falling" across the continent.
Police arrested 14 people after they torched tyres and blocked bridges in the Channel port in protests against thousands of migrants gathered there.
The Socialist Party orders its third-placed candidates stand down for second-round vote to favour conservatives and block far-right Front National.
As far-right National Front party surges in polls for December local elections, French politics are relentlessly driven from the Right, argues NYT.
Robert Ménard, mayor of Béziers, is sued by Agence France-Presse for misuse of photo in anti-migrant cover story on town hall magazine.
Robert Ménard, elected on a far-right ticket, said 64.6% of town's schoolchildren were Muslims after an illegal poll of childrens' first names.
Le Pen, 86, is suspended from the far-right party he once led for repeating anti-Semitic jibes amid a row with its current head, his daughter Marine.

Sophie Montel et Marine Le Pen. © (dr)
A cliffhanger by-election held in eastern France at the weekend saw the narrow victory of the socialist candidate over his far-right National Front party challenger. There was relief but no partying within the Socialist Party, which held the seat by a majority of just more than 800 votes and which on Monday sounded an alarm at the dangers ahead after this latest illustration of the upsurge in support for the far-right. Despite its defeat in the urns, the Front National credibly claimed a political victory over the mainstream parties and over the conservative UMP party in particular. Mediapart political affairs correspondent Hubert Huertas analyses the result which showed a significant section of the conservative electorate snubbed its party's instructions by switching support to the far-right in the second-round playoff on Sunday, prompting Front National leader Marine Le Pen to say the mutiny offered "lots of promising information for the future".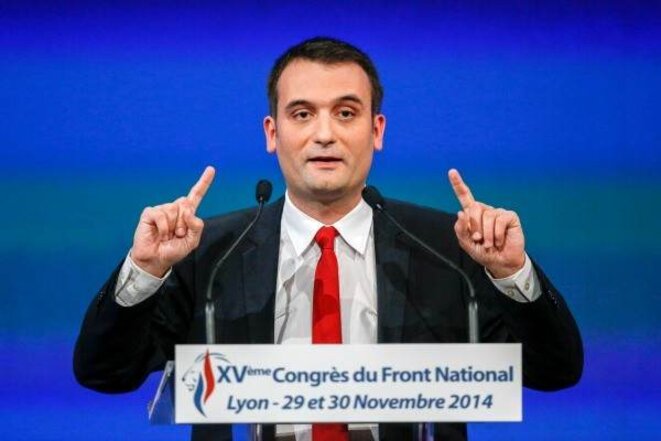 © Reuters
Florian Philippot, a vice-president of France's far-right Front National (FN) party, goes to court on Monday to sue a gossip magazine after it published photos of him earlier this month that 'outed' him as gay. Just several days later, a founder of the French LGBT rights group GayLib, Sébastian Chenu, announced he had joined the FN as 'cultural advisor' to its president, Marine Le Pen, and would in the future stand as an election candidate for the party whose founder, Marine's father Jean-Marie Le Pen, once notoriously described homosexuality as "a biological and social anomaly". Yet despite the FN's homophobic history, and its recent opposition to the same-sex marriage law,  Act Up Paris founder Didier Lestrade, author of a book entitled Why gays moved to the Right, says he believes a significant number of gays are increasingly attracted by the far-right. In this interview with Joseph Confavreux he explains why, argues that the FN leader is seeking "to try and enroll minority struggles in her fight against Islam", and underlines that "people like Chenu and Philippot are not only symbols that can set an example, but also they arrive with networks".