Organisors of a march 'for freedoms and against the far-right' held in cities across France on Saturday claimed a total  of 150,000 people turned out, answering a call from 110 orgnaisations, from leftwing parties to NGOs, to join a 'historic' rally. 
Emmanuel Macron on a walkabout in Valence, south-east France, after he was slapped by a man in the neighbouring town of Tain L'Hermitage, June 8th 2021. © Nicolas Guyonnet / Hans Lucas via AFP
After he was slapped earlier this week in a town in south-east France by a man shouting a medieval royalist battle cry, President Emmanuel Macron described the assault as an "incident" that should be "relativised", and that "all is well". On the contrary, writes Mediapart publishing editor Edwy Plenel in this opinion article, all is going badly, and the slap illustrates the far-right violence that has been set loose by the cynicism and irresponsibility of the Macron presidency.
Thierry Mariani during campaigning for the 2019 European Parliament elections. © Jean-Christophe Verhaegen / AFP
Thierry Mariani, a French far-right Member of the European Parliament who enjoys close links with Moscow, has been appointed to the governing board of an NGO in part funded by the EU and which supports democracy movements in countries neighbouring the bloc, notably countering Russian influence in those to the east. Ludovic Lamant reports on a controversy which again highlights the debate over just how far a strengthened European far-right should be allowed to join in the traditional political process in Brussels.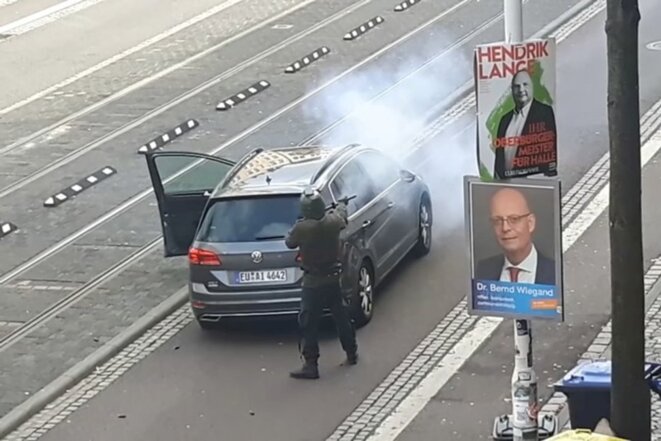 The gunman in Halle, filmed here by a witness, recorded his rampage on video. © ATV STUDIO HALLE/REUTERS TV via REUTERS
The suspect arrested for the deadly attacks last Wednesday on a synagogue and Turkish restaurant in the German city of Halle has said his acts were driven by far-right ideology and a hatred of Jews. The shooting and bombing rampage followed a series of attacks around Europe by ultra-right groups, prompting the EU police agency Europol, in a recent confidential report, to urge increased cooperation to contain the problem. But Europol also gave a chilling warning that the extremists "are attempting to win over members from the military and security services" in order to build "combat skills".
French President Emmanuel Macron has told a meeting of MPs from his ruling LREM party that it must shed its middle-class image and adopt a hard line towards illegal immigration which he said was pushing the working class 'who live with it' into the arms of the far-right.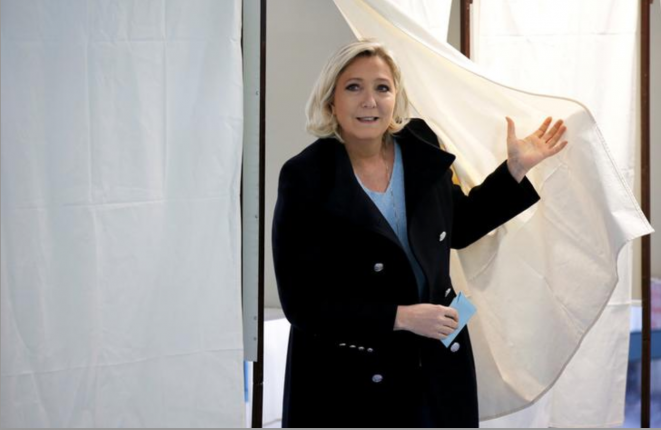 French far-right leader Marine Le Pen casting her vote in the May 2019 European Parliament elections. © Reuters
The French far-right Rassemblement National (RN) party, the renamed Front National, held its post-summer congress this weekend in the south-east town of Fréjus, when its leader Marine Le Pen set out the party's policies ahead of municipal elections to be held across the country in six months' time. The RN, which won the majority of votes cast in France in European Parliament elections in May, hopes to at last solidly establish itself at a local level, amid a fragmented political landscape in the country and notably the collapse of the conservatives. In this interview with Lucie Delaporte, French political scientist Sylvain Crépon, a specialist of far-right politics, analyses the party's new strategy for the elections.
Five alleged members of a neo-Nazi cell in France, two of them minors, have been arrested on suspicion of planning to attack a place of worship, a source close to the investigation told French media.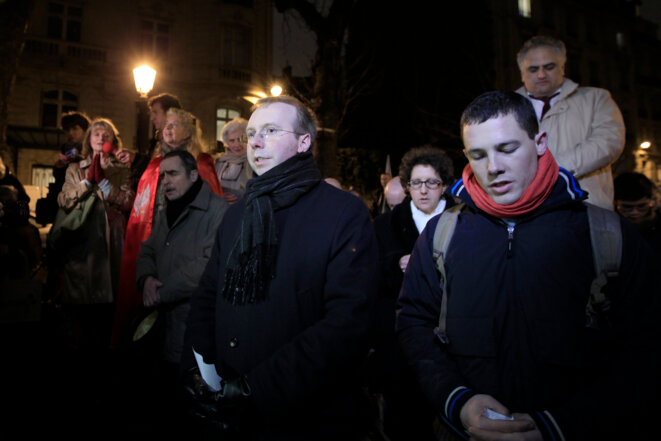 Civitas chairman Alain Escada (centre) at a protest in front of the French parliament against the introduction of the same-sex marriage law, January 2013. © Reuters
A party of Catholic fundamentalists, Civitas is one of France's lesser-known far-right movements, overshadowed by the former Front National (now renamed the National Rally) led by Marine Le Pen. It wants to ban abortion, same-sex marriage and freemasonry, to repeal a 1905 law separating the Church and State and also anti-racist legislation, and takes as its model the regimes of General Franco in Spain and General Pinochet in Chile. After years as a pressure group, it officially became a political party in 2016, and this month held its annual summer conference on the theme of "Human rights versus the real country". Here, historian Nicolas Lebourg traces its history and analyses its future prospects.
The youth arms of France's Rassemblement national (National Rally) party, formerly called the Front National, and its far-right Italian ally, the League, staged a joint demonstration near the French-Italian border on Sunday to demand tough measures against what they said was the 'overwhelming' of Europe by migrants.
Ten men, including a former gendarme, have been arrested across France for their suspected role in a plot to attack Muslims. Mediapart can reveal that one of the suspects had been setting up his own laboratory to make explosives. Matthieu Suc, Marine Turchi and Jacques Massey report on the story behind the dramatic arrests and the murky world of the far-right in France.
Arrests were made in operations across France but mainly on the island of Corsica, prosecution sources said.
The men, who include three minors, face investigation into claims far-right activists plotted to target both French politicians and mosques.
The far-right party, shaken by its collapse in support at the final post of May's presidential election, is holding a two-day closed-door meeting to debate what its leader Marine Le Pen called a 're-founding of the Front National', including a re-think of its policies that France should leave the eurozone and European Union, while also pondering a change of its name.
The far-right Front National party leader, who is standing as candidate in this spring's presidential elections in France, met in Germany with far-right leaders from across Europe, claiming that Brexit would "set the dominos falling" across the continent.