Related keywords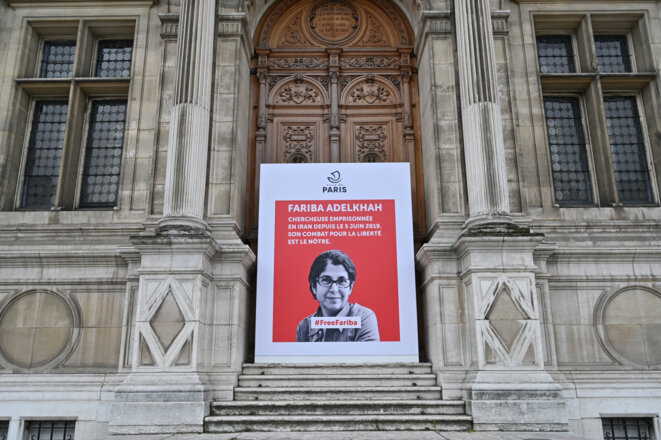 A poster placed in front of Paris City Hall in support of Fariba Adelkhah. © BERTRAND GUAY / AFP
Two academics, one from the prestigious Paris Sciences Po school of political sciences, the other from Melbourne University's Asia Institute, are currently detained in atrocious conditions in separate prisons in Iran. Anthropologist Fariba Adelkhah, who has joint French-Iranian nationality, is serving a five-year sentence at the notorious Evin prison in Tehran for allegedly violating the country's national security, and Kylie Moore-Gilbert, a lecturer in Islamic studies with joint British-Australian nationality, is serving a ten-year sentence for alleged espionage at Iran's harshest women's prison located in desert land south of the capital. Both strongly proclaim their innocence, but appear trapped in what their colleagues believe is a ruthless game of hostage taking and prisoner swaps. Jean-Pierre Perrin reports.
A five-year jail sentence pronounced in May by the Iranian authorities agaisnt Fariba Adelkhah, 61, a research director at the Paris political sciences university Sciences Po who was arrested last year in Tehran for allegedly 'conspiring against national security', was upheld on appeal on Tuesday.
Anthropologist Fariba Adelkhah, 61, a researcher with the Sciences Po school in Paris, and who was arreseted and jailed in Iran in June 2019, has been handed a six-year jail sentence by a Tehran court which found her guilty of charges of endangering Iranian national security and spreading anti-state propaganda, said a statement published by Sciences Po on Saturday on its website.
French social sciences researcher Roland Marchal, 64, who was released by Iran in a prisoner exchange last month after spending nine months in jail on spying charges, has described the harsh conditions of isolation he was held in after his arrest and that of fellow researcher Fariba Adelkhah, who remains in a Tehran prison.
A support group calling for the release of two French academic researchers, Fariba Adelkhah and Roland Marchal, held since last June in a Tehran prison on allegations of threatening Iranian national security, has said that Adelkhah, who began a hunger strike in December, is now 'very weakened' and that Marchal is suffering worsened ill health due to his captivity.
Iran's ambassador to France was on Thursday summoned to a meeting at the French foreign ministry when he was told that Paris is demanding the release of two French academic researchers held on spying accusations in a notorious Tehran prison, where one of them is on hunger strike. 
A senior researcher at Science-Po university in Paris and his Franco-Iranian colleague have been in prison in Iran since June.
France has demanded the release Roland Marchal, a senior researcher from Paris political sciences school Science-Po and his Franco-Iranian colleague Fariba Adelkhah, who, it was revealed, have been detained in Iran since June.
Fariba Adelkhah, a researcher in anthropology and social sciences at Paris-based Sciences Po institute, is thought to have been arrested in June.