Farmers in south-west France angry at parliament's approval of the 'CETA' EU-Canada trade deal, which they claim will threaten their livelihoods by allowing the importation of agricultural products that do not meet current EU standards, have attacked the offices of MPs from President Emmanuel Macron's LREM party by bricking up one and dumping manure outside another.
French agriculture minister Didier Guillaume said a state of 'natural disaster' would be declared to help insurance relief for French farmers, notably in the Auvergne-Rhône-Alps region of central and south-east France where violent storms, including hailfalls, ravaged fruit crops.
The group are suing the French state over the death of hundreds of cows, which they believe are the victims of harmful electromagnetic fields.
Bears from Slovenia brought in to boost depleted French population, sparking protests by farmers who complain animals are threat to livestock.
Police used tear gas to disperse farmers protesting about the loss of rights for agricultural land who blocked the Tour de France stage on Tuesday with bales of hay and sheep, but the spread of the gas vapours meant several riders needed medical treatment from the doctor's car at the rear of the peloton.
Oil firm Total in talks with farmers opposed to planned biodiesel refinery and says it plans to use 50,000 tonnes of French rapeseed to supply it.
President Emmanuel Macron was greeted with jeers by a section of farmers attending the major yearly agricultural showground in Paris, engaging with hecklers who protested notably against diminishing revenues and a future ban on the use of the herbicides containing the compound glyphosate.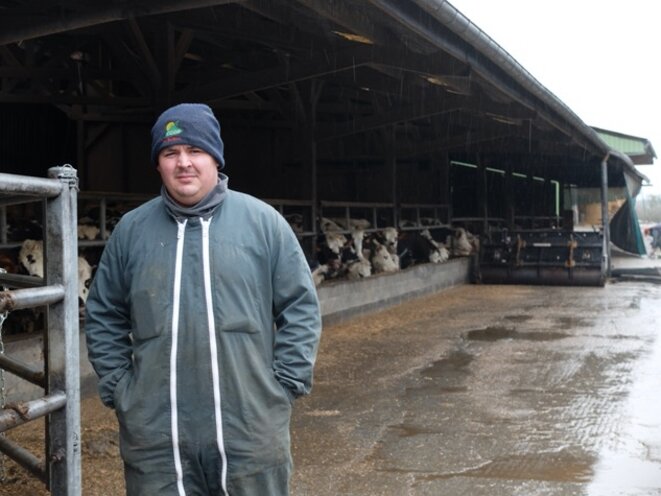 Farm film star Sébastien Cœuré. © CT
A recently-released film 'Normandie nue' or 'Naked Normandy' uses comedy to depict the crisis facing the world of farming in France. The movie, which stars 'The Intouchables' actor François Cluzet, features real farmers from a village in northern France who agree to strip naked for the film. But behind the film's slapstick moments the crisis and hardship are real enough. Caroline Trouillet met some of the farmers involved.
Brown bears, a protected species, were blamed for deaths of about 450 sheep who fell over cliffs while being chased by the bears.
The most recent available statistics, made public in 2016 by France's public health institute, show that 985 farmers killed themselves from 2007 to 2011, a suicide rate 22 percent higher than that of the general population and to a backdrop of increasing economic hardship among rural populations, while the real numbers are feared to be greater still because of suicides not officially declared by doctors.
Poll shows that 35 percent of farmers who plan to vote will back Marine Le Pen in election, compared to 26 percent of the general population.
Farmers mounted a picket of the company's headquarters in western France on Monday, when it said it is ready to negotiate over milk prices.
SNP Member of the Scottish Parliament Christian Allard said country's farming industry needed more self-promotion like that led by French farmers.
Amid increasing protests by French farmers Manuel Valls says EU has 'done too little, too late' in response to downturn in agricultural markets.