Demonstration attracted up to 20,000 people protesting against proceedings to evict inhabitants, including farmers, from planned site.
Two health and safety inspectors believe their car was deliberately sabotaged during a visit to a market gardener in west France, and are furious that prosecutors dropped their investigation. The affair highlights mounting tension between state officials and farmers as the latter protest about low prices and as the government tries to placate farmers' ire by telling officials to ease off on their inspections. Mathilde Goanec reports.
Prime minister Manuel Valls promises up to €3 billion to help agriculture invest in modernizing production over next three years.
Though tractors blocked major arteries into the capital, officials say they caused little disruption as farmers protested over prices.
Hundreds tractors set to flood the boulevards of Paris in Thursday as farmers protest over declining food prices and cheap imports.
In a continuing campaign of protests over poor earnings, farmers blocked farm imports into France claiming they represent unfair competition.
The blockade of France's second-largest city Lyon has ended, but union leaders threatened more protest action over low earnings in coming days.
The measures include tax breaks worth 600M euros and loans worth 500M euros for the struggling farmers, 10% of whom face bankruptcy.
The move due Wednesday follows mounting protests, including road blocks, by farmers decrying retailers' and food processors' profit margins.
France's dairy industry, which employs some 200,000 people, fears the sudden flood of extra milk will cause prices to collapse.
Farmers want project in south-west France to go ahead and say authorities are not doing enough to resolve situation or keep activists from site.
Farmers fear that falling prices linked to Russia's import embargo and big harvests in the European Union this summer will cut incomes.
About 100 farmers in Morlaix, Brittany, set fire to in buildings, including a tax office, in a protest over falling vegetable prices.
The French presidential election campaign speeches have largely snubbed the country's farming community, once a key and targeted electorate.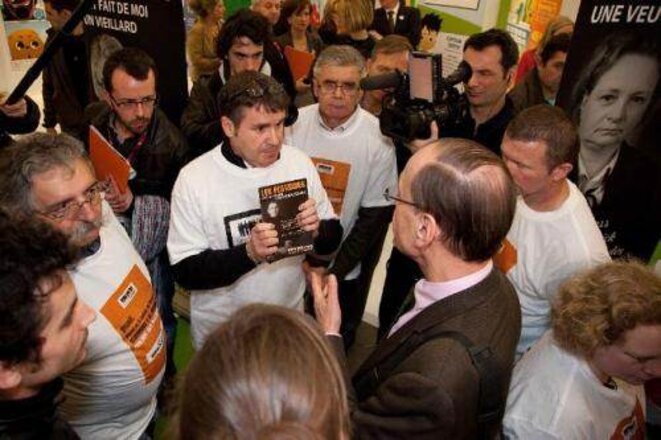 © Reuters
Last month, French cereal farmer Paul François, 47, won a lengthy legal battle against US biotech giant Monsanto in a landmark ruling by a court in Lyon that could open a floodgate of complaints by farmers for chemical poisoning. François was found to have become severely handicapped as a direct result of his contamination by Lasso, a powerful herbicide produced by Monsanto. France is Europe's biggest user, by volume, of pesticides, and worldwide only India and the United States use more. For François and other campaigners seeking to alert farmers to the dangers of chemical-based phytosanitary products, their battle targets not only the clout of the industrial lobby and a reluctance of the medical profession to recognise the illnesses caused by pesticides, but also a silent taboo among the farming community itself. Claire Le Nestour reports.