Environment minister Nicolas Hulot, who said in July France will need to close up to 17 of its 58 reactors, did not this time specify a number.
The nuclear power plant at Fessenheim in north-east France, close to the border with Germany, which entered service almost 40 years ago and which environmental campaigners claim is dangerous, will close by 2020 when an EPR reactor being built in Flamanville is expected to come online.
Ségolène Royal says government intends to issue a decree ordering the closure of the Fessenheim nuclear power plant by next month.
Utility giant EDF has agreed a compensation deal for the closure, now planned for 2018, of the almost 40-year-old power station at Fessenheim, close to the border with Germany in eastern France and built in an area vulnerable to earthquakes and above one of Europe's biggest underground water reservoirs.
The Swiss canton, or state, of Geneva has launched legal action aimed at forcing the closure of the ageing, accident-prone French nuclear plant at Bugey, which lies just 70 kilometres from the border with Switzerland. The lawsuit is for "the deliberate endangering of lives" and "water pollution". If successful, this extraordinary move could encourage other countries bordering France and its network of 58 nuclear reactors to take similar action. Agathe Duparc reports from Geneva where the local authorities presented their case at a press conference on Monday.
German media quote expert as saying 2014 incident at Fessenheim plant near German border was unique occurrence in Western Europe.
Fessenheim plant closure was one of President François Hollande's election pledges, but minister argues this depends upon opening new reactors.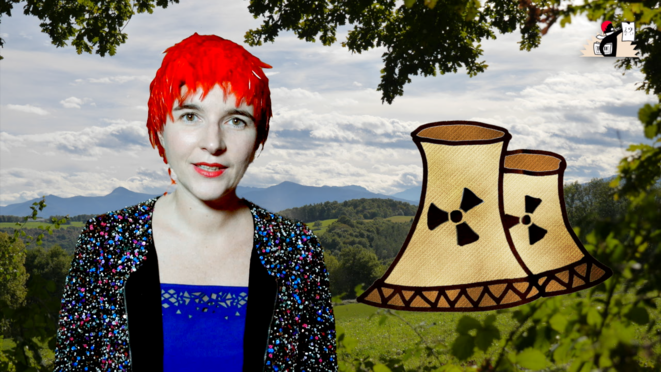 Dear Neighbours, remember that clouds have no border...
Mediapart's resident singer and songwriter La Parisienne Libérée, who regularly commentates current affairs in music and images, says France's European neighbours should be concerned about the potential dangers of the country's 58 nuclear reactors. Earlier this week, the oldest French nuclear plant, at Fessenheim close to the border with Germany, was shut down after a pipe from an engine room condenser was discovered to be leaking. It was the latest in a series of recurrent incidents and safety alerts over recent years at Fessenheim and several other plants across the country, including two on the Channel coast. La Parisienne Libérée composed a 'Nuclear SOS', written and sung in English, to remind countries surrounding France that nuclear clouds "have no borders", made all the more pertinent by the events at Fessenheim this week.
Energy minister Ségolène Royal says if it costs too much to maintain ageing reactors then 'renewable energy' plants would be better.
Only three of 55 defendants turned up in court to face trial over the March 18th protest at Fessenheim power plant in east France.
Officials say no restart date has yet been agreed for reactor at Fessenheim power station, which President Hollande promises to close by 2016.
France's nuclear safety authority say they did not enter into the buildings of nuclear power plant in Fessenheim and security was not compromised.
The French governement said a steam leak at France's oldest nuclear plant, in which two workers sustained injuries, posed no risk.
Leaked report by French nuclear safety agency indicates the Fessenheim nuclear power plant, opened in 1977, will remain active ten more years.