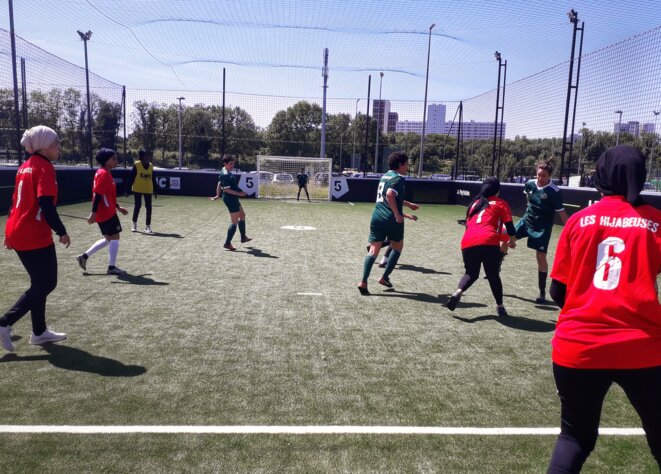 A match at the Les Hijabeuses tournament at La Courneuve, north of Paris. © MC / Mediapart
Wearing a headscarf or hijab during a football match is authorised by the sport's world governing body FIFA. But they remained banned for official games in France. A group of Muslim women players are fighting against this discriminatory policy and are calling on the French football authorities, the Fédération Française de Football (FFF), to change their rules. As part of that battle the group, known as Les Hijabeuses, organised a football tournament on the outskirts of Paris. Mickaël Correia reports.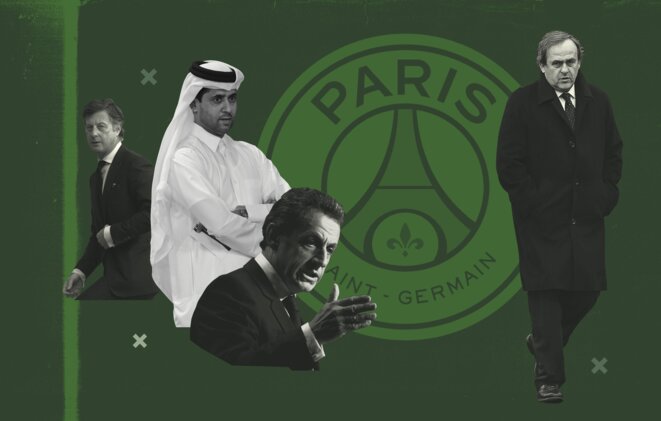 From left: Sébastien Bazin, Nasser Al-Khelaifi, Nicolas Sarkozy and Michel Platini. © Simon Toupet / Mediapart. Photos AFP
In an ongoing judicial investigation in France into suspected corruption surrounding the awarding of the 2022 football World Cup to Qatar, evidence seized at the Paris offices of US firm Colony Capital suggests a well-remunerated post handed to Laurent Platini, son of former football star and UEFA president Michel Platini, by Qatari sovereign fund QSI may have been linked to its purchase of French football club PSG. The probe is focused on a crucial lunch meeting at the Élysée Palace in 2010 hosted by then French president Nicolas Sarkozy, and attended among others by Michel Platini and the then crown prince of Qatar. Yann Philippin unravels a complex case involving heads of state, business, diplomacy and arrangements behind closed doors.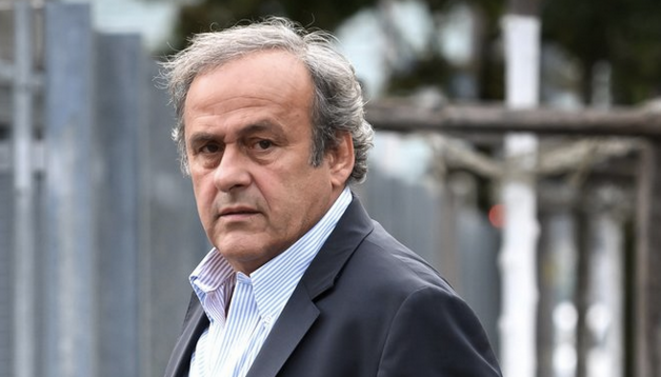 Michel Platini in Bern, Switzerland, August 31st 2020. © Fabrice Coffrini / AFP
Mediapart has learnt that the prosecution authorities in Switzerland are investigating the former French football star and ex-head of European football body UEFA Michel Platini for alleged fraud over a 1.8 million euro payment he received in 2011. That payment was made by Sepp Blatter, then head of world football's governing body FIFA, who also faces a similar probe. Yann Philippin reports.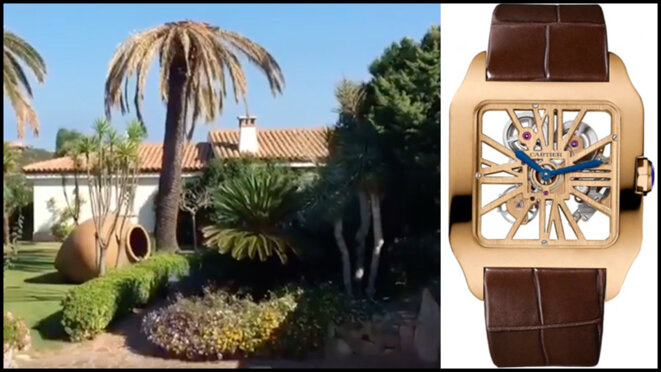 FIFA number two was gifted with free use of a villa in Sardinia, and a gold Cartier watch.
Shortly after a committee of world football governing body FIFA in February 2015 controversially recommended that the 2022 World Cup in Qatar could be played in winter, the then FIFA secretary general Jérôme Valcke secretly met with Qatari businessman Nasser al-Khelaifi, president of French football club PSG and chairman of beIN Sports, who was thanked by Valcke hours later for a gift of a watch worth 40,000 euros, according to phone text messages revealed here by Mediapart. Al-Khelaifi denies he was behind the gift. Swiss prosecutors, meanwhile, have dropped their probe of the two men over suspected bribery, which included Valcke's free use of a luxurious villa bought by al-Khelaifi in Sardinia. Yann Philippin reports.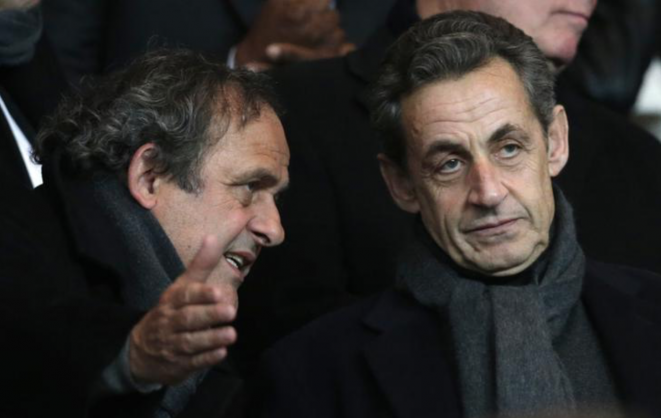 Michel Platini and Nicolas Sarkozy at the Parc des Princes football stadium in Paris for a PSG match on February 17th 2015. © Reuters
In June 2019 Michel Platini, the former head of European football's governing body UEFA, was interviewed by police as a witness over the circumstances of the award of the 2022 football World Cup to Qatar. Two former colleagues of Nicolas Sarkozy were also questioned about a lunch hosted for Qatar's crown prince by the French president in 2010, attended by Platini, just days before the controversial vote to give the tournament to the oil and gas-rich state. Now the French financial crimes prosecution unit has launched a judicial investigation into the affair over alleged "corruption", Mediapart has learnt. Former French football star Platini has strongly denied any wrongdoing. Yann Philippin and Antton Rouget report.
The international police body Interpol severed all links with football's governing organisation FIFA after the latter's corruption scandal erupted in 2015. But it has maintained partnerships with both the committee organising the 2022 football World Cup in Qatar and the International Olympic Committee (IOC), who are at the centre of corruption investigations. This is despite the fact that leading police officers from across Europe tried to alert Interpol over these potentially dangerous links. Mathieu Martinière and Robert Schmidt from the independent journalistic collective We Report investigate.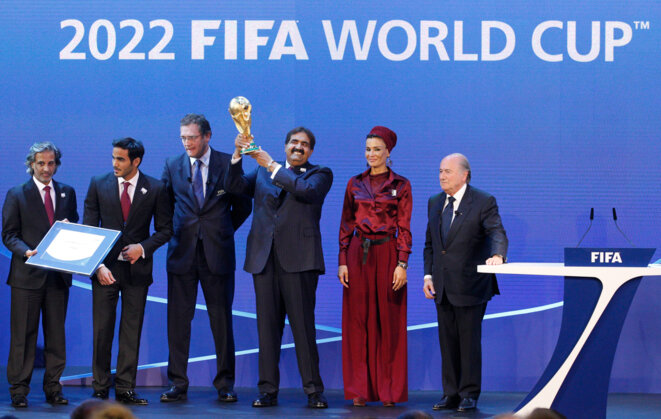 The celebrations after FIFA announced on December 2nd 2010 that Qatar would host the 2022 World Cup. © Reuters
US and Brazilian investigators have discovered a payment from Qatar of 22 million dollars made to a former executive committee member of world football governing body FIFA shortly after he and his colleagues controversially awarded the Gulf state the 2022 World Cup, well-informed sources have told Mediapart. The payment was made to Ricardo Teixeira, former head of the Brazilian Football Confederation and paid into his account with the Pasche Monaco bank in Monte Carlo, which was then a subsidiary of French bank Crédit Mutuel-CIC. Geoffrey Livolsi and Yann Philippin report.
Ex-France football team star and until now European football tsar lost his appeal and is banned from football activity over suspect payment from FIFA chief.
French police searched the FFF's Paris HQ on behalf of a Swiss investigation into ex-FIFA head's payment of 2m Swiss francs to UEFA chief. 
Former French football star and UEFA boss, already suspended from football for 8 years, has formally thrown in FIFA presidential towel.
Pair were found guilty of breaches in a 2mln Swiss franc 'disloyal payment' made to Uefa boss and ex-France captain by Fifa chief Blatter in 2011.
The Uefa chief and 1980s French football star, under investigation over a payment from Fifa's boss, stays banned from all football-related activity.
Blatter claims that French government under President Nicolas Sarkozy helped turn the vote in favour of Qatar.
Ethics committee of world football organisation Fifa suspended its president and vice president as a result of its ongonig corruption investigation.