Related keywords
The international police body Interpol severed all links with football's governing organisation FIFA after the latter's corruption scandal erupted in 2015. But it has maintained partnerships with both the committee organising the 2022 football World Cup in Qatar and the International Olympic Committee (IOC), who are at the centre of corruption investigations. This is despite the fact that leading police officers from across Europe tried to alert Interpol over these potentially dangerous links. Mathieu Martinière and Robert Schmidt from the independent journalistic collective We Report investigate.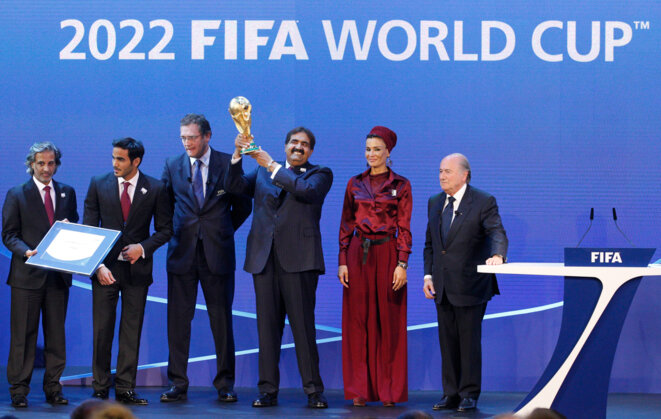 The celebrations after FIFA announced on December 2nd 2010 that Qatar would host the 2022 World Cup. © Reuters
US and Brazilian investigators have discovered a payment from Qatar of 22 million dollars made to a former executive committee member of world football governing body FIFA shortly after he and his colleagues controversially awarded the Gulf state the 2022 World Cup, well-informed sources have told Mediapart. The payment was made to Ricardo Teixeira, former head of the Brazilian Football Confederation and paid into his account with the Pasche Monaco bank in Monte Carlo, which was then a subsidiary of French bank Crédit Mutuel-CIC. Geoffrey Livolsi and Yann Philippin report.
Ex-France football team star and until now European football tsar lost his appeal and is banned from football activity over suspect payment from FIFA chief.
French police searched the FFF's Paris HQ on behalf of a Swiss investigation into ex-FIFA head's payment of 2m Swiss francs to UEFA chief. 
Former French football star and UEFA boss, already suspended from football for 8 years, has formally thrown in FIFA presidential towel.
Pair were found guilty of breaches in a 2mln Swiss franc 'disloyal payment' made to Uefa boss and ex-France captain by Fifa chief Blatter in 2011.
The Uefa chief and 1980s French football star, under investigation over a payment from Fifa's boss, stays banned from all football-related activity.
Blatter claims that French government under President Nicolas Sarkozy helped turn the vote in favour of Qatar.
Ethics committee of world football organisation Fifa suspended its president and vice president as a result of its ongonig corruption investigation.
Michel Platini © Reuters
Sepp Blatter, the head of football's ruling body FIFA, and former French star Michel Platini are now in the sights of the Swiss judicial authorities. Blatter is being investigated for "criminal mismanagement", while questions have been raised over an allegedly "underhand" payment the Frenchman received from the FIFA boss. Football writer Antoine Grynbaum describes how the once-close relationship between the two men turned sour and what it means for Platini's own bid for football's top job.  
Uefa boss Platini insists that 2 million Swiss franc 'underhand' payment from Sepp Blatter was simply fee for Fifa contract work.
Current UEFA president has written to member federations in Europe saying he will take part in election to replace Sepp Blatter in February.
Sepp Blatter says both French president Nicolas Sarkozy and German president intervened, leading to World Cup being staged in Qatar.
Manuel Valls took sons on official Falcon to watch Champions League final in Berlin, claiming his own presence was for official business with Fifa.