Related keywords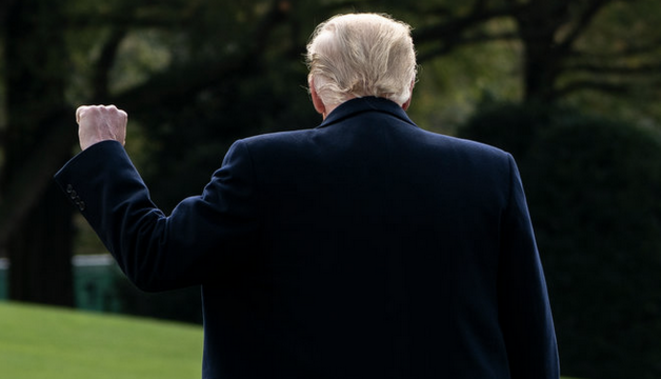 Going, going.....Donald Trump at the White House on October 30th 2020. © AFP
Though Joe Biden won a knife-edge victory in the United States presidential election the Democrats suffered heavy defeats in other electoral contests. Mediapart's co-founder François Bonnet argues that despite his defeat the huge voter turnout for Donald Trump serves as a reminder that the extreme populist right can only be beaten by alternative political projects that focus on citizens and concrete actions on the ground. Here he outlines four lessons from the US elections for European countries - and in particular France.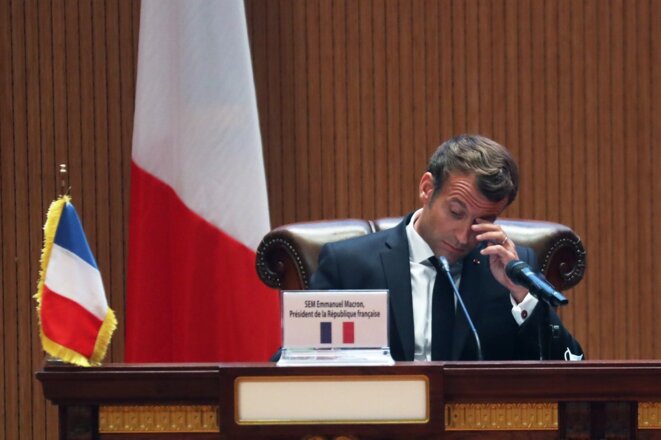 Emmanuel Macron at the G5 Sahel summit in Mauritania, June 30th 2020. © Ludovic Marin/Pool/AFP
President Emmanuel Macron on Friday replaced Édouard Philippe as his prime minister with the appointment of a senior civil servant, Jean Castex. It is yet another example of the excesses of the all-powerful presidential system in France, writes Mediapart publishing editor Edwy Plenel in this op-ed article, whereby a demonetized president can, alone, change a government for his own political convenience. In an intelligent and adult democracy, he argues, such changes would come about through the debate and collective choices of a parliamentary majority.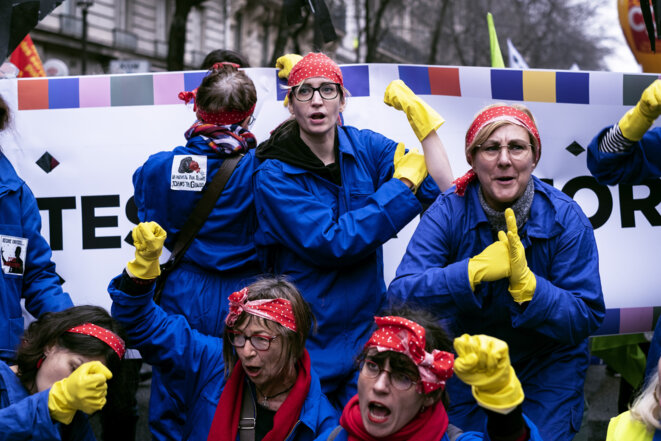 The feminist march during the Paris demonstartions on January 9th 2020. © Noemie Coissac / Hans Lucas
Emmanuel Macron said it himself: he did not want a "normal presidency". Nor has it been so: since his election in 2017, the number of serious social conflicts has shown the dangers of the exercise of power when there are no limits, argues Mediapart co-founder François Bonnet. The planned public protests on Saturday January 11th against the presidency's pension reform plans could be a turning point, he says.
After the resignation of his high-profile and popular environment minister – which exposed the gulf between the presidency and wider society – President Emmanuel Macron made a declaration and a decision which then widened that gap still further. The decision was the nomination of a close friend, the writer Philippe Besson, as France's consul general in Los Angeles. The declaration was his criticism of his own people as "Gauls who are resistant to change". Mediapart publishing editor Edwy Plenel looks at what these recent episodes say about the state of France's outmoded presidential system.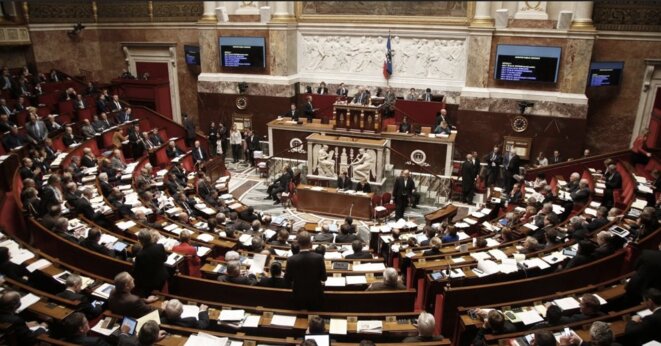 Elections take place this month for France's National Assembly. © Reuters
Through the havoc it wreaked on the established political system, the recent French presidential election showed the hunger that exists for democratic renewal. But if the Parliamentary elections later this month give Emmanuel Macron's government an absolute majority it would be a retrograde step to presidential supremacy and a compliant Parliament, argues Mediapart's publishing editor and co-founder Edwy Plenel. That is why, he says, we need a pluralist National Assembly encompassing a diverse, democratic, social and environmental opposition.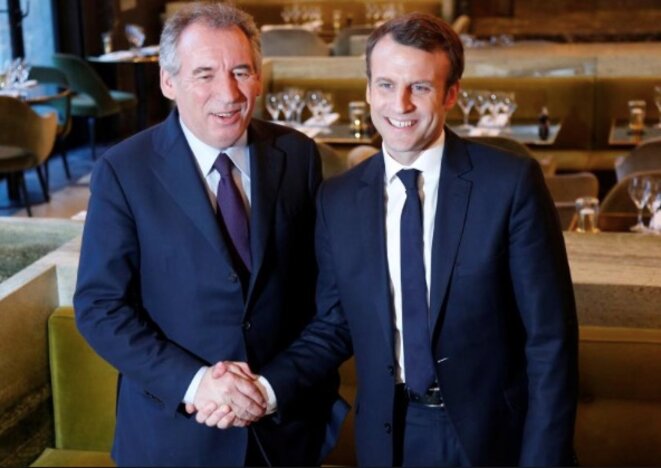 Veteran politician François Bayrou with Emmanuel Macron.
History has a long memory. The upheaval caused by the first-round vote in the French presidential election is the third act in a drama that began in 2007. The fourth act will be the likely success of Emmanuel Macron in the second round and his election as French president on May 7th. Hubert Huertas says Macron's triumph would also represent a final victory for centrist politician François Bayrou who tried but failed to break the two-party stranglehold on French politics a decade ago.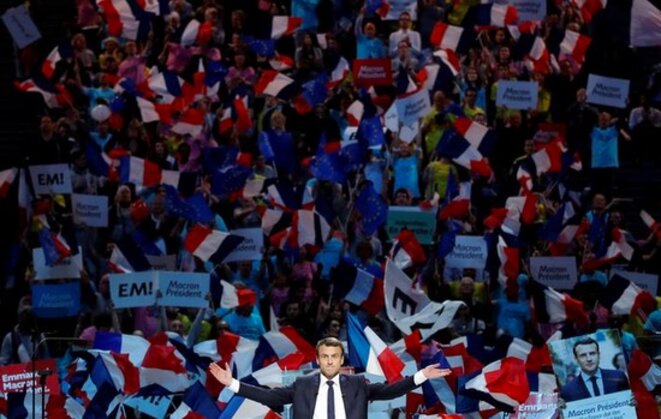 Emmanuel Macron just a few days before the first round of the election. © Reuters
The elimination of the candidates for the two main parties of government, centrist Emmanuel Macron coming top and the spectacular breakthrough by radical left Jean-Luc Mélenchon and his Unbowed France movement constitute a political upheaval without precedent since 1958. After Sunday's first-round French presidential election vote, each political camp is now talking about a complete realignment of the political battlefield, and everything needs to be rebuilt. This is excellent news, argues Mediapart's editor François Bonnet.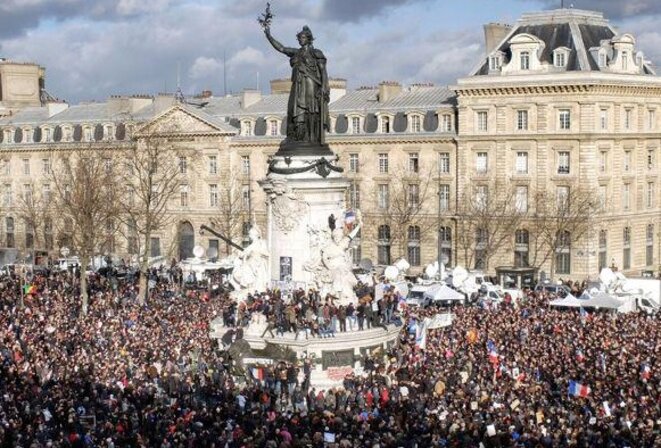 A rally at the Place de la République in central Paris.
The good news to arise out of the French presidential election campaign is that it has accentuated the crisis of the French presidential system, argues Mediapart's publishing editor and co-founder Edwy Plenel. The bad news is that it is being played out like a game of Russian roulette. What will be the final result is all the more uncertain because of the potential influence of events like Thursday's terrorist attack in Paris. Which is why, aside the vote itself, we must above all trust in the role of society and the mobilisation of citizen movements.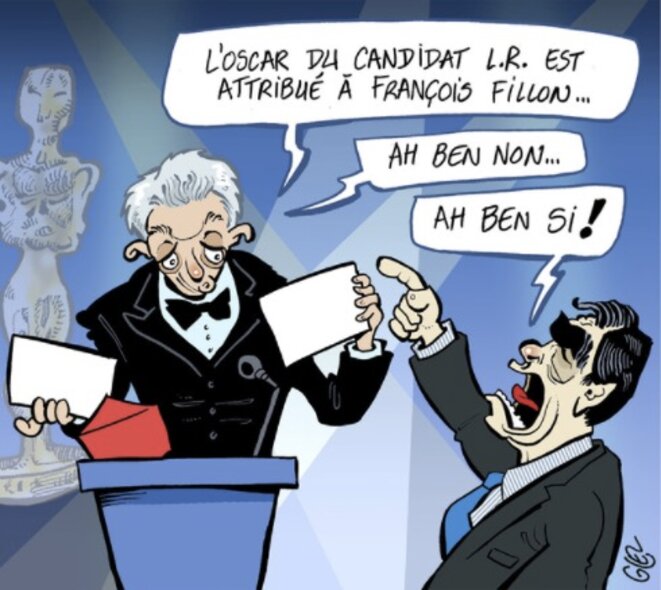 François Fillon's presidential campaign has descended into a grim farce.
The French Republic is in its death throes, having been taken hostage by a maniac – François Fillon - who is riding roughshod over the legal system, insulting the press, scorning his own elected representatives and calling on divisive factions for help. Having destroyed political parties, corrupted Parliament and having undermined voting itself, the Fifth Republic is now reaching the climax of its democracy-destroying operation. It is time to get rid of it, writes Mediapart's editor-in-chief Edwy Plenel, before it is too late.
The resignation of economy minister Emmanuel Macron from François Hollande's government on Tuesday to further his own electoral aspirations has dealt what looks like a fatal blow to the French president's already dwindling hopes ahead of next year's presidential election. But as Mediapart's editor François Bonnet argues, it also illustrates how an entire political system, that of France's Fifth Republic, is coming to an end.
Democracy belongs to neither the Left nor the Right, and when it is flouted by governments of either political side every democrat worthy of the name must simply say "no", argues Mediapart editor-in-chief Edwy Plenel following the socialist government's decision to force through parliament, without a vote, its controversial labour law reforms which, he writes in this op-ed, represent a social regression for every employee in France.
Two weeks after the November 13th terror attacks, France's Fifth Republic is gripped by fear, a clamour for war and the spectacle of a government that is out of control. This headlong rush towards security at all costs – including the arrest of climate activists ahead of the Paris climate summit - is storing up new crises for the future. The fact that it is a socialist government that has taken France down this route recalls the bad old days of the discredited Fourth Republic, writes Mediapart editor François Bonnet.
Just 18 percent are satisfied with French president's performance, while new premier Manuel Valls has an approval rating of 58 percent, says poll.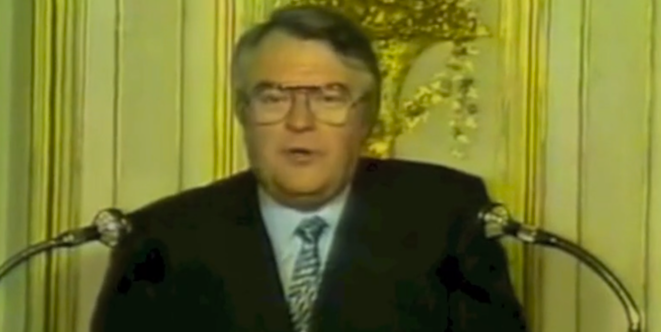 Vidéo dans l'article.
Pierre Mauroy, who has died aged 84 after battling lung cancer, became in 1981 the first socialist prime minister under France's Fifth Republic. For many the man with working class roots from the north of the country epitomised both a deeply-felt and a pragmatic form of socialism. Mediapart's Antoine Perraud assesses the life of a politician who oversaw radical reforms in one of the most eventful periods of modern French politics.