Sarkozy declared to be 'témoin assisté' in case, half-way between standard witness and being placed under formal investigation.
Investigation centres on claims UMP party should not have paid Sarkozy's fine after former president's 2012 campaign broke election spending limits.
Jean-François Copé, former head of the UMP, is under formal investigation for misuse of funds after party paid Sarkozy's election fine.
The French engineering group admitted falsifying books to pay more than 75 million dollars in bribes worldwide for energy arm contracts.
US justice department insists the French group should pay the fine and not General Electric which recently bought Alstom's power division.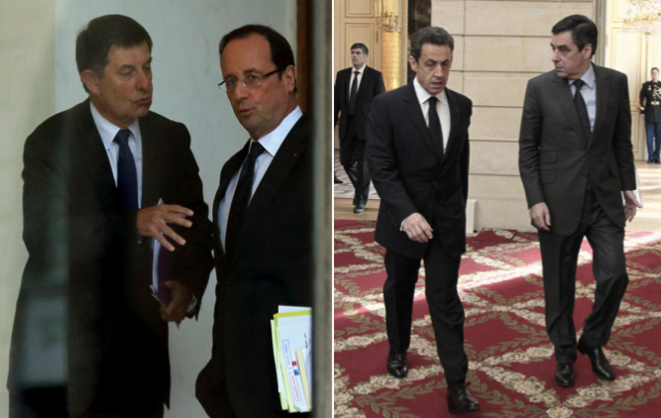 Jean-Pierre Jouyet et François Hollande, Nicolas Sarkozy et François Fillon © Reuters
The fallout from a private lunch between President François Hollande's chief of staff Jean-Pierre Jouyet and former President Nicolas Sarkozy's prime minister François Fillon last summer is threatening to develop into a full-blown scandal. At the meeting on June 24th Fillon is said to have asked the socialist administration to speed up legal investigations into his former boss and now political rival Sarkozy. Jouyet, who served in Fillon's right-wing government but who is a close personal friend of Hollande, later told two journalists of the conversation. When the reporters published the story in a book last week Jouyet at first denied the claim then backtracked and insisted that Fillon had indeed asked him to intervene in the affair. Fillon, however, who like Sarkozy wants to be the Right's 2017 presidential candidate, has angrily accused Jouyet of "lies" and says he is suing for defamation. Once more, say Stéphane Alliès, Ellen Salvi and Mathieu Magnaudeix, the Elysée finds itself at the centre of an embarrassing affair, this time with the president's right-hand man in the firing line.
François Fillon denies renewed claims he tried to get Hollande's chief of staff to speed up a legal case against his rival Nicolas Sarkozy.
The lowcost airline was found guilty of using Irish contracts for staff based in France, avoiding social insurance and state pension contributions.
Investigation into 'breach of trust' over claims his UMP party wrongly paid ex-president's fine for exceeding election spending in 2012.
Bank faces huge penalty if convicted of encouraging wealthy French citizens to set up dual accounts to hide cash in Switzerland.
Caroline Doudet was fined 1,500 euros after Riviera restaurant owner complained her blogpost featured highly on Google searches.
Initial reaction is muted in Paris as the $8.9 billion and other US penalties against France's largest bank are slightly less tough than forecast.
American Justice Department expected to announce a record fine of nearly $9 billion over alleged sanctions violations by France's biggest bank.
President Hollande talks with Angela Merkel amid fears that 'disproportionate' action against its biggest bank could pose risks to banking system.
Bank of France comment comes after report that BNP faces a 10 billion-dollar fine for evading US sanctions against Iran, Sudan and Cuba.