In her first interview since her husband Emmanuel was elected as France's president in May, Brigitte Macron tells Elle magazine that her contested role as an official 'first lady', promised by her spouse, 'will be published on the Élysée site so the French know exactly what I'm doing'.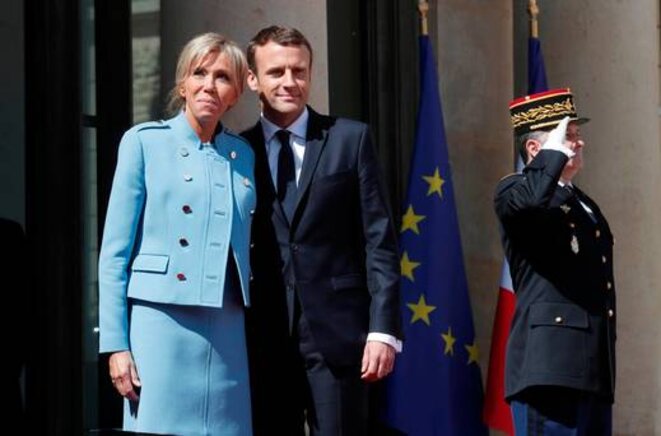 Brigitte and Emmanuel Macron on the steps of the Elysée Palace. © Reuters
The French government on Tuesday appeared to be backtracking on President Emmanuel Macron's pledge to provide his wife Brigitte with an official, legal status of "First Lady", with the announcement that the position will now be the subject of a "charter". The development came after an online petition launched last month against creating an official title of First Lady has attracted almost 300,000 signatures. Mediapart political commentator Hubert Huertas argues here that, whether the role of "première dame" is enshrined in a charter or by official status, the petition has focussed attention on both a fundamental problem and a pile of hypocracy.
An online petition against French President Emmanuel Macron's move to give official 'First Lady' status to his wife Brigitte, presented in a bill of law before parliament last week, has attracted 200,000 signatures, arguing that there is no justification that public funds should be granted to his spouse.
Former first lady steps into high-profile custody battle involving senior Mexican politician as French president tries to mend ties between countries.
Last Saturday, January 25th, President François Hollande announced via the French news agency AFP that he had separated from his partner and 'First Lady' the journalist Valérie Trierweiler, two weeks after the revelation of his relationship with the actress Julie Gayet. Inevitably the issue has raised questions about whether the status of First Lady should exist at all in France. In June 2012 Mediapart's Editor-in-Chief Edwy Plenel wrote an article on this issue in the wake of the row caused by Valérie Trierweiler's Tweet supporting an election rival of Hollande's former partner Ségolène Royal. He argued then that it was time for the Hollande presidency to bid farewell to the fictitious notion of a First Lady or risk falling prey to the same blurring of public and private interests that characterised the Sarkozy years. Republished now, Edwy Plenel's words have a prophetic ring to them.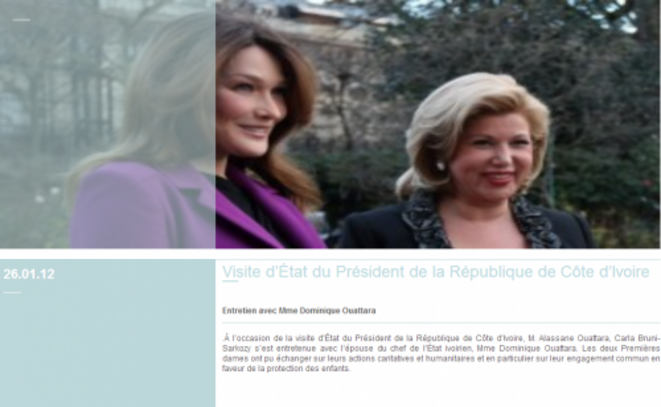 © GeekMan
An online petition which has already has already attracted more than 100,000 signatories is demanding that Carla Bruni-Sarkozy, wife of former French president Nicolas Sarkozy, pay back 410,000 euros of public money that was used to fund her modest 'First Lady' website between 2011 and 2012. The cost was described as "mindblowing" by one web technology specialist, who added it was tantamount to "a finger pointed up high towards the taxpayer". While Bruni-Sarkozy is threatening legal action against those who question her "honour", the confused attempts to justify the sum have served to deepen the mystery of what it was spent on. Lorraine Kihl reports.  
Paris court awardsValérie Trierweiler €10,000 in damages after ruling that a book about her love life breached her right to privacy.
Complaint from millionaire is that French First Lady is using taxpayers' money while not actually married to President Francois Hollande.
Valérie Trierweiler, President François Hollande's partner, admits that she was in denial about her change in circumstances after election.
French president writes letter to court as trial begins in defamation case brought by his partner over a salacious biography.
France's first lady admits she made "a mistake" sending tweets aimed against President Francois Hollande's former partner Ségolène Royal.
New book 'Entre Deux Feux' portrays France's First Lady as a paranoid woman, who is determinedly set against Ségolène Royal.