Related keywords
Flight MS804, with 30 Egyptians and 15 French nationals on board, vanished from radar screens at 37,000 feet over Mediterranean Sea.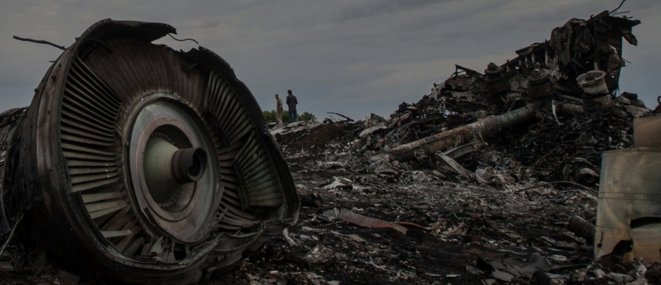 Les débris du vol MH17 le 17 juillet 2014. © CORRECT!V
Mediapart publishes here an in-depth investigation by its German partner site CORRECT!V  which details why the shooting down over eastern Ukraine on July 17th 2014 of Malaysia Airlines flight MH17, killing all 298 people onboard, is a war crime in which the Russian army is, at the very least, implicated. The BUK M1 surface-to-air missile responsible for the destruction of the plane was brought into position by members of the 53rd Russian air defence brigade from Kursk which, in an operation to protect Russian tank units, was operating in disguise on Ukrainian territory. "There is hardly any doubt: a Russian officer gave the command to shoot down MH17," concludes the investigation. But this report also underlines that some of the responsibility for the tragedy is shared by several other parties, notably the Ukrainian government which used civilian flights as human shields for its air attacks on Russian positions.
Police seized the 1.3 tonnes of pure cocaine on board an Air France flight from Venezuela, with the drugs found packed inside 30 suitcases.
French court has found airline guilty of discrimination for removing a pro-Palestinian activist from a flight to Israel because she was not Jewish.
Crew of an Air France Paris-Beirut flight re-routed for security reasons to Damascus sought cash from passengers for refuelling to reach Cyprus.