The two départements  affected, Alpes-Maritimes and Var, were placed on 'red alert' weather warnings  and official warnings were also issued about high waves off the coast. 
Some 2,000 firefighters and rescue workers were deployed in region as rivers burst their banks, blocked roads and caused significant damage.
Days of unusually heavy rainfall across France, forecast to ease as of Wednesday, have left four dead in weather-related accidents and several people injured after a waterlogged embankment collapsed causing a Paris suburban train to tip over, while homes in parts of the north-east of the country were damaged by flooding.
The River Seine waters on Monday reached a peak in their rise of more than four metres, the highest since serious flooding in 2016, and which has caused the evacuation of about 1,500 people from their homes in the Greater Paris region and the closure of a busy commuter rail link through the capital.
The swollen Paris river reached its highest level since 1982 and is set to rise further late Friday, with evacuations planned for sites west of the capital.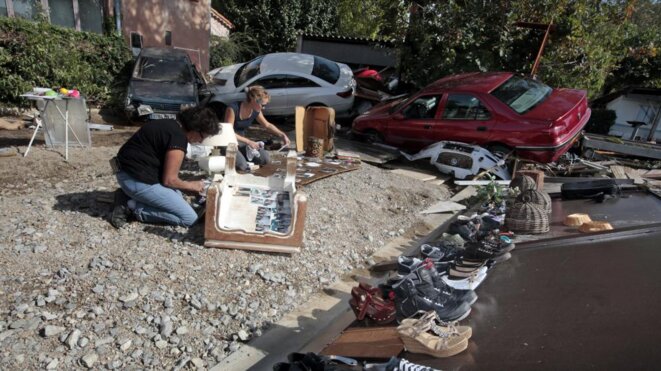 © Reuters
Earlier this month, exceptional rainfall caused flash floods in south-east France that swept through the streets of towns and villages, killing 20 people and causing an estimated 500 million euros of damage. It was the latest in a long list of major catastrophic flooding disasters in the country over the past 27 years. As Michel de Pracontal reports, neither fate nor surprise events explain the causes, but rather the incapacity of public authorities to tackle the prevalent dangers, due in no small part to both rampant urbanisation and bureaucratic nonsense.
Repairs and cleaning operations began Monday after weekend storms across a swathe of S. France damaged roads, flooded streets and swept cars away.
The flooding is considered more serious than the deadly overflows seen in 1999, amid violent storms that have swept the region for many days.
After enduring weeks of storms and flooding, France's western seabord faces a fresh battering from strong winds, heavy rainfall and high tides.
Intense rainfall over SE France, which created powerful waves of water,  has also left 4,000 homes without power with more downpours forecast.