Related keywords
Fench defence minister Florence Parly said Chad's slain leader Idriss Déby had been an essential ally in the fight against terrorism in the Sahelregion of Africa.
Armed forces minister Florence Parly has called on fellow EU governments to despatch special forces to the Sahel, to help curb militant attacks that have killed more than 100 Malian troops in recent weeks.
President Macron apparently spoke to President Trump in advance to try convince him not to remove US troops from Syria.
Defence minister Florence Parly says a Russian spy satellite got close to a Franco-Italian satellite last year and tried to intercept its transmissions.
French defence minister Florence Parly has warned that the fight against the so-called Islamic State group, which has lost most of the territory it once controlled in Iraq and Syria, is far from over as it is re-organising itself into an underground terrorist network.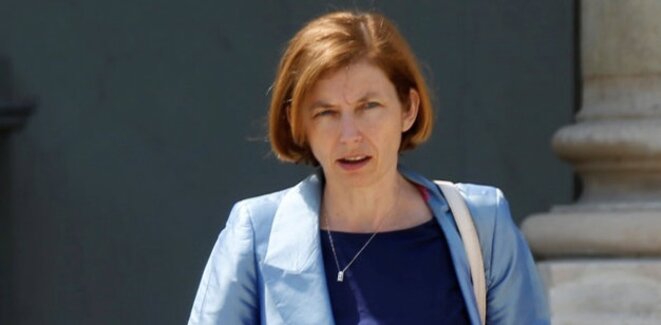 Top civil servant and Armed Forces minister Florence Parly. © Reuters
A French government minister's declarations of her past income have shed a stark light on the system of privileges enjoyed by an elite group of civil servants in France. That system allowed Florence Parly, a career civil servant who is now minister for the Armed Forces, to take up lucrative jobs outside the civil service without ever risking her security of employment. She even managed to negotiate a golden handshake from Air France worth around half a million euros. Laurent Mauduit reports.
Meeting in New Delhi on Friday, Indian defence minister Nirmala Sitharaman and he French counterpart Florence Parly agreed to increase anti-terrorism cooperation defence ties, including greater industrial and research involvement by India in French weapons sales to the country, notably in an expected second order of Dassault Rafale fighter jets.
The official photo of the new French governemnt, June 2017. © Elysée
Following the recent Parliamentary elections President Emmanuel Macron has formed a new government under the same prime minister Édouard Philippe. However, what was supposed to be a minor technical change to the government has become rather larger in scale after the departure of four ministers in response to potential scandals. The result is a government that gives us a glimpse of how the new centrist president intends to balance his administration between the Left and the Right of the political spectrum. Stéphane Alliès, Christophe Gueugneau, Mathieu Magnaudeix and Mathilde Mathieu report.