Talks to defuse two days of blockades of refineries and fuel depots around France by farmers angry at the importation of palm oil by biofuel plants instead of buying locally produced oilseed crops ended with union officials calling for the protests to continue after their 'disapointment' at government propositions.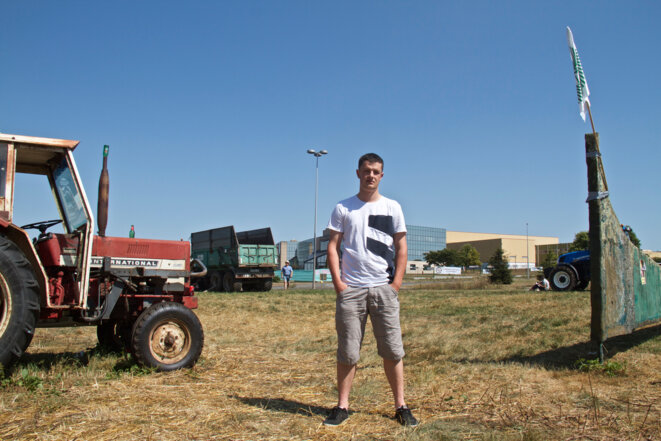 One of the protesters, Adrien, in front of the headquarters of dairy group Lactalis. © Laurent Geslin
After a bitter dispute lasting more than a week, the giant French dairy group Lactalis has finally agreed to pay its dairy farmers higher prices for their milk. However, the anger of the protests has once again highlighted the desperate plight of many dairy farmers in France. As Laurent Geslin reports, an entire way of life is in danger of disappearing as smaller-scale farmers find it increasingly hard to make a living.
Livestock farmers booed and whistled as Hollande appeared at Salon de l'Agriculture in Paris; they later tore down a government stand.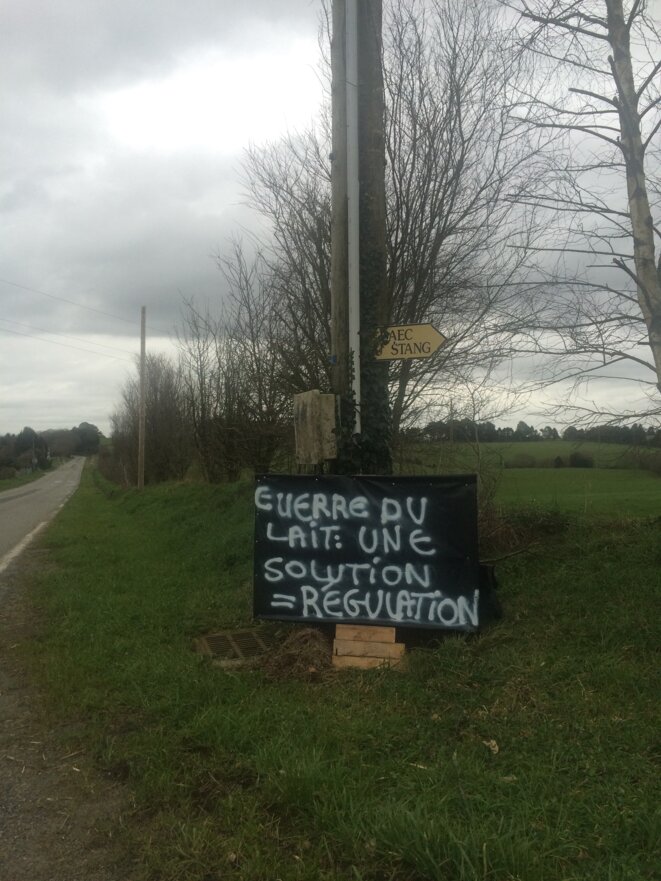 A farm slogan in Brittany proposing a solution to the 'milk war'. © DR
Despite the French government's attempt to calm the situation, angry farmers are continuing to protest over the prices they are receiving for their produce. On Sunday evening a group of farmers even went to the home of agriculture minister Stéphane Le Foll to demand action. But as Mediapart's Karl Laske found when he visited Finistère in Brittany in the west of France, farmers are not only angry with politicians – but with their own union leaders and local cooperatives too.
Farmers fear that falling prices linked to Russia's import embargo and big harvests in the European Union this summer will cut incomes.
Bosses publish open letter saying president 'must act quickly, with determination and consistency' due to 'urgency' of France's economic situation.