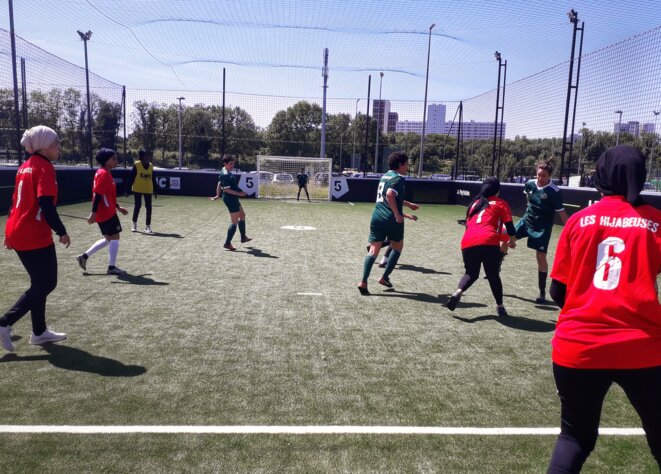 A match at the Les Hijabeuses tournament at La Courneuve, north of Paris. © MC / Mediapart
Wearing a headscarf or hijab during a football match is authorised by the sport's world governing body FIFA. But they remained banned for official games in France. A group of Muslim women players are fighting against this discriminatory policy and are calling on the French football authorities, the Fédération Française de Football (FFF), to change their rules. As part of that battle the group, known as Les Hijabeuses, organised a football tournament on the outskirts of Paris. Mickaël Correia reports.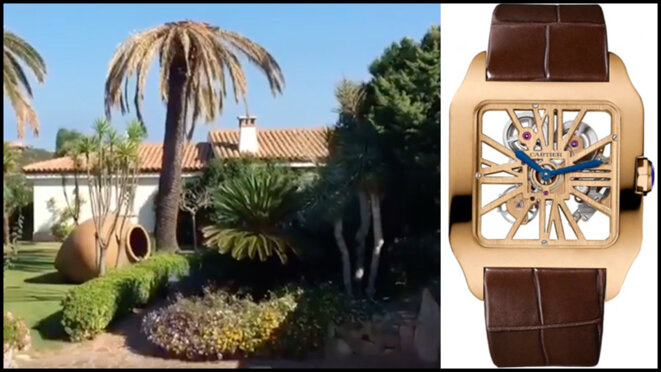 FIFA number two was gifted with free use of a villa in Sardinia, and a gold Cartier watch.
Shortly after a committee of world football governing body FIFA in February 2015 controversially recommended that the 2022 World Cup in Qatar could be played in winter, the then FIFA secretary general Jérôme Valcke secretly met with Qatari businessman Nasser al-Khelaifi, president of French football club PSG and chairman of beIN Sports, who was thanked by Valcke hours later for a gift of a watch worth 40,000 euros, according to phone text messages revealed here by Mediapart. Al-Khelaifi denies he was behind the gift. Swiss prosecutors, meanwhile, have dropped their probe of the two men over suspected bribery, which included Valcke's free use of a luxurious villa bought by al-Khelaifi in Sardinia. Yann Philippin reports.
Patrick Kanner, sports minister from 2014-17, thinks the leagues felt pressured following PM's televised address into calling their seasons off, and that play might have been able to go ahead in the right conditions.
Lyon's presidsent Jean-Michel Aulas said French football would face an 'unprecedented economic and social crisis' because of decision to end the football season early.
PSG were 12 points clear at the top of the table, with a game in hand, when French football was suspended indefinitely on 13 March.
The notion of 'anti-White racism' is an ideological construct aimed at downplaying the systemic, social and cultural racism endured by black people and people of North African origin in France. Mediapart publishing editor Edwy Plenel says that its emergence in public debate is a sign of how France has failed to face up to the issue of colonialism, to both its long past and its persistence today.
Referee stopped Nice-Marseille  game for 10 minutes after banners and chants - incident is latest in a series to have occurred in France.
The New Yorker's Adam Gopnik argues that 'the French team, now the finest in the world's most popular sport, is entirely dependent for its greatness on immigration, on the extraordinary things that only a cosmopolitan civilization can achieve'.
In the final of the football World Cup tournament held this summer in Russia, a largely young France team brimming with individual talent beat a hard-fighting but unlucky Crotia by four goals to two in a highly entertaining match marked by questionable refereeing decisions. 
Incident happened at stadium in Amiens in northern France during Ligue 1 match between Amiens and Lille as away fans celebrated a goal.
Frace's PLP says it 'does not understand' the decision by La Liga to hold up Barcelona star's record transfer to Paris Saint-Germain.

Frank McCourt, former owner of Los Angeles Dodgers baseball team, described the French club as 'one of the most iconic brands in all sports'.
French president said sporting victories give a nation a feeling it can succeed in other areas such as the economy, culture, politics and diplomacy.
Fans were put on flight from Nice to Moscow but say they will come back for Russia-Wales match because their visas have not been cancelled.