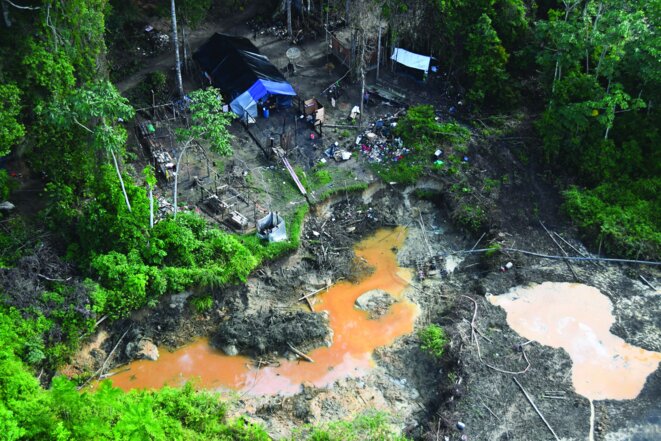 An unauthorised gold-prospecting site in operation in 2017 in French Guiana. © Parc Amazonien de Guyane
For many years, French leaders have liked to pose on the international scene as potential saviours of the Amazon, as we have just witnessed at the recent G7 summit in Biarritz with the diplomatic spat between President Emmanuel Macron and Brazilian president Jair Bolsonaro over forest fires. President François Mitterrand started the trend back at the Earth Summit in Rio de Janeiro in 1992. But alongside the diplomatic posturing there is also the reality of what is happening in French Guiana, an overseas region of France that lies just to the north-east of the Amazon rainforest. As Marion Briswalter reports from Cayenne in Guiana, what is happening on the ground in this French corner of South America reflects less well on Paris's stewardship of the environment.
One of the bigest wildfires in France this summer, which began on Wednesday in the southern Aude département (county) mobilising more than 500 firefighters, was finally contained on Friday after the destruction of about 900 hectares of mostly pine forest.
The pilot of a water-bombing plane died when his Grumman Tracker aircraft crashed during operations to contain numerous separate forest fires in southern France, some of which are believed to have been started by arsonists.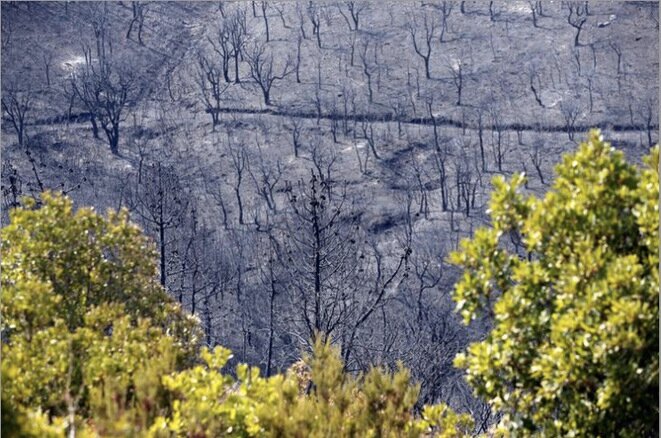 The charred remains of a forest close to Bormes-les-Mimosas, southern France, after wildfires in late July 2017. © Reuters
Huge forest fires in the north of the French Mediterranean island of Corsica this weekend destroyed more than 2,000 hectares (about 5,000 acres) of vegetation, as blazes continue to unfold in southern France amid exceptionally dry conditions. In late July, an estimated 7,500 hectares of countryside were devastated by wildfires, mostly in the Provence region, stretching the fire services to their limit. While President Emmanuel Macron and his prime minister, Edouard Philippe, have heaped praise on the efficiency and courage of France's firefighters, many of the latter are angry that the country's fire services are depleted by budget cuts, with insufficient and ageing equipment and a shortfall in their numbers. Elsa Sabado travelled to the Var département, the worst hit by the wildfires, to hear their complaints.
Hundreds of homes were evacuated as a precaution as the island of Corsica, the town of Carros near Nice and Saint-Tropez were badly hit.
Pine forest fires which began Friday had scorched about 400 hectares late Saturday when winds picked up, engaging several hundred firefighters.
Four French people have died in forest fires raging between France and northern Catalonia in Spain, the worst in the region in more than 20 years.