Related keywords
French magistrates investigating alleged bribery behind a cover-up of doping of athletes have issued warrants for the arrests of Valentin Balakhnichev, the former head of Russian athletics who was also treasurer of the International Association of Athletics Federations, and Alexei Melnikov, a former Russian national team coach.
France has announced the repatriation of five children aged up to five years who were placed in internement camps in Syria after their French parents, who had joined the Islamic State group, are reported to have died or gone missing in fighting, and thanked Kurdish-led forces 'for their cooperation, which made this outcome possible'.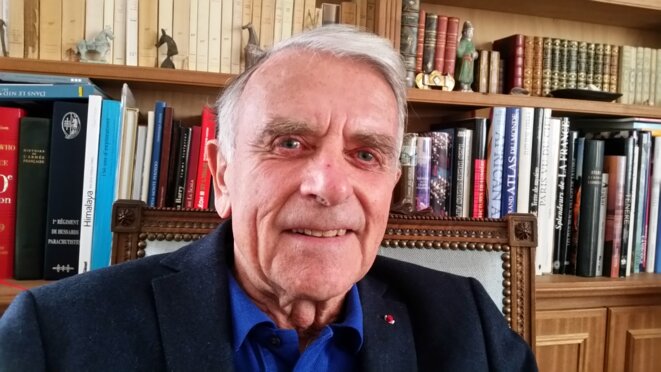 'A fault that led to genocide': former French general Jean Varret. © Benît Collombat, de la cellule investigation de Radio France
Former army corps general Jean Varret is the most senior French officer yet to criticise France's actions in the East African state of Rwanda in the years immediately preceding the 1994 genocide in the country. Interviewed as part of a joint investigation by Mediapart and Radio France into the events 25 years ago, Varret denounced the role and "faults" of a "military lobby" directing French policy, and how the warnings of the horror to come were ignored by his military and political masters.   
French President Emmanuel Macron arrived in Kenya on Wednesday on the final leg of a three-nation tour of East Africa, the first official visit by a French president since Kenyan independence in 1963, when he is due to seal a number of trade deals with his Kenyan counterpart Uhuru Kenyatta and to discuss closer cooperation in the fields of defence and counter-terrorism.
The 'black box' flight recorders recovered from the site of the crash of an Ethiopian Airlines Boeing 737 Max 8, in which all 157 passengers and crew were killed, are to be sent to Paris on Thursday for analysis by the French air accident investigation bureau, the BEA, as the US joined a gowing number of countries which have introduced a flight ban on the aircraft.
They are the latest protests against Algerian President Abdelaziz Bouteflika's decision to run for a fifth term in office. 
The vast majority of survey respondents in France want to scrap twice-annual time changes.
The 'GAFA' taxwill apply to digital companies with global revenues of over 750 million euros and French revenue over 25 million euros.
France is to supply the Libyan navy with six speedboats destined for coastguard operations to intercept migrants attempting to cross the Mediterranean to Europe. The move was described as "scandalous" by medical aid NGO Doctors without Borders, which underlined the horrific fate that awaits intercepted migrants, who are placed in notorious internment camps in Libya. A recent report by UN agencies denounced the camps for practices of violence, torture and rape, and solemnly called on EU countries to ensure they give "no support" to the Libyan coastguard that "contributes to bringing rescued migrants and refugees back to Libya".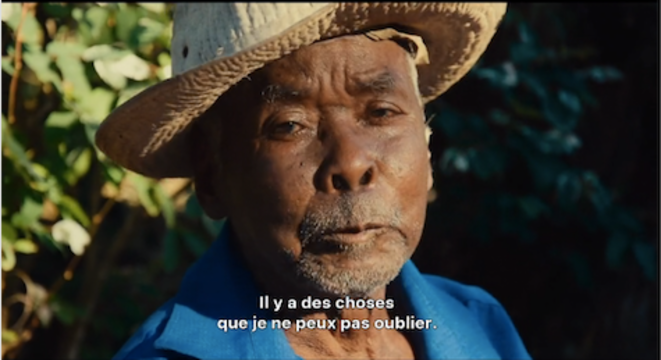 'There are things I cannot forget': the 1947 uprising in the words of those who lived through it.
French cinemas began this month showing a documentary film telling the story, with first-hand witness accounts, of a 1947-1948 pro-independence uprising against French rule in Madagascar. Fahavalo, directed by French-Madagascan filmmaker Marie-Clémence Andriamonta-Paes, is the first feature film-length documentary of the events to be screened in cinemas, and includes numerous interviews with former members of the rebel movement, which was brutally crushed by the French army with the loss of tens of thousands of lives, variously estimated at between 30,000 and 89,000. Fanny Pigeaud interviews the director and returns to the events which for many decades officially remained a buried and unrecognised tragedy.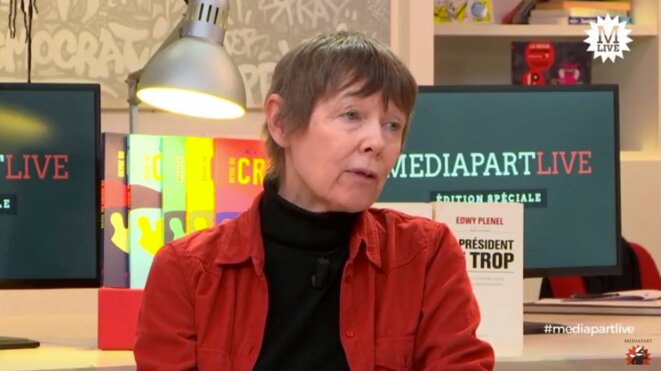 Nonna Mayer during a 'Mediapart Live' debate in 2017. © Mediapart
Several rallies denouncing anti-Semitism in France were held on Tuesday evening in Paris, in reaction to a recent spate of anti-Semitic acts across the country, the latest of which was the desecration overnight Monday of tombstones in a Jewish cemetery near the eastern city of Strasbourg. Meanwhile, official figures show a 74 percent year-on year rise in anti-Semitic acts recorded by police in France in 2018. Mediapart asked Nonna Mayer, a specialist in anti-Semitism and emeritus research director with France's national scientific research centre, the CNRS, for her insight into the growth of anti-Semitic acts recorded in the country, her analysis of the different motives behind the anti-Semitism, and her views on how best to respond to the problem.
The trial has opened in Aix-en-Provence of nine people, including two former French military pilots, a customs officer and a celebrity bodyguard, accused of running a trans-Atlantic cocaine smuggling scam between the Dominican Republic and France using a Dassault executive jet, in a case marked by intrigue and derring-do escapes.
Migrants from Africa and the Middle East, desperate to reach a better life, continue to attempt to cross to France from Italy, where they are increasingly evicted from refugee centres by the country's coalition government of populists and far-right, using the deadly route of Alpine passes for which they are ill-equipped to traverse.
The French ambassador to Rome, recalled last week in protest at what Paris described as 'unfounded attacks and outlandish claims' by Italy's populist coalition government, as well as a recent unannounced visit to France by deputy prime minister Luigi Di Maio to meet with anti-government 'yellow vest' prostestors, returned to the Italian capital on Friday.