Related keywords
France had 4,791  intensive care unit patients being treated for COVID-19, up from 4,766 on Friday, health ministry data showed.
The trial began on Monday in Versailles of former executives of the French arm of Swedish retailer IKEA, as well as the corporate entity itself, on charges of spying on the private lives of hundreds of staff, in a scandal first revealed by Mediapart eight years ago.
France on Monday joined a raft of other European countries who have suspended administration of the AstraZeneca Covid-19 vaccine over concerns of reported side effects, and which President Emmanuel Macron said was a 'precaution' while waiting for the findings of the European Medicines Agency, which are expected on Tuesday.
In a charity-run scheme, language students from around the world who are unable to study in France because of the coronavirus pandemic link up via the internet to have video chats with elderly French people who, because of the virus threat, are confined to their homes in lonely conditions.
The French president made the admission "in the name of France" during a meeting with Ali Boumendjel's grandchildren.
French  Macron said AstraZeneca vaccine was "almost ineffective" in the over-65s but his government has announced an apparent U-turn by approving the jab for some older people.
Germany's Robert Koch Institute said it would add the Moselle département in north-east France  to the list of "variant of concern" areas that already includes countries such as the Czech Republic, Portugal and the United Kingdom.
Cyber-attacks against three French hospitals over recent days, the latest in a series that, beginning last year, targeted others in Paris and several towns across the country, have caused patient transfers and the postponement of a number of surgical operations, although Covid-19 patients were reportedly unaffected.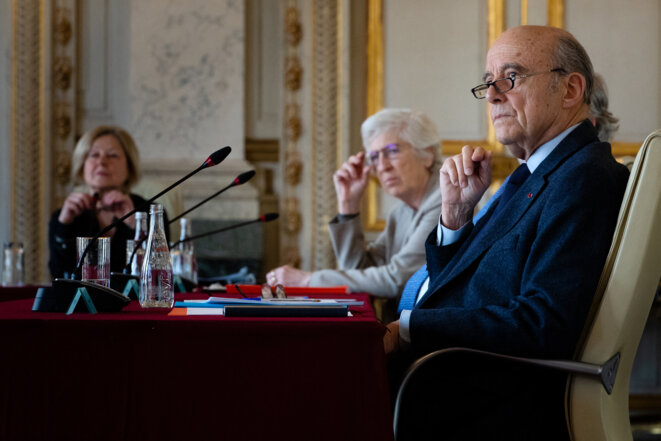 Alain Juppé, French foreign affairs minister in 1994, seen here in May 2020 at France's Constitutional Council where he now sits. © JOEL SAGET / AFP
In July 1994 in Rwanda, immediately after the fall of the murderous Hutu regime that had led the genocide of hundreds of thousands of the minority ethnic Tutsi population, a group of regime officials, including its president, had fled into a "safe zone" controlled by the French army. A document now discovered in official archives in Paris proves that the French government knew of the presence of the regime officials, but instead of detaining them it organised their escape out of Rwanda. The document, a cable sent from the office of then French foreign minister Alain Juppé, was signed by the current head of the French foreign intelligence agency, the DGSE. Fabrice Arfi reports.
President Macron's lobbying for global climate action is not backed up by sufficient domestic measures, say environmental groups.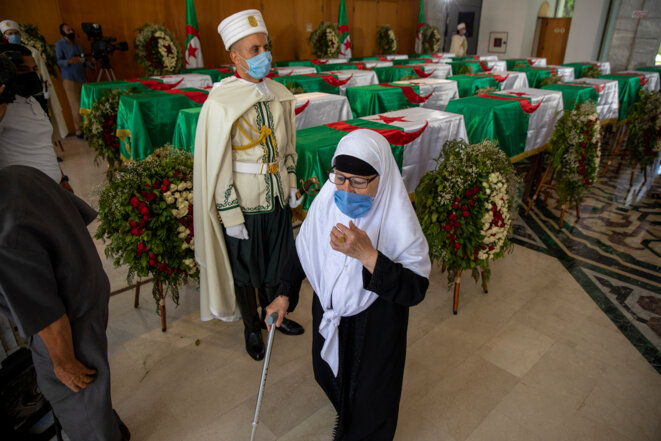 The skulls of Algerian resistance fighters decapitated during France's conquest in the 19th century have been returned to the country. © Sofiane Bakouri / Hans Lucas via AFP
In January 2021 the French historian Benjamin Stora delivered a report commissioned by President Emmanuel Macron that is aimed at "reconciling memories" between France and its former colony Algeria. The French head of state said he would follow a recommendation in the report and establish a "memories and truth" commission to address the history of France's colonial past in Algeria, but he stopped short of issuing an official apology. The report itself has attracted criticism in both France and Algeria. Mediapart has asked two Algerian historians, Afaf Zekkour and Noureddine Amara, for their views of the document and of Franco-Algeiran relations in general. The pair criticise Stora for what they call "soft revisionism" and for prioritising France's needs for a united view over the recounting of history. Rachida El Azzouzi reports.
French voiceover actors are hard at work providing dubbed shows for those stuck at home due to Covid lockdowns and curfews.
The 45-year-old suspect in the killings of the two women on Thursday in and around Valence is being linked to the murder of another HR manager who was shot dead more than 500km away.
Prime minister Jean Castex also said France will close all large shopping centres, in bid to prevent need for a third lockdown.