Related keywords
Organisors of a march 'for freedoms and against the far-right' held in cities across France on Saturday claimed a total  of 150,000 people turned out, answering a call from 110 orgnaisations, from leftwing parties to NGOs, to join a 'historic' rally. 
French President Emmanuel Macron has announced that France will reduce the size of its military mission in the West Africa region of the Sahel where it has been engaged since 2013 in operations against jihadist groups.
At least three people may have died as a consequence of delays caused by a national outage of emergency phone lines across France beginning Wednesday afternoon and lasting until early Thursday. 
French President Emmanuel Macron this week began a six-week 'tour de France' with a trip to the south-west  of the country, presented by his staff as an attempt to better understand the grass-roots concerns of the nation but which political observers regard as the beginning of his campaign for re-election in 2022.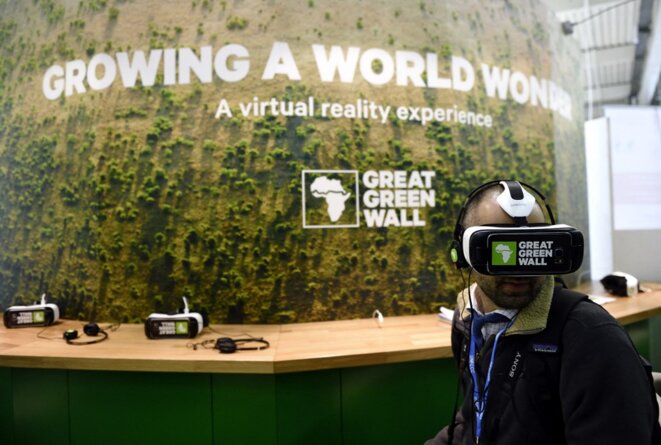 Chad's stand at the COP21 climate summit at Le Bourget, near Paris, December 2nd 2015. © Eric Feferberg/AFP
The Élysée portrays the plan to create a huge swathe of greenery across the Sahara and Sahel as the ultimate solution to the problems of unemployment, lawlessness and desertification in that part of the African continent. However, the French presidency's sudden interest in the Great Green Wall project – which was officially endorsed by the African Union back in 2007 - also has ulterior motives. And as Fanny Pigeaud reports, some experts are sceptical about its benefits.
Protestors are unhappy over recent rejection by French constitutional court of parts of a law intended to protect regional languages. 
At a news conference with South African President Cyril Ramaphosa in Pretoria, the French head of state said Africa made up around 20% of the world's need for vaccines but only 1% of vaccine production.
However, when asked if an apology would be a further important gesture Kagamé, who was in Paris for a summit on post-pandemic financing for African nations hosted by President Emmanuel Macron, responded: 'I think so.'
French cinemas are due to re-open next week after lockdown measures last October blanked out screens across the country, but along with strict regulations that will limit their seating capacity to a third of the normal they must also juggle with presenting dozens of films that have queued up for release.
A farmer redrew the France-Belgium border by moving a century-old border stone to allow his tractor to pass.
The seven, and three other Italians still being sought, had been convicted of terrorism charges in Italy dating back to the 1970s and 1980s.
France is currently experiencing its third lockdown as the government bets that by sacrificing the Easter holidays it can save the summer vacation period. 
Fench defence minister Florence Parly said Chad's slain leader Idriss Déby had been an essential ally in the fight against terrorism in the Sahelregion of Africa.
The French donation of an initial 100,000 doses of AstraZeneca's COVID vaccine this month, announced on Wednesday, is a boost for the international COVAX scheme.