Related keywords
French met office expects very hot and dry weather next week, with a slight risk of a heatwave in the southeastern part of the country.
France has moved independently from the European Union with the approval by its parliament on Thursday of a 3 percent tax on sales of more than 25 million euros generated in the country by technology companies, which would notably include US giants such as Google and Facebook, and which the White House said it was investigating as it could amount to an unfair trade practice.
French transport minister Elisabeth Borne has announced that France will impose as of 2020 an 'eco tax' on airline passenger's flight costs for travel leaving France, ranging from 1.5 euros on inter-Europe destinations to 18 euros for business class passengers travelling beyond EU countries, and which is intended to fund investment in less polluting travel.
According to France's Childhood Foundation, 85 percent of French parents admit to smacking their children.
Warning from independent body comes as eurozone's second-biggest economy attempts to present itself as world leader on climate emergency.
Women in Grenoble in south-east France have been inspired by the pioneering civil rights campaigner to wear the outfits despite a ban.
In May this year, the United Nations General Assembly adopted a motion that condemned British rule over the remote Indian Ocean archipelago of the Chagos Islands and which gave London a six-month deadline to return their sovereignty to Mauritius. That followed an advisory judgment in February by the International Court of Justice that Britain's annexation of the islands after Mauritian independence in 1968 was illegal. Central to the case is the brutal deportation of islanders to make way for a US military base on the archipelago, at Diego Garcia. As Julien Sartre reports, the developments also have ramifications for France, whose occupation of Indian Ocean islands, notably those surrounding its former colony Madagascar, is under heightened dispute.
A heatwave unusually intense for June is due to hit France next week, when temperatures across most of the country are forecast to reach up to 40° Celsius for several days, and when emergency services are to be placed on high alert.
French agriculture minister Didier Guillaume said a state of 'natural disaster' would be declared to help insurance relief for French farmers, notably in the Auvergne-Rhône-Alps region of central and south-east France where violent storms, including hailfalls, ravaged fruit crops.
The three were in a crew of seven who had gone to the aid of another boat which had got into difficulty as Storm Miguel struck the west coast.
Angela Merkel wants centre-right candidate Manfred Weber as next EU Commission president but Emmanuel Macron favours other candidates.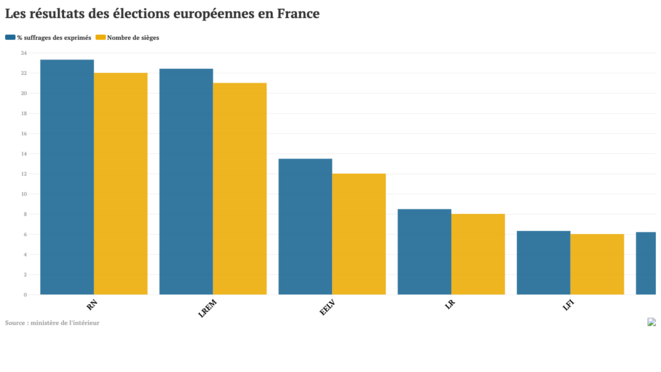 Results of the European Elections in France, in vote share and seats won. © Mediapart
The European Election results in France have confirmed that Marine Le Pen's Rassemblement National – the former Front National – is once again the main opposition in the country to President Emmanuel Macron and his ruling La République en Marche. But outside of that polarised duel the rest of the French political landscape has been shattered,with an abstention rate of 49%. On the Left the environmentalists came top with 13% while on the Right the conservative Les Républicains – the party of former president Nicolas Sarkozy – has collapsed, picking up just 8% of the vote. Stéphane Alliès and Lénaïg Bredoux analyse the results in France.
While wealth-managing firms in the Swiss city close to the French border say that it is to support the local economy that they encourage employees to live locally instead of in cheaper France, banking secrecy concerns are also behind the policy.
Grace Meng, whose husband Meng Hongwei faces bribery charges in China, was given protection by French police after alleged abduction bid.