Related keywords
A French public health official also said there are 2,516 people needing life support.
Official French figures released on Sunday evening indicated deaths so far in the country from Covid-19 coronavirus infection had risen to a total of 674, up by 112 since Saturday, while there were 16,018 cases of people tested positive for the virus.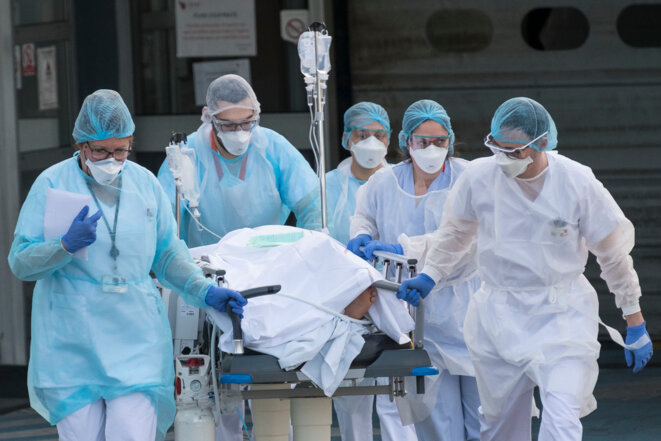 A patient being evacuated from the Émile-Muller hospital in Mulhouse, Alsace, March 17th 2020. © SEBASTIEN BOZON / AFP
Recorded deaths in France from the Covid-19 coronavirus by Saturday evening had risen to 562, with 6,172 people receiving hospital treatment for the infection, a quarter of who are in intensive care, according to official figures. But no-one doubts this is still a statistical calm before the epidemic engulfs France's healthcare system, a wave forecast to reach a peak in early April. Mediapart has been talking to doctors and nurses around France about how they are preparing for a crisis many predict will be so great that choices will have to be made about which patients are admitted for treatment – as is already happening in the currently worst-hit region of Alsace.
The total number of recorded deaths from the Covid-19 coronavirus in France had risen to 450 by Friday evening, according a health official, while nearly 1,300 people were receiving intensive care and another 12,612 people were found to be carrying the infection. 
Deaths from the Covid-19 coronavirus in France rose by 89 over the past 24 hours to total 264, while the known number of those infected climbed to 9,134, according to official figures released on Wednesday evening, as still inadequate testing capacity for the virus was raised to a daily 2,500.
Several hundred workers at an Amazon warehouse and shipping centre near Orléans in north-central France staged a strike on Wednesday over their fears of exposure to the Covid-19 coronavirus, calling for the site's closure or for a dispensation for those staff who wished to stay at home.
French Prime Minister Édouard Philippe and his finance minster Bruno Le Maire said on Tuesday that the government might nationalise big companies left reeling from the fallout from the Covid-19 virus epidemic, alongside 45 billion euros in emergency measures to help firms weather the storm, on top of 300 billion euros in government loan guarantees, while the state deficit is expected to blow out to 3.9 percent of gross domestic product from a target of 2.2 percent.
Welcome to the Republic of Le Saugeais, a little-known 'nation' that lies alongside France's border with Switzerland and which has its own president, anthem, flag and language, all unrecognised by the French state, and whose 'independence' began with a joke in a restaurant.
French weapons sales abroad rose between 2015-2019 by 72 percent on the previous five years according to a report by the Stockholm International Peace Research Institute, which said the latest total represented almost 8 percent of global arms exports during the same period.
French minister of health Olivier Véran announced the ban on Sunday as 1,126 have tested positive for the virus so far with 19 dead.
President Macron said on Twitter that the governemnt will distribute them to health professionals and to French people infected with the coronavirus.
France will also keep several schools in the Oise area north of Paris closed after holidays end on Sunday in order to halt the spread of the virus, health minister Olivier Veran said.
French president Emmanuel Macron invites Christian who spent eight years on death row to live in country.
Since #MeToo, France's notoriously liberal attitudes to sex and sexual power are under the microscope as never before.