The French president's office said on Friday that UK Prime Minister Boris Johnson called Emmanuel Macron to express his hopes of resuming cooperation between their two countries on defence and climate change, following a bitter diplomatic dispute over Australia's decision to cancel a 56-billion-euro order for French submarines.
Draft budget legislation submitted to the French parliament on Wednesday included an increase in spending on defence, education and justice, while economy and finance minister Bruno Le Maire said the public deficit, now at 8.4 per cent of gross domestic product, will be brought back below 3% of economic output by 2027.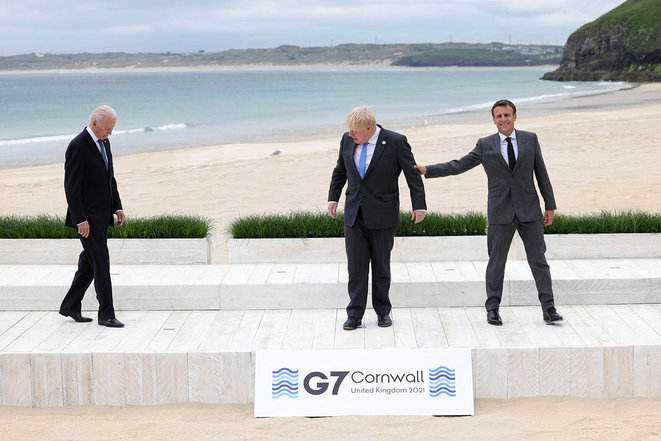 Joe Biden, Boris Johnson and Emmanuel Macron at the G7 leaders' meeting hosted by the UK, June 11th 2021. © Photo Andrew Parsons / 10 Downing Str / Agence Anadolu / AFP
After a phone conversation on Wednesday, US President Joe Biden and his French counterpart Emmanuel Macron appeared to have at least partly defused tensions over the new military pact between Australia, the UK and the US which entailed the cancellation of Australia's purchase of 12 French submarines worth 56 billion euros. In this op-ed article, Mediapart's international affairs specialist François Bougon argues that the diplomatic crisis of recent days should prompt a re-think of France's global role and an end to the notion of its grandeur and exceptionalism, a heritage handed down from Charles de Gaulle.
As French government anger mounts over Australia's announcement this month that it has abandoned an agreement to buy 12 submarines from France in favour of a defence and weapons pact with the US and UK, French European affairs minister said Paris is ready to block ongoing EU talks for a trade deal with Australia, which he called 'a country in which we no longer trust'.
Paris has called off a meeting due in London this week between France's armed forces minister and her British counterpart amid a heightening row  over Australia's decision to abandon a deal to buy 12 French diesel-electric submarines in favour of a pact with the US and UK.
Australian Prime Minister Scott Morrison has rejected accusations by French ministers that his government had shown duplicity in its decision to abandon a 56-billion-euro diesel-powered submarine deal with France, saying he had always been clear about the position of Australia, which has instead opted for nuclear-driven vessels in an agreement with the US and UK.
A 23-year-old French woman who has been living in Britain over the past year, and who has applied for residency status as required of EU citizens by post-Brexit regulations, was detained for more than eight hours when she re-entered the country at London's Gatwick airport last month.  
The announcement of a US-UK-Australia defence pact to face China's growing influence in the Indo-Pacific region has brought an abrupt and unexpected end to a 56-billion-euro deal signed in 2016 for the sale by France to Australia of 12 submarines, which will now instead be built in the US and UK.
British retail chain Marks & Spencer has announced it is to close within months all 11 of its stores on French high streets, while sparing those in railway stations and airports, citing 'supply chain complexities in place following the UK's exit from the European Union'.
French foreign minister Jean-Yves Le Drian said half of the Afghan population was now at risk, including more than four million women and around 10 million children.
Australia and France have begun negotiations to significantly upgrade military co-operation, which would boost inter-operability between their forces.
The policy announcement comes as President Emmanuel Macron's government prepares for the 2022 election campaign.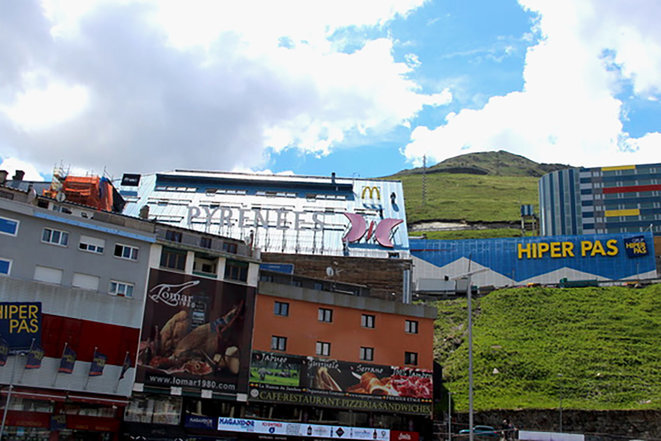 Shops in the Andorran town of El Pas de la Casa enjoy brisk year-round business with customers and smugglers attracted by its low VAT rates. © Photo Emmanuel Riondé pour Mediapart
The Pyrenees mountains separating France and Spain have long been a crossing route for smugglers of all kinds of wares, which today range from cigarettes to elvers. But the 623-kilometre-long border between the two countries, definitively traced in 1866, has also never been a barrier for the centuries-old exchanges, local alliances and regulations established between the communities living on either side. Emmanuel Riondé reports. 
The French foreign ministry and a Taliban spokesman have confirmed they have been in talks about further evacuations of people from Kabul, while Paris has hinted it may extend its original Friday evening deadline for ending the operations.