Related keywords
The new French government of Prime Minister Jean Castex, who replaced Édouard Philippe on Friday after the latter's three years in the job, was announced on Monday evening when it emerged that heavyweights from the outgoing cabinet remain in place while others were largely reshuffled, with the notable exceptions of the arrival of controversial lawyer Éric Dupond-Moretti as justice minister and Roselyne Bachelot, a former conservative sports minister under Nicolas Sarkozy, as culture minister.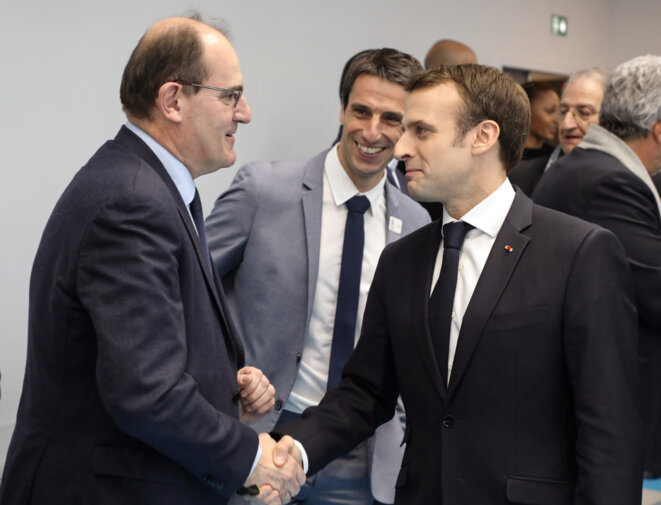 Jean Castex (left) and Emmanuel Macron, in January 2019. © AFP
The composition of a new French government was announced on Monday evening, following the appointment on Friday of a largely unknown senior civil servant and longstanding conservative, Jean Castex, as France's new prime minister. He replaced Édouard Philippe, who served in the post since Emmanuel Macron's election in 2017.  Mediapart political correspondent Ellen Salvi dresses here a portrait of the new prime minister, and chronicles the tensions that led to the departure of Philippe.
The skulls of 24 Algerian fighters who were shot and decapitated by occupying French forces during the 19th-century campaign to colonize the country, and which had since been kept in a Paris museum until their return to Algeria this weekend, were buried amid an emotional ceremony at a cemetery close to the capital Algiers on Sunday.
France is returning to Algeria the remains of 24 combattants killed in the 19th century during the early French colonialisation of the North African country which finally won independence in 1962 after a bitter eight-year war.
Weeks after an incident in which France accused Turkish warships of intimidating one of its frigates, the French defence ministry has announced it is suspending its role in Nato's Mediterranean operation Sea Guardian, accusing Turkey of violating an arms embargo against Libya.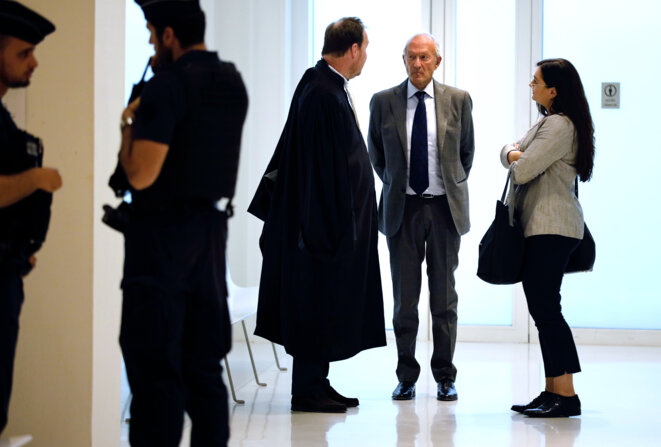 Thierry Gaubert, second from right, one of those found guilty in the Karachi Affair, pictured June 15th 2020. © AFP
On Monday June 15th 2020 a Paris court handed prison sentences to six men found guilty of organising a vast political funding scam involving kickbacks on French weapons sales to Saudi Arabia and Pakistan in what has become known as the 'Karachi Affair'. It was the first time in France that a criminal court has established that a presidential election campaign – in this case involving Édouard Balladur in 1995 – was funded by kickbacks from state arms deals. It is, says Mediapart's Fabrice Arfi, an object lesson in the weaknesses of a democracy in the face of corruption.
The numbers of new Covid-19 cases have continued to drop since most of France reopened for business last month – while maintaining physical distancing and protection measures – with the number of additional deaths down to its lowest figure since March.
The official toll announced on Tuesday of deaths from the Covid-19 virus over 24 hours since Monday rose to 87, taking into account fatalities in both hospitals and care homes, reaching a total of 29,296 since the officially declared beginning of the epidemic in March, representing the seventh succesive day that daily recorded deaths numbered less than 100, while ICU patients treated for the disease fell by 69 to 955.   
French interior minister Christophe Castaner said the case of Gabriel Djordjevic, 14, who sustained a fracture to his eye socket and four broken teeth after he claimed he was kicked by a police officer, was 'troubling'.
France's police force is to end using chokeholds as a technique to immobilise people, interior minister Christophe Castaner on Monday, although the controversail practice of officers pressing down on the chest of a person on the ground, and which is alleged to have caused deaths during arrests, remains legal. 
Official French figures released Sunday evening said 13 people had died in hospitals from the Covid-19 virus over the previous 24 hours, down from 232 on Saturday, while recorded new cases of infections by the virus, and hospitalisations and intensive care unit patients treated for the disease all continued to fall, although the numbers of fatalities are expected to rise when the toll in care homes are due to be announced on Tuesday.
As protest demonstrations were again held around the world on Saturday in a gathering momentum following the death in the US of George Floyd, a black man suffoctaed by a Minneapolis police officer, thousands of people joined marches across French cities to highlight cases of police violence, including in Paris where two banned rallies blocked the centre of the capital.
This week has been marked by numerous demonstrations, both in the US and across the globe, in protest at police violence following the killing of George Floyd, the 46-year-old Afro-American who was suffocated to death by an officer in Minneapolis. In this op-ed article, Mediapart publishing editor Edwy Plenel argues why, when the police is gangrened by racism, it is because the powers in place, a ruling class and its elites, hold a silent hate of democracy, the people and equality – and that this applies as much to France as it does to the United States.
Immunologist Jean-François Delfraissy, head of the French government's scientific advisory council, on Friday pronounced that 'we can reasonably say' the Covid-19 virus epidemic was now 'under control' in the country.