Related keywords
A 12-hour curfew beginning at 6pm that was recently introduced in regions of eastern France where the return of the coronavirus epidemic took a significant hold has now been extended to all of France, beginning on Saturday and for a renewable two weeks, while visitors to the country from outside the EU face new restrictions including a seven-day isolation period even if they recently tested negative for the virus.
New Covid-19 infections are on average increasing by more than 18,000 a day, figures show.
Past medical scandals involving big pharma and public officials have made many suspicious of vaccines.
Marseille mayorsaid seven to eight people had tested positive for the new variant in the city, while tests were underway on 30 others who may also have been exposed to it.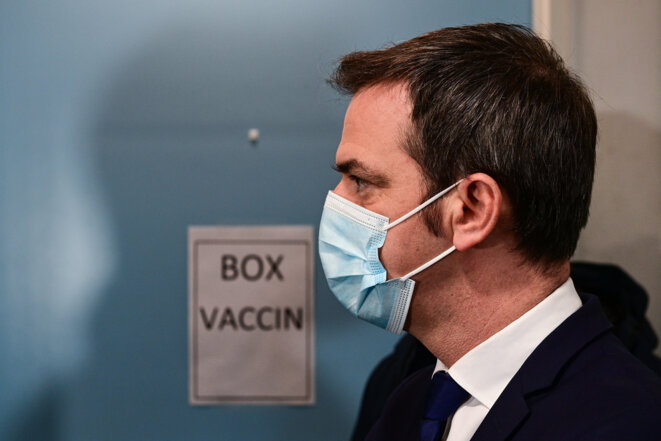 Health minister Olivier Véran in Paris on January 4th 2021. © MARTIN BUREAU / AFP
The initial slowness in the rollout of its vaccination campaign against Covid-19 has sparked a major political row in France. An investigation by Mediapart can now reveal that a failure of logistics prevented the Pfizer vaccine from being distributed more quickly. As with the earlier debacle over face masks, the Ministry of Health failed to react quickly enough to events and by the end of December had only managed to put in place 38 of the 113 special freezers needed to store the doses at low temperatures. At least three weeks were lost as a result, report Caroline Coq-Chodorge and Antton Rouget.
France's deliberately cautious approach has meant only about 350 people have so far received Covid vaccination jab.
The French health ministry reported 26,457 new coronavirus infections over the past 24 hours on Wednesday, but the number of persons hospitalised for the disease declined by 183.
A French man resident in Britain and who arrived this month in the town of Tours, west-central France, has been tested positive for the new variant of the coronavirus which is suspected of being particularly contagious, although it is still unkown if it causes more severe forms of Covid-19.
An anti Covid-19 vaccine developed by US pharma firm Pfizer and Germany's BioNTech has been approved for use in France by the country's top health authority, the Haute Autorité de la santé (HAS), with vaccinations due to start on a voluntazry basis on Sunday, with a priority given for those most at risk.
France has reopened its borders with the Britain – which were closed at the weekend due to fears over the spread of infections by a new coronavirus strain identified in England – on condition that travellers carry proof of testing negative for the virus, but the huge backlog of trucks that have been piling up around the normally busy port of Dover is expected to take days to clear.
Immigrants in France who were this year in frontline jobs during the coronavirus epidemic, including healthcare staff, shop workers and cleaners, are being offered fast-track French citizenship.
France is to reopen its borders with the UK, closed earlier this week over fears about the new variant of the coronavirus detected in England, but only to blocked truck drivers, French citizens and others resident in France, and on condition they present a negative result of a test for the virus, according to French media reports.
France on Sunday joined a growing number of EU countries closing their borders to British travellers following the rapid spread in England of a reportedly more infectious variant of the coronavirus that causes Covid-19.
French Prime Minister Jean Castex said on Wednesday that the Pfizer/BioNTech  anti-Covid-19 vaccine could begin to be administered in France in late December if it is approved by the European Union regulatory agency at a key meeting next week.