Related keywords
Source that 84-year-old suspect had been a candidate for Marine Le Pen's Rassemblement National party in 2015.
The EU Court of Justice said France had 'systematically and persistently' exceeded annual threshold for nitrogen dioxide since January 1st 2010.
David De Pas, coordinator of France's 12 anti-terrorism examining magistrates, said that it would be "better to know that these people are in the care of the judiciary" in France "than let them roam free".
The French friend and business associate of the late, disgraced US billionaire Jeffrey Epstein, French model agency manager Jean-Luc Brunel, who is accused in American court documents of rape and of obtaining young women for Epstein, is cited in a new complaint in France for sexual harassment.
At a meeting of European Union (EU) general affairs managers, France, backed in part by the Netherlands but opposed by Germany, vetoed talks on opening uip membership to the bloc to North Macedonia and Albania, arguing that no date should be set for opening accession deliberations until the EU revamps its whole approach to enlargement.
Personnel from a British and French Combined Joint Expeditionary Force, created in 2010, have been taking part in a naval exercise off north-west Scotland as part of wider exercises under the umbrella of NATO.
France joined Germany in announcing this weekend a suspension of weapons sales to Turkey for as long as Ankara continues with its military invasion of a neighbouring part of northern Syria, a ban which the French defence minister said concerned 'war materials that could be used in the context of this offensive'.
Mathilde Panot, a senior Member of Parliament for France's radical left opposition party La France Insoumise (LFI) ('France Unbowed'), travelled to Algeria to show her solidarity for the people taking part in the 'Hirak' or popular movement against the regime there. But after two days she and her delegation were arrested and taken to the capital Algiers where she was effectively placed under house arrest in an hotel. After an intervention by France's Ministry of Foreign Affairs Mathilde Panot was eventually put on a plane back to France. Mediapart's Rachida El Azzouzi, Pauline Graulle and Khedidja Zerouali report on events which highlight the continuing repression of opposition voices in Algeria.
President Macron's plan to give citizens a secure digital identity is due to be rolled out in November after an experimental six-month test phase.
Extension of in vitro fertilisation (IVF) to all women would mark the first major social reform of President Macron's five-year term.
After the replacement earlier this month of Italy's populist and far-right government for one that is largely Left-leaning and pro-EU, the easing of a previously tense relationship between Rome and Paris was illustrated in a decision by the Italian culture minister to overturn an earlier refusal to lend France works by Leonardo da Vinci for an exhibition marking his death 500 years ago, while France will send paintings by Raphael for a similar exhibition next year in Italy.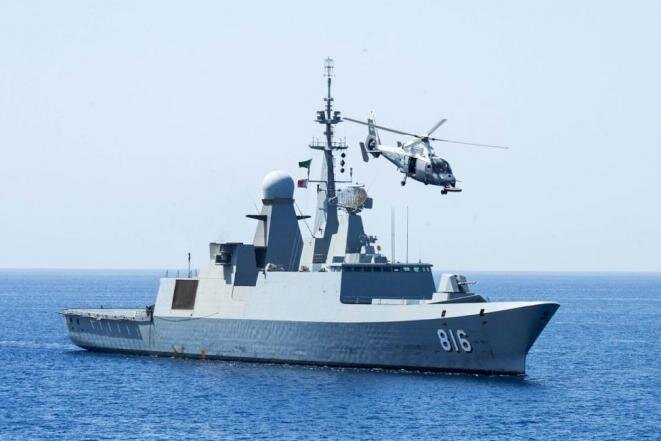 The French-built Saudi frigate Al-Dammam 816, in May 2014. © US Navy
Video evidence that warships sold by France to Saudi Arabia and the United Arab Emirates have played an active role in the maritime blockade of Yemen, contributing to the starvation of millions of civilians in what the UN has described as the worst humanitarian crisis in the world, has emerged in an investigation partnered by Mediapart. Meanwhile, a UN report earlier this month warned that the legality of arms exports to belligerents in the conflict in Yemen by countries including France, Britain and the US "remains questionable", and that "states may be held responsible for providing aid or assistance for the commission of international law violations". Antton Rouget and Yann Philippin report.
Whistleblower Edward Snowden, a former CIA employee who revealed details of invasive secret surveillance programmes by US intelligence agencies and who has been exiled in Russia for six years to escape arrest in the US, said in an interview with French radio on Monday that he had applied for asylum in France in 2013 and 'would love to see Macron roll out an invitation', adding 'protecting whistleblowers is not a hostile act'.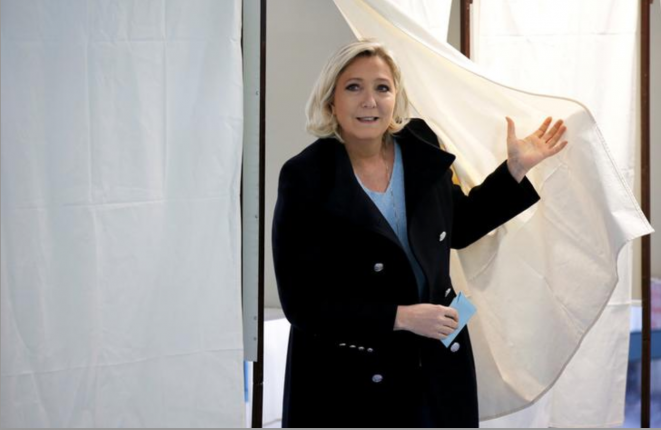 French far-right leader Marine Le Pen casting her vote in the May 2019 European Parliament elections. © Reuters
The French far-right Rassemblement National (RN) party, the renamed Front National, held its post-summer congress this weekend in the south-east town of Fréjus, when its leader Marine Le Pen set out the party's policies ahead of municipal elections to be held across the country in six months' time. The RN, which won the majority of votes cast in France in European Parliament elections in May, hopes to at last solidly establish itself at a local level, amid a fragmented political landscape in the country and notably the collapse of the conservatives. In this interview with Lucie Delaporte, French political scientist Sylvain Crépon, a specialist of far-right politics, analyses the party's new strategy for the elections.